How Much Does a Forklift Cost?
by Trey Barber, on June 19, 2020 at 11:15 AM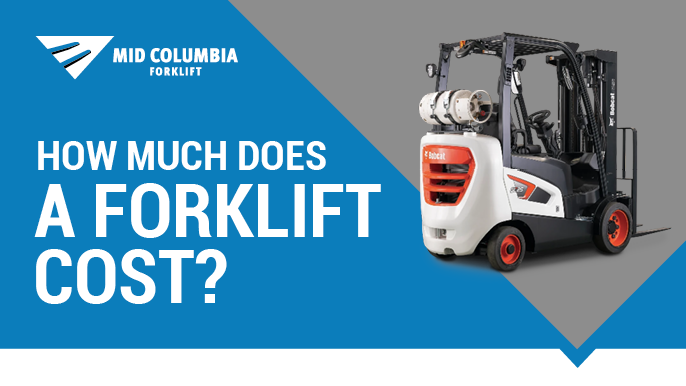 If you're looking at forklifts for sale in Washington state, you've probably seen a wide range of prices. A standard capacity forklift can cost as little as $15,000 or as much as $30,000. Why is there such a huge price range?
Read on to learn about the top five factors that determine the price of a new forklift. We'll also link to some helpful resources about forklift financing, leases and when to buy a new vs. used forklift.
Forklift Price Ranges
The purchase price of a new forklift can be anywhere from $20,000 to more than $100,000 depending on what the equipment can do. Here are the top five factors that determine a forklift's price:


Maximum capacity - The more you need to lift, the more expensive the forklift will be
Maximum lift height - You'll pay different prices for a forklift depending on the mast configuration; 2 stage, 3 stage, Quad to name a few.
Manufacturer - Not all forklifts are created equal; as the saying goes, "you get what you pay for"
Fuel type - Electric forklifts cost more upfront but are less expensive to own
Attachments - Side-shifters fork postioners or single-double attachment will increase the price of your forklift, but quickly pay for themselves through increased productivity.
Something to keep in mind: the purchase price of your forklift isn't as important as the long-term cost of ownership. A "cheap" forklift can become very expensive as repair costs and downtime pile up over the years.
If you plan to use the forklift for more than 5 years/10,000 hours:
- Choose a forklift with a reputation for reliability and low cost of ownership
- Invest in a forklift service plan to prevent costly repairs and unplanned downtime
Something else to consider: electric forklifts are cheaper to own and can be used in applications once dominated by internal combustion engine (ICE) forklifts. For example, an operation running a lift truck 2,500 hours per year:
- Will spend about $1,500-$2,000 per year in operating costs for an electric forklift
-Compared to $12,000-$15,000 for a diesel forklift, and $10,000-$12,500 per year for an LPG forklift
Also, an electric forklift only costs about $500 per year to maintain, but an ICE forklift costs about $1500 per year. Taken together, buying an electric forklift can "save" a business $10,000 - $11,000 per year in fuel, maintenance and other operational costs. Read more about the pros and cons of electric forklifts.
How Much Does a New Forklift Cost?
The price ranges below are for sit-down forklifts only (the kind most people think of). There are other types of forklifts, such as 3-wheel forklifts and reach trucks that cost less, and massive, heavy-duty forklifts that cost considerably more.
ICE Forklift prices
A 5,000 lb. capacity forklift costs between $22,000 and $30,000. The lower price gets you a diesel or gas-powered truck with cushion tires. If you need an LPG forklift or pneumatic tires, the starting price will be more of an investment.
Expect to pay $30,000 - $45,000 for a 10,000 lb. capacity forklift, and up to $115,000 for a large, 36,000 lb. forklift. Heavy-duty forklifts with a 35,000+ lb. capacity are $140,000 or more.
Electric Forklift prices
Note: the prices below include the cost for a battery and charger ($2,500 - $5,000 for a standard lead-acid battery).
A new, 5,000 lb. capacity electric forklift will cost between $25,000 - $37,000. For an electric forklift that can lift up to 11,000 lbs., your price range is about $37,000 - $80,000. Large electric forklifts that can lift up to 40,000 lbs. are available for $100,000 and up.
How Much Do Used Forklifts Cost?
Used forklifts typically cost half as much as a comparable new one; unfortunately, some buyers never consider buying a used forklift. Maybe they had a bad experience in the past, or believe some of the common misconceptions about used forklifts.

Regardless, used forklifts are a great option for many businesses. Here are the top reasons to buy a used forklift instead of a new one. At Mid Columbia Forklift and MidCo Material Handling, we stand by what we sell. Every used forklift is thoroughly reconditioned and comes with a warranty.
Forklifts for Sale in Washington State
Now that you have an idea about what a forklift costs, you've probably started wondering how you're going to afford one. Since there's a lot to learn about purchasing options, we created a shortcut for you. This ebook will teach you everything you need to know about leasing a forklift.

Whether you're looking to buy a new or used forklift, we want you to get the best forklift for your needs and budget. We offer flexible financing and forklift lease options for our customers in the Seattle area, Wenatchee, Yakima and the Tri-Cities.
Contact us online or by phone:
Auburn 253-854-5438
Pasco 509-547-7413
Wenatchee 509-663-9009
Yakima 509-457-5137
Further Reading
When to Buy a New Vs. Used Forklift
Common Misconceptions About Buying a New Forklift
When Leasing a Forklift Makes Sense