When to Buy a New Vs. Used Forklift
by Dan Bergman, on May 29, 2020 at 8:00 AM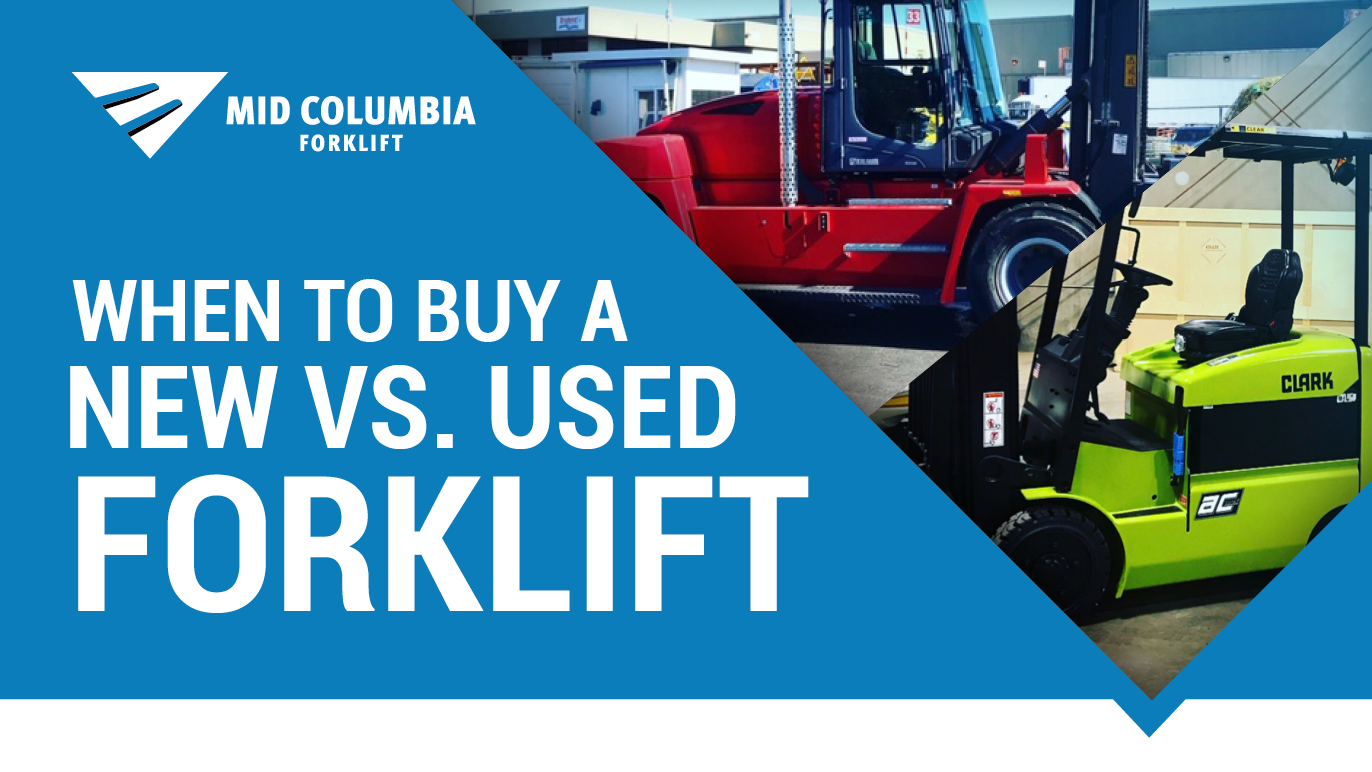 Whether you're buying a forklift because of an unexpected equipment failure, or because your business is growing, you want the best forklift for your money. For some operations, a used forklift is the best option, yet some buyers never even consider used equipment.

Used forklift prices are typically 30-50% lower than a comparable new forklift and you get the equipment you need much sooner. Before you overspend on a new forklift, learn when it's better to buy a used forklift instead.

If one of your existing lift trucks has a catastrophic failure, a brand new forklift may be out of your price range. That said, used forklifts aren't always the best solution, and who you buy from matters. Here's what you need to know:


When to Buy a New Forklift
You'll use the forklift more than four hours/day - If you need a forklift to work hard all day every day, a used forklift may not give you the long term value you're looking for. If the forklift hasn't been refurbished, it may need an expensive repair at 6,000 - 10,000 hours (depending on the brand and maintenance history). A brand-new forklift gives you maximum uptime and dependability.



You can't use a "generic" forklift - If your application requires specialized accessories, attachments, or an unusual mast height, you may be waiting a long time for the right used forklift to turn up (but we're happy to keep an eye out). A new forklift allows you to get the exact equipment you need, no compromises.

You need a big tax deduction - There are tax-related reasons to buy a new forklift, such as depreciation. Always consult your financial advisor.
When to Buy a Used Forklift
You need the equipment yesterday - When you buy a used forklift, you don't have to wait for your equipment to arrive from the factory. At Mid Columbia Forklift and MidCo Material Handling, we have dozens of used propane, electric, diesel and gas forklifts in stock and ready to roll.



You have a limited budget - Used forklifts allow you to maximize your buying power. Used forklift prices tend to be 30-50% lower than new forklifts. You may be able to get two forklifts for the price of one.

The forklift will be utilized four hours/day or less - Keep in mind that an eight-hour shift doesn't equal eight hours of forklift use. Operators are on and off the truck throughout the day, and it may sit idle during lunch breaks. We can easily help you calculate your true forklift usage, just let us know.
Make an Informed Decision
Price and availability shouldn't be the only factors in your decision to buy a used forklift, especially here in Washington. A forklift that hasn't been well-maintained can become a financial liability.



Buy from a reputable seller, or bring a mechanic with you to inspect the tires, safety equipment, engine and battery (if applicable). Choose a seller who has a vested interest in your long-term business (as opposed to an individual you may never see again). Learn more about the dos and don'ts of buying a used forklift.
The Best Selection of Used Forklifts in Washington State
At Mid Columbia Forklift and MidCo Material Handling, our used equipment goes through a 25-point inspection and everything we sell comes with a warranty. We stand behind what we sell so you can buy with confidence.



Our factory-trained forklift technicians adhere to strict standards and follow a detailed inspection and reconditioning process. Whether you're looking for nimble warehouse equipment or rugged forklifts for heavy-duty applications, we have the quality used material handling equipment to meet your needs. We also offer financing other sellers cannot.

Please contact us with any questions you may have. We're committed to providing world-class service and equipment for our customers.

Contact us online or by phone:
Auburn 253-854-5438
Pasco 509-547-7413
Wenatchee 509-663-9009
Yakima 509-457-5137

Further Reading:
Top Reasons to Buy a Used Forklift
Rent Vs. Buy - Do You Know The Magic Number?
Common Misconceptions About Buying a Used Forklift