Common Misconceptions About Buying a Used Forklift
by Ryan Oshman, on January 17, 2020 at 9:00 AM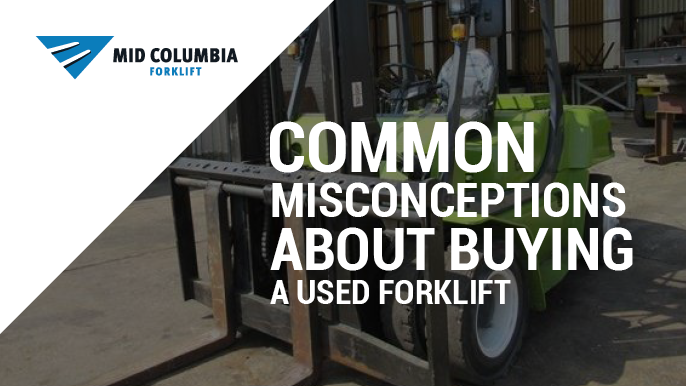 Myths and misconceptions about used forklifts prevent many buyers from getting a great deal. A used forklift, when purchased from a reputable seller, costs about half as much as a new one and offers excellent long-term value. Used forklifts are ideal if you:
Experience a sudden increase in business - Don't wait for equipment to arrive from the factory; get the equipment you need fast. Whether you're looking for a used propane forklift, electric, diesel or gas, we have dozens to choose from.
Want to expand your fleet without reducing productivity - If your operators are already familiar with a particular forklift, a new model can reduce productivity while your team adjusts to the new equipment.
Need to replace a forklift unexpectedly - If a new forklift isn't something you budgeted for, purchasing a used forklift can maximize your buying power.
So why don't more people buy used forklifts? Because of these three common misconceptions...
Top 3 Misconceptions About Used Forklifts
Misconception #1 - Used Forklifts Have Hidden Problems
We get it; new forklifts offer peace of mind. No one wants to spend thousands of dollars on equipment that won't last more than a year or two. With a new forklift, you don't have to worry whether the previous owner took care of the equipment, or what mechanical issues might be lurking under the hood.

When you buy a used forklift from Mid Columbia Forklift and MidCo Material Handling, you can buy with confidence. As an authorized Clark, Doosan and Toyota forklift dealer, we adhere to strict standards, and our factory-trained forklift technicians follow a detailed inspection and reconditioning process. We also offer financing and warranties other sellers cannot.
We're not a fly-by-night seller on craigslist with no accountability. We're a trusted partner in the material handling industry, and we've been supporting local businesses in Washington state since 1978.
Misconception #2 - Used Forklifts Don't Come With Warranties
If the seller doesn't offer a warranty, this is a huge red flag. At Mid Columbia Forklift and MidCo Material Handling, we offer a variety of warranty options and service contracts to meet your needs and budgets. We stand behind what we sell!
Misconception #3 - Just Take it for a Test Drive
The third major misconception is a bit different than the ones above. Some buyers put too much trust in third-party sellers and get burned. They take the truck for a test drive, check the forks and tires and sign on the dotted line. A superficial inspection like this won't reveal major problems, so the buyer ends up with lousy equipment and thinks all used forklifts are a waste of money.
How to Find the Best Used Forklift - Expert Tips
In addition to test driving the forklift and checking the tires, here are some other things to know before you buy:
Ask for the service history- confirm the forklift received all its manufacturer-recommend service and compare the hour meter to the lift truck's service history. If they don't match, the hour meter may have been tampered with.
Ask about the forklift's working history- did it operate near saltwater or in extreme environments? Harsh conditions aren't a reason not to buy a used forklift, but thorough reconditioning is a must.
Get an inspection- an authorized dealer can provide you with an inspection report. If you're buying from a third-party, have a factory-trained technician you trust perform a thorough inspection.
Confirm the lift truck's rated capacity, mast height and fuel options - make sure the equipment meets the needs of your application.
Buying a used electric forklift?- find out if the purchase includes a charger and how old the batteries are.
Questions? We're happy to help. Let us know what you're looking for and we'll find the right machine for your application and budget.
Contact us online or by phone:
Auburn 253-854-5438
Pasco 509-547-7413
Wenatchee 509-663-9009
Yakima 509-457-5137
Further Reading:
Top Reasons to Buy a Used Forklift
Used Forklift Buyers Guide
Used Forklifts for Sale