Rent Vs. Buy - Do You Know The Magic Number?
by Hank Ansley, on February 21, 2020 at 9:00 AM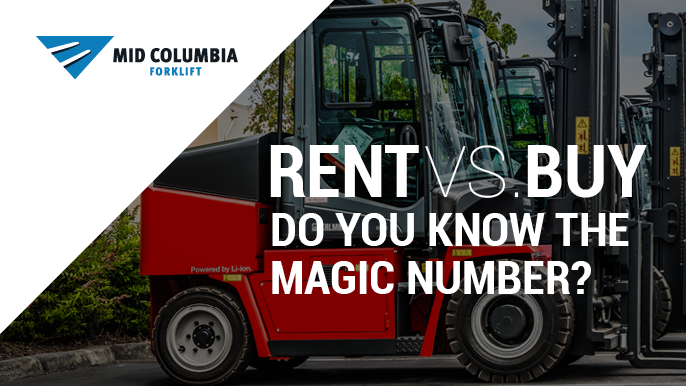 If you've ever hired seasonal staff or a short-term consultant, you know the value of paying for extra help when you need it. When the job is done, the extra personnel and overhead go away (and you may be happy to see them go).

Renting equipment allows you to expand capacity, just like hiring temporary staff; it's also the economical way to evaluate equipment you want to purchase. Sometimes buyers are too quick to commit. They need a job done and equipment to do it, so they buy what they need. When the job ends or needs change, the company may be stuck with equipment they rarely use.



So how do you avoid spending too much on equipment? If you know one magic number, the decision is easy.
The Cost to Rent a Forklift Vs. Purchasing
When evaluating whether to rent or purchase equipment, knowing how many hours your staff will actually use the equipment is an essential metric. For most businesses, the magic number is 60 percent - as in a 60 percent utilization ratio. If you have a 40-hour workweek, a 60 percent utilization is 24 hours.



Think of your equipment like an employee. Would you pay someone a full-time salary and benefits to only work 24 hours per week and stand around the rest of the time?

With a forklift rental, you only pay for the predetermined rental period. The dealer covers all routine maintenance and repairs that are not operator caused. When you buy a forklift, you're paying for the equipment whether you use it a little or a lot.

Qualify Then Buy
Think of renting as the opportunity to try before you buy and avoid bad investments. When the purchase process happens too quickly, that's when mistakes happen. For example:

Your new client has a job that requires a 25-foot aerial work platform. Until you know that client is going to stick around long-term, renting allows you to get the job done without tying up capital. If that client offers a second job, one that requires a 36-foot lift, you're in trouble if you bought a lift and it's too small.

Smart buyers take their time, evaluate their short and long-term needs and calculate the magic number. If you're not sure about your utilization ratio, please don't hesitate to. We're happy to answer any questions you may have and help you compare financing options with rental rates so you can make an informed decision. Many experienced managers are surprised when we price out the cost to rent versus buy or lease equipment.

Other Reasons to Buy Equipment
If the equipment you need will get used more than 60 percent of the time, buying or leasing is a better value without a doubt. Here are a few other scenarios when it's better to purchase equipment:
You have a remote job-site and need equipment on a moment's notice. Having equipment available on-site may be necessary to avoid missing a critical deadline.

Your operators work with many different pieces of equipment throughout the day. Keeping the same equipment long-term allows operators to familiarize themselves with each machine and improves efficiency.
Fleet Management and More
Managing projects can be complicated - permits, project delays, material acquisitions, job site headaches, etc. Free up your team members to focus on their areas of expertise and let Mid-Columbia Forklift and MidCo Material Handling handle your fleet management. Our planned maintenance program will eliminate knee jerk reaction repairs, and drive down costs by allowing you to take advantage of volume discounts on parts and fluids.
Buy or Rent Material Handling Equipment in Washington State
Let Mid-Columbia Forklift and MidCo Material Handling check all the boxes for you: new, used, service, and rentals. We have the flexibility, experience and inventory to help you achieve your goals.



We sell Doosan, Clark, Kalmar and Toyota forklifts, and we're a dealer for Taylor-Dunn vehicles, AICHI aerial lifts and Advance industrial cleaning equipment. Our rental fleet includes many different brands, and we offer long term rentals, flexible terms and rent-to-own options.

Questions? Contact an expert at Mid Columbia Forklift and or MidCo Material Handling. We take pride in providing World Class service and equipment for our customers and our experienced material handling experts can help you make a confident decision to lease or purchase equipment.

Contact us online or by phone:
Auburn 253-854-5438
Pasco 509-547-7413
Wenatchee 509-663-9009
Yakima 509-457-5137

Further Reading
Forklift Mast Height - Know Before You Buy
Common Misconceptions About Buying a Used Forklift
Forklift Rentals in Washington