Forklift Mast Height - Know Before You Buy
by Dan Bergman, on February 4, 2020 at 3:23 PM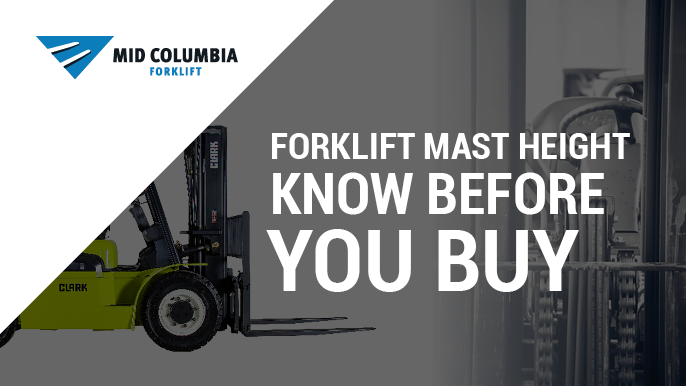 Forklift masts are not one-size-fits-all. Before you buy a new or used forklift, there are a few important factors to consider:
The mast's lift height (how high can it lift the forks)
The height of the mast when completely retracted
The height of the mast when fully extended
The mast's free lift range
How to Choose the Right Type of Forklift Mast
Lift Height Considerations: To calculate how much lift height you need, start with the height of your topmost shelf and add six inches. The extra inches give the operator some wiggle room to adjust a load with the mast fully extended. Lift height is sometimes referred to as maximum fork height or MFH.



Extended and Collapsed Height: The extended height of a forklift mast is the distance from the floor to the top of the mast (or load backrest) when fully extended. This is different than lift height, which is measured from the forks to the floor.

The collapsed height is the distance from the top of the mast to the floor when the mast is completely lowered. This is an important measurement if your forklifts need to travel through small openings such as a standard garage door or operate inside containers or truck trailers.

Limited Vs. Full Free Lift Forklift Masts: Free lift describes how high an operator can raise the forks without changing the mast height. If your forklift operates in an environment with low overhead clearance, free lift may be important.

A forklift mast has inner and outer rails (also known as channels). If a mast has no free lift, that means the inner mast rails extend either when the lift begins. If your operator is double-stacking inside a trailer or boxcar, a mast without free lift can make their job a lot more difficult and dangerous.

Some forklift masts (described below) can lift loads up to several feet without the inner rails extending. The drawback? With some masts, the free lift mechanism sits in the center of the mast, which can limit visibility.
Single-Stage Vs. 2-Stage Vs. 3-Stage Forklift Masts
Once you identify your height needs and restrictions, you're ready to choose a mast. There are three common types:
Single Stage (simplex mast)
2-Stage (duplex mast)
3-Stage (triplex mast)
A fourth type, the quad mast or 4-stage, offers lift heights up to 22 feet. These are less common and only used in specialized warehouse applications.
Single-Stage Mast - Typically used in applications where overhead clearance is not a concern, such as outdoor environments.
2-Stage Mast - A 2-stage mast provides free lift and, when needed, the inner channel can extend for greater lift heights (generally 157 inches/13 feet).
Two-stage masts are popular with cross-docking applications because they offer better visibility versus a three-stage mast. Capacity is another reason to choose a 2-stage versus 3-stage mast. Because 2-stage masts have a lower maximum lift height, the forklift can operate up to its maximum rated capacity.* Using a three-stage mast affects the forklift's load center and reduces capacity.
* Attachments, load types and other factors may limit capacity. Always consult an authorized dealer.
3-Stage Mast - Three-stage masts are the most popular forklift mast, especially for warehouse and logistics applications. With a 3-stage mast, the outer rails provide free lift, and two inner channels allow for greater lift heights compared to a 2-stage mast. Capacity limitations and reduced forward visibility for the operator (due to the additional inner channel and central hydraulic lift cylinder) should be considered before choosing a 3-stage mast.
You don't have to make this decision on your own. We're happy to provide expert advice over the phone, via email, or in person. Visit one of our four locations and see a 3-stage mast in person, or arrange a forklift rental to try before you buy.
Mid-Columbia Forklift and MidCo Material Handling has Clark, Doosan and Toyota forklifts for sale and rental. Contact us online or by phone:

Auburn 253-854-5438
Pasco 509-547-7413
Wenatchee 509-663-9009
Yakima 509-457-5137
Further Reading
Common Misconceptions About Buying a Used Forklift
The Best Equipment for Intermodal Shipping Container Management
When to Rent Vs. Buy a Forklift