Best Equipment for Intermodal Shipping Container Management
by Hank Ansley, on November 11, 2019 at 4:00 PM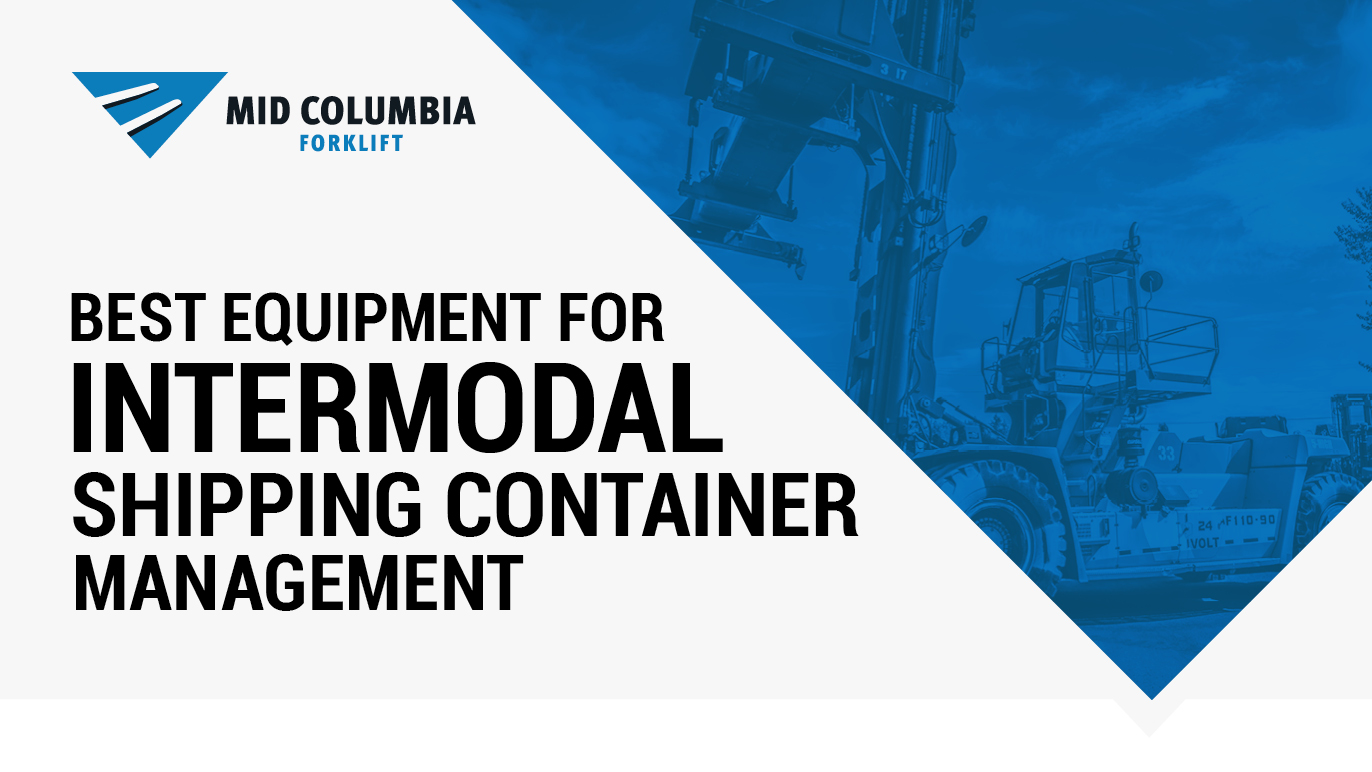 Managing shipping containers requires specialized equipment to effectively handle the containers between different transit methods. Whether at a port, in freight yards, or on trains, intermodal containerization demands optimized handling solutions. Intermodal settings place increased demands on material handling equipment, operators, and business operations.
It's not enough to just do the heavy lifting, however - the right reach stacker or loaded container handler can offer additional benefits via reduced environmental impacts, improvements of operator health and safety, increased data visibility with telematics, and more.
Optimize Workflows with Container Handlers
For big operations, crane handlers and shuttle carriers are essential for business but more specialized equipment is also needed. Kalmar large heavy-duty forklifts can be key for staging shipping containers, but the most effective operations rely on reach stackers and container handlers to manipulate containers into more effective stacks. Reach stackers like the Kalmar DRG450-65 S5X allow these large pieces of equipment to stack containers up to 6 containers high and 4 rows deep, even when the containers are fully loaded with 99,200 pounds of product. When combined with a full fleet of crane handlers, shuttle carriers, forklifts, and container handlers, a reach stacker can do much to optimize your operation's throughput.
Improve Operator Safety
Reach stackers and loaded container handlers are big pieces of equipment - their size creates challenges for operators' safety and the safety of their coworkers. Challenges with visibility, operator fatigue, outdated ergonomics in older equipment, and potential maintenance issues can contribute to preventable worksite incidents.
Updated models of reach stackers and loaded container handlers offer a large potential upside for businesses. Improved ergonomics and design considerations such as Kalmar's rotating operator seat overcome risks for potential fatigue injuries or collisions due to visibility challenges. Integrated telematics systems can provide essential operation data for ensuring safe shifts and instantly alert managers to any collisions or other issues. Coupled with the proper approach to forklift operator training and a culture of safety, these equipment updates can be big contributors to safer operations.
Reduce Your Fuel Costs
Heavy equipment doesn't always mean heavier fuel consumption. Modern engines that comply with the EPA's Tier 4 Final regulation not only deliver up to a 90% reduction in emissions, but also deliver more fuel-efficient performance. Specialized offerings such as Kalmar's K-Motion lineup help to capitalize further on this efficiency by optimizing drivetrain performance to deliver an even more efficient reach stacker or container handler. These more environmentally friendly options can help reduce your overall total cost of ownership too, thanks to longer service intervals and improved monitoring present in the equipment package.
While the up-front costs of these pieces of equipment are significant, the long-term operational savings thanks to reduced fuel consumption cannot be overstated. Reducing your consumption and emissions is ultimately good for your business, your employee's health, and the world. A strategic implementation plan to integrate updated equipment to your fleet can help reinforce your operator safety, improve your throughput, and optimize your fleet's energy costs.
Check out our high-capacity equipment lineup to meet your intermodal needs.
Further Reading:
Forklift Certification for Material Handling Equipment
Kalmar Forklift Models for Sale