How to Choose an Electric Personnel Carrier
by Dan Bergman, on May 15, 2020 at 11:00 AM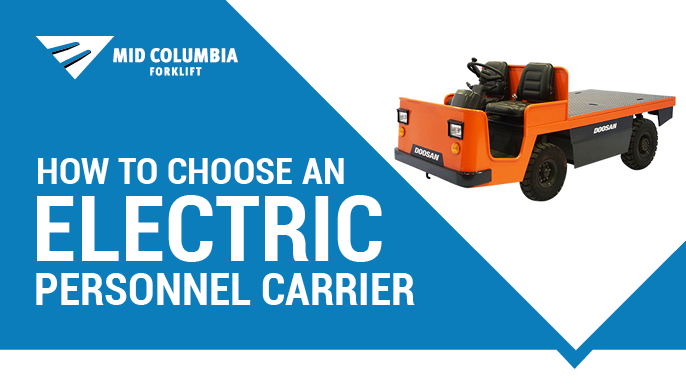 As businesses ramp back up following coronavirus shutdowns, ensuring safe operation and transport is more essential than ever. In order to keep the supply chain functioning, managers and executives need an easy solution to review work processes and complete safety audits.
The best equipment to meet this need is an electric personnel carrier. While there are many available on the market today, Taylor-Dunn offers a strong option for many businesses.
Taylor-Dunn Personnel Carriers
With over 65 years of success, Taylor-Dunn boasts a rugged and dependable utility vehicle lineup. With customizable options and modifications and models that are frequently in operation for more than 10 years, these pieces of equipment will help round out your logistics operation.
When choosing an electric personnel carrier, carefully answer these questions to best identify your needs.
How big is your facility?
Depending on the size of your working area, different electric carriers may offer greater range. From a full charge, most carriers can reach up to 40 miles of range. However, variables such as load size, speed, and other factors can affect this range. If you need to drive further on a single charge, consider upgrading to a lithium ion battery solution to extend the life between charging cycles.
How many passengers do you need to carry?
Taylor-Dunn, the industry-leading manufacturer of industrial personnel carriers, offers a wide range of models to meet different needs. Whether you need a carrier for executive transport, a single-passenger vehicle for manager inspections, or something for larger groups, Taylor-Dunn probably has a solution for you. With capacities up to 6 people and expandable trailers for many more, you can safely transport groups of up to 30 passengers around your facility.
Do you need a specialized personnel carrier?
Specialized options are available for many different needs. Common options include an ambulance configuration for work injuries, PA systems, windshields, and on-board chargers. Talk with our team to discuss your customized needs - we'll help you find the right Taylor-Dunn model to speed up your on-site transport.
Ready to talk through your personnel carrier challenges? The team at Mid-Columbia Forklift and MidCo Material Handling is available to help meet your needs with our equipment, supplies, and professional insights. Whether you need an option to safely transport executives through busy work spaces or a solution for large tours of your facility, our team is here to help. Contact us today.
Further Reading:
Taylor-Dunn Utility Vehicles for Sale
Warehouse Floor Disinfection Solutions to Combat COVID-19
Flexible Material Handling Rental Terms for Your Business