Hangcha Tow Tractors are the Solution Your Airport Needs
by Trey Barber, on February 10, 2023 at 12:18 PM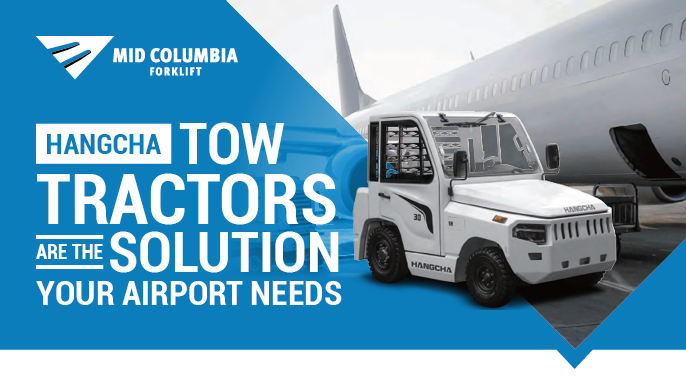 Your airport is a busy place. Aircraft have to shift between hangars. Luggage and cargo have to be loaded and unloaded. And all of it needs to happen right now. On top of that, airport staffing has never been more challenging.
Equipment trouble only adds to the list of woes. That's why you need aircraft tow tractors that will keep up with your facility's quick pace. You need tractors that run all day while keeping your operators comfortable and safe, even in Washington's rainy weather. That means you need Hangcha tow tractors. Read on to learn how Hangcha's line of tow tractors stands up to the toughest jobs and still saves you money.
Your Tractors Don't Stop for Inclement Weather
More than at any other time in history, the world is connected by air travel. Travelers depend on it to visit their loved ones. Businesses need it to keep their doors open. Goods and freight use airlines to keep the country running. So when the weather gets gloomy, your ground crew keeps working.
The X Series Lithium-ion battery also set the industry standard for efficiency and effectiveness. Rated for 4000 charging cycles with 80% capacity retention, the 2 hour charge time and maintenance-free battery will keep this machine running.
Rain or Shine Hangcha Tractors Can Hang
Hangcha's airport tug tractors are built to stand firm against punishing weather. Each features an IPX5 water resistance rating to protect against both water and dust. And sensitive electronics are installed high inside the tractor body to prevent road splash. This provides superior wading ability. Likewise, electronics are supported by forced air cooling to ensure they don't overheat even during the hottest days of the year.
Easy Maintenance Is the Second Best Kind of Maintenance
The best kind of maintenance is maintenance-free. Hangcha's brushless AC travel motor is maintenance-free. But it still provides impressive acceleration and exceptional climbing ability. In addition, models equipped with Hangcha's world-class Lithium Iron Phosphate batteries enjoy all-day power without the hassle of watering. Plus, these batteries are supported by Hangcha's 5-year or 10,000-hour warranty.
But not everything can be maintenance-free. So when service is required, Hangcha tow tractors make it easy. They feature an easy-dismount electric controller as well as front and rear hoods that open at wide, easy-access angles.
Hangcha Tow Tractors Prevent Accidents on the Tarmac
Your tow tractors literally pull their weight and more. But in the high pace environment of the tarmac, you also need them to stop that same weight. So with that in mind, Hangcha put a lot into the brakes.
Hangcha's Braking System Sucks… In a Good Way
The braking system is assisted by an electric vacuum with a double-chamber and double-pipeline system as part of its all-wheel braking design. This provides reliable braking when fully loaded. And the vacuum assist even works when the tractor is off. The operator needs only pump the brakes 6 times, and the vacuum pump will secure the brakes.
This Tractor Offers a Smooth Ride
But braking is only half the battle. The tow tractor must also drive with precision and speed. To achieve that, the tractor uses the S-EPS synchronous steering system and a synchronous steering axle. These auto-adjust to road conditions, ensuring straight driving and reliable steering.
With solid pneumatic tires and a weather enclosure, the X Series is perfect for tugging light-to-medium planes and jets. Inside and out of the hanger, the X series can get aircrafts where they need to be.
Hangcha tow tractors also feature the IMOTION integrated control system. This onboard regulation coordinates all the tractor's drive features to deliver a smooth, accurate driving experience. This includes outstanding speed control, reverse and regenerative braking, and anti-slip functions.
Hangcha Tow Tractors Maximize Productivity
All the machinery in the world does no good unless someone operates it. To that end, Hangcha's tow tractors include a fully sealed cabin for the operator. This cabin is sealed against the elements and provides sound and heat insulation to keep the operator comfortable and safe. It even protects the operator from excessive vibration with its floating cabin design.
The large, multi-functional instrument display is positioned on the dashboard directly in front of the operator. And the combination rocker switches are similarly easy to reach.
The low boarding steps make it easy for the operator to enter and exit the spacious cabin. And the rear of the tractor includes inching buttons and an emergency cut-off switch. This allows the operator to adjust the tractor position without climbing back into the cabin.
Being Better for the Environment Is Also Better for Your Budget
There are a lot of benefits to making the switch to electric tow tractors. From an environmental standpoint, they produce much lower noise pollution. They are extremely energy efficient. And Li-ion technology doesn't release any pollution. This makes them an excellent choice to hit your sustainability goals.
But, if your airport is in Washington State, there's also a financial benefit. Hangcha's X Series tow tractors qualify as "ground support equipment" for airports under Washington's Clean Fuel Standard. This qualifies them for state incentives if used to replace internal combustion tractors.
Additionally, the Federal Voluntary Airport Low Emissions (VALE) program also provides incentives for airports that switch to electric ground support equipment. There are a few more requirements for applying since it is a federal program. But it's another way that Hangcha electric tow tractors save you money.
This also qualifies for the new Washington's Clean Fuel Standard credit program. That means the owner of a new Hangcha tow tractor could get paid for charging it. We're estimating you'd get $8,200 a year!
MidCo Material Handling Is Your Expert on Hangcha Tow Tractors
Hangcha's line of heavy-duty electric tow tractors are powerful, resilient machines that work all day without slowing you down. Their Li-ion batteries are good for the environment and your budget. And they keep your operators comfortable and safe, no matter the weather. So if you are ready to learn more about Hangcha airport tug tractors, contact us online or visit one of our locations throughout Washington State.
Auburn 253-854-5438
Pasco 509-547-7413
Wenatchee 509-663-9009
Yakima 509-457-5137
Further Reading
A Guide to Heavy Duty Forklifts for the Aerospace Industry
The Complete Guide To Getting and Maintaining a Li-ion Forklift Fleet
Are Lithium-Ion Forklift Batteries Worth the Price? Two Surprising Stats