A Guide to Heavy Duty Forklifts for the Aerospace Industry
by Hank Ansley, on June 5, 2020 at 1:45 PM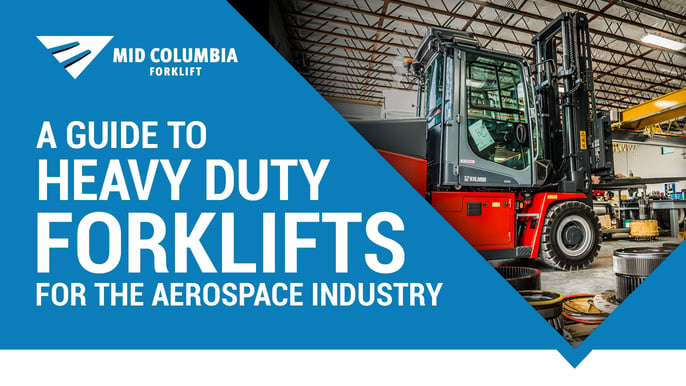 The COVID-19 pandemic has created a new set of challenges unique to the aerospace industry - while plane manufacturers face uncertain futures due to decreased passenger demand, satellite manufacturers have seen steady demand. Whether they specialize in planes or space technology, these manufacturers need a reliable way to move their large products. The right heavy duty forklift can enable productivity and reduce damage to products.
Kalmar Forklift for Aerospace Manufacturing
As a global industry leader in heavy-duty work, Kalmar knows how demanding manufacturing can be. Their expert engineering and innovative material handling solutions represent a full-line provider for aerospace companies. The following models in particular meet specific needs for companies building large products and moving components via shipping containers.
Kalmar DCG 160-12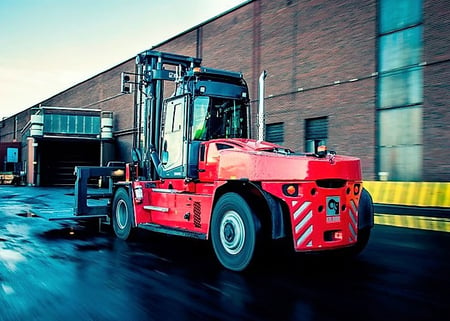 The Kalmar DCG 160-12 is one of the larger diesel forklifts on offer, boasting 36,000 pounds of capacity. With a 48 inch load center, this machine can meet high cycle operations building bulky components. For moving shipping containers, lifting heavy steel, and moving large products, this model is an essential solution for the aerospace industry
Kalmar DCG 100-6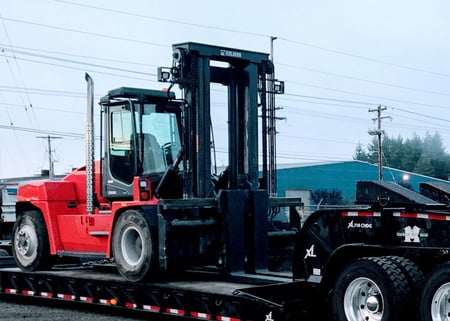 As mid-range option, the Kalmar DCG 100-6 features a 24 inch load center and up to 22,000 pounds of capacity. With new features such as a rear alert sensor that can differentiate between pedestrians and permanent fixtures, this large machine is more maneuverable than the 160-12. For operating in tightening areas or for manufacturers of medium-sized parts and products, the DCG 100-6 creates a lot of value.
Kalmar ECG 50-6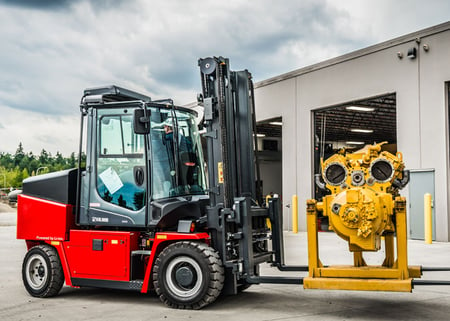 For companies with environmentally-conscious missions or a sensitivity to fuel costs, the Kalmar ECG 50-6 makes a compelling case. With up to 11,000 pounds of capacity, this all-electric forklift features increased maneuverability without sacrificing power or performance. Lead acid and lithium ion battery options are available to help meet your unique charging needs.
Customizing Heavy Duty Forklifts
When it comes to heavy duty forklifts, along with all other material handling equipment, no solution is one size fits all. Manufacturers make a wide variety of optional equipment add-ons available to ensure your needs are met. Whether an integrated telematics systems, safety cameras, remote control options, or simple strobe light solutions, a wide range of equipment options and aftermarket solutions are available. Contact us to learn more about the options available for Kalmar forklifts.
Financing Options for Heavy Duty Forklifts
Purchasing a standard forklift is a significant investment. Make no mistake: heavy-duty forklifts have higher price tags attached. However, that sticker shock shouldn't lock companies out from getting the equipment they need to manufacture plane and satellite components. Many leasing options are available, including "out of the box" and "walk away" leases to offer more flexibility. Let a MidCo leasing specialist review all of the "Ways to Pay" with you and determine what "Way" best fits your company model.
Prefer to avoid capital investments or recurring payments? Certain operations may benefit from periodic rentals of heavy duty forklifts to fill in irregular needs. Whether it's to help reconfigure the layout of your manufacturing shop or to deal with increased demand, a rental may be the right solution for some companies.
Maintaining Large Forklifts
It's not uncommon for Kalmar forklifts to last up to 20 years when properly maintained. For a large investment like this, expert maintenance is essential to protect your equipment and your productivity. While some maintenance can be performed on-site, ensuring your fleet stays productive with expert maintenance is key when working with heavy-duty forklifts. Work with an expert you can trust to bundle planned maintenance with your equipment acquisition.
Whether the future of your aerospace manufacturing seems bright or uncertain, MidCo Material Handling and Mid-Columbia Forklift is here to help. From sourcing highly specialized equipment for your heaviest lifting, working with you to secure the right financing, or providing service you can depend on, our team is here to help. Contact us today to learn more about our heavy duty equipment lineup.
Further Reading:
Kalmar Forklift Models for Sale
The Best Forklift Attachments to Improve Productivity
Apply for Toyota Forklift Finance Program