The Best Forklift Attachments to Improve Productivity
by Trey Barber, on February 28, 2023 at 8:00 AM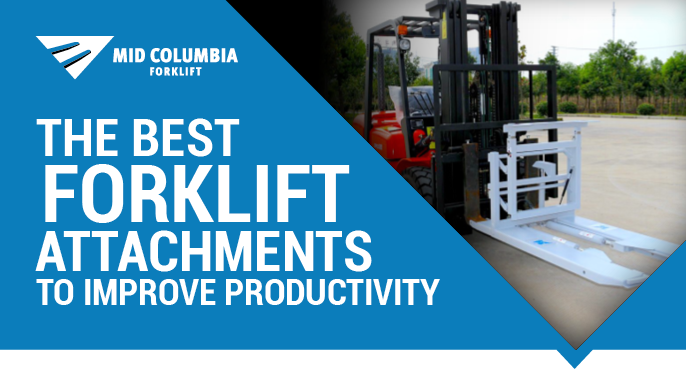 Forklift attachments like side shifters and fork positioners quickly pay for themselves through improved productivity.
Top Forklift Attachments for Productivity
An important note: when buying a forklift attachment, it's important to work with a reputable forklift dealer.
To ensure the attachment will work with your forklift safely

Because attachments affect the forklift's net capacity and you'll need an updated data plate and tags
Side Shifters
Fork side shifters increase speed, reduce damage to pallets and racking and can reduce fuel consumption too. With a forklift side shift attachment, the operator can move the forks laterally from left to right instead of maneuvering the entire forklift into position. It's a major time saver.
Fun fact: side shifters are the most popular forklift attachment.
Fork Positioners
As the name suggests, fork positioners allow the operator to quickly adjust the position of one or both forks. For operations with many different pallet configurations, adjusting the forks hydraulically (instead of by hand) saves a lot of time and manual labor. In addition to reducing labor costs, injuries can also decrease because they won't have to bend or move heavy forks.
Multiple Load Handlers
A multiple load handler, also known as a single-double forklift attachment, allows the operator to move two pallets in one trip. The attachment can also close down into single pallet mode. In other words, the forklift can carry one or two forklifts as needed.
Fork Extensions
Fork extensions go on top of the existing forks to make them longer, up to 120". While they are not a suitable for use with loads at or near your forklift's capacity, forklift fork extensions can be used with larger than normal loads or to help stabilize awkward or irregularly-loaded pallets. You can also get fork extensions designed to handle rolls.
New and Used Forklift Attachments
The friendly experts at Mid-Columbia Forklift and MidCo Material Handling are here to help you optimize your business and improve productivity. We offer free equipment consultations to businesses in Washington state, from Seattle/Tacoma to the Tri-Cities, Wenatchee to Yakima and everywhere in between.
If you have any questions about what forklift attachment might be right for you, please let us know. We also rent forklift attachments so you can try before you buy.
Related Reading:
Popular Forklift Attachments in Washington State
Best Forklift Attachments for Washington Apple Farms
Improve Forklift Performance With These 5 Simple Maintenance Tips