The Best Forklift Attachments to Improve Productivity
by Dana Bowen, on May 8, 2020 at 8:00 AM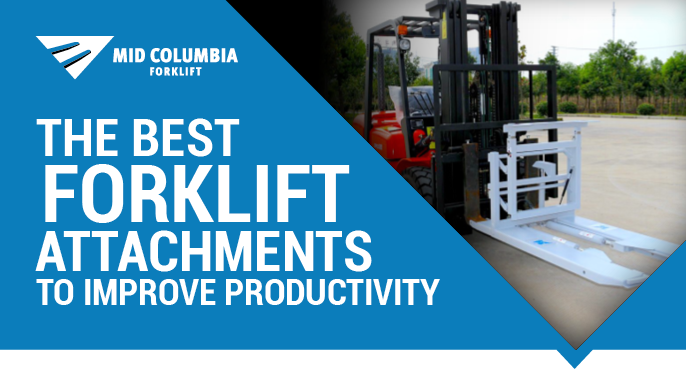 As the world finds its way through the COVID-19 pandemic, productivity and throughput will be more important than ever. Whatever industry your fleet serves, maintaining optimal performance is key for maintaining the global supply chain.
Top Forklift Attachments for Productivity
If productivity is a challenge for your fleet, adding select forklift attachments may improve your overall performance. Some of the best forklift attachments for improving fleet performance are below. Before adding any attachments to your equipment, however, be sure to contact your original equipment manufacturer (OEM) or forklift dealer the unit was purchased from to ensure the desired attachments are in line with your configuration. You must also complete required testing and rating of your equipment to create updated data plates.
Side Shifters
Fork side shifters are a commonly used attachment in modern material handling for good reason: by moving pallet loads from side to side, operators can better line up with pallets for pick up. This attachment increases speed, reduces damage to pallets and racking, and can reduce fuel consumption too.
Fork Positioners
Fork positioners allow operators to shift the alignment of their forks hydraulically, rather than by hand. For operations with many different pallet configurations, this can save operators a lot of time and manual labor. As a result, your time handling loads will decrease and your operators' risk of injury from bending and lifting heavy forks will be reduced as well.
Multiple Load Handlers
A multiple load handler enables operators to move both single pallets or two pallet loads side by side. Some models offer hydraulic operation for choosing configurations, while others may be rigid unibody construction for side-by-side pallets. Moving two pallets at once will drastically improve your throughput and help reduce fuel consumption as a result.
Fork Extensions
Fork extensions are sleeves that fit over your forks to help with the safe handling of large or awkward pallet loads. While they are not a suitable replacement for larger forks when handling very heavy loads, they can help stabilize irregularly loaded pallets in line with your forklift's load capacity.
Push/Pull Attachments
Push/pull attachments are frequently seen in the beverage and consumer packaged goods industries. To use this attachment, products are loaded on a slip sheet to increase shipping volume. The push/pull grips the slip sheet to easily load and unload an increased volume of goods.
Mid-Columbia Forklift and MidCo Material Handling are here to help you optimize your business with our equipment, supplies, and professional insights. Whether you need a consultation to identify how to improve your warehouse productivity or want to learn more about recommended forklift attachments, our team is here to help.
Further Reading:
Top Forklift Replacement Parts to Keep On Hand
Improve Forklift Performance With These 5 Simple Maintenance Tips
Signs Your Forklift Needs Repairs