Best Forklift Attachments for Washington Apple Farms
by Dan Bergman, on June 5, 2020 at 1:15 PM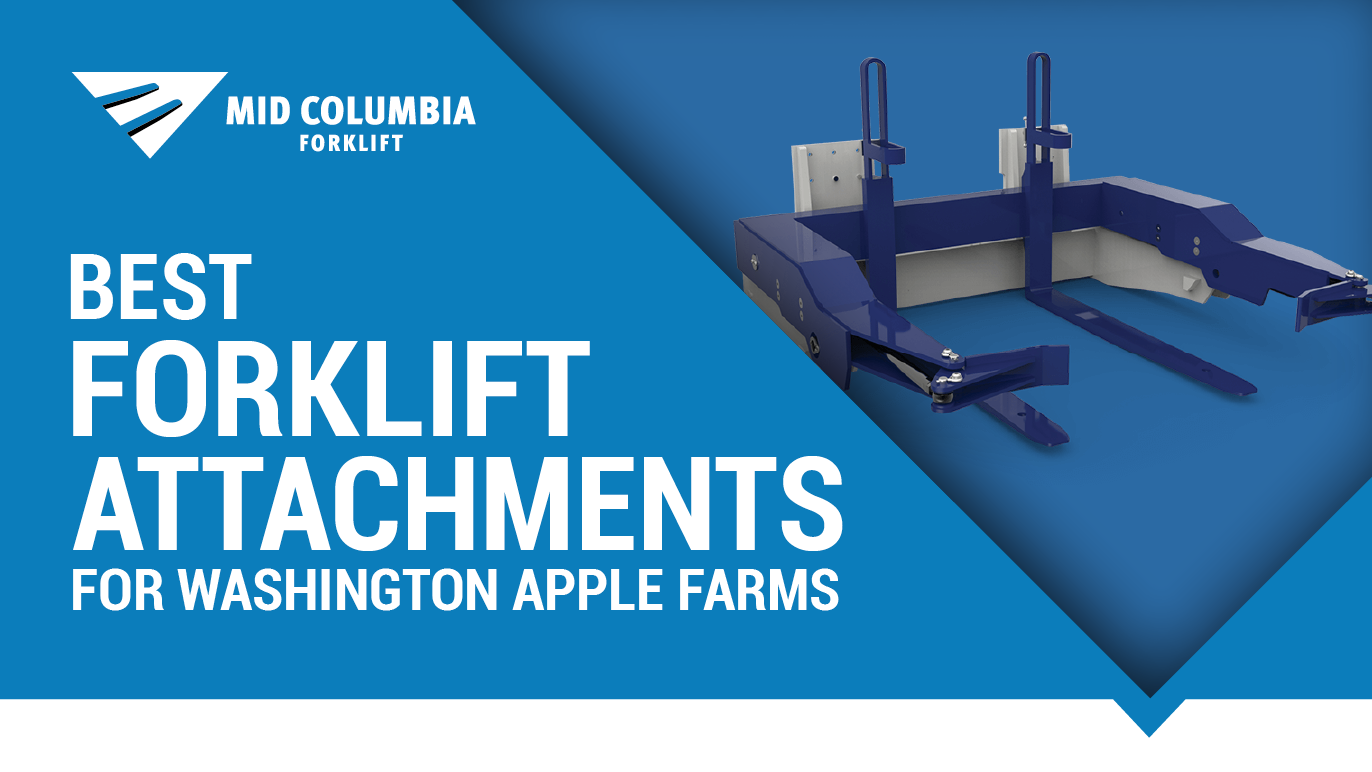 Washington Apple farms face unique challenges during peak harvest seasons, as they must move their delicate products quickly for processing while working to minimize potential damage during transport. Even large, commercial apple farms using industrial material handling equipment can minimize product loss with the right forklift configuration and attachments. These are some of the most popular and effective pieces of add-on equipment to speed up your harvest without increasing product loss.
Bin Dumpers
This add-on equipment enables forklifts to dump bins of apples directly into transport containers, sanitation bins, or other containers. By minimizing the amount of human touches on the produce, farms can reduce their product loss and maintain a higher quality across the board.
Bulk Harvest Bins
For moving fragile galas or granny smiths, a specialized bin is essential. The best produce bins for farmers feature integrated fork pockets, a durable soft liner, and rounded corners. By creating a more stable, forgiving environment for your ripe apples can maximize profits.
Side Shifter
A forklift side shifter allows operators to shift their forks left or right to align with loads quickly and easily. This saves time by cutting down on repeated approaches to pallets, and will help reduce handling time for your loads of produce.
Fork Positioner
A fork positioner allows operators to adjust their forks automatically, enabling entry for a variety of pallet sizes and fork configurations. For large farms with a variety of equipment present, this add-on can speed up your productivity and enable greater throughput.
These pieces of add-on equipment are some of the most widely used for apple farmers in the Pacific Northwest. However, they may not be the right solution for every unique setting. Contact your material handling equipment experts at MIdCo Material Handling and MidColumbia Forklift to discuss your specific requirements before purchasing these highly specialized products.
Auburn 253-854-5438
Pasco 509-547-7413
Wenatchee 509-663-9009
Yakima 509-457-5137
Further Reading:
Maintenance Tips for Washington Port Equipment
Is My Warehouse Racking Compliant with Washington State Fire Codes?
4 Key Material Handling Configurations for Washington Port Efficiency