How to Plan for Your Seasonal Forklift Rental
by Mike McCamey, on February 14, 2020 at 9:00 AM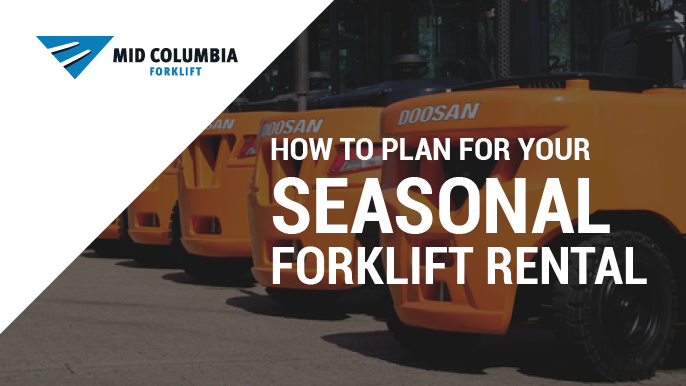 Almost every industry experiences the challenges associated with peak business seasons. Increased demand, longer hours, and increased production can all contribute to challenges for both personnel and equipment. For material handling businesses, a seasonal forklift rental can often be the right solution for handling these challenges of increased volume. However, a seasonal rental requires plenty of planning and optimization to have a positive impact. Here are key things to keep in mind when planning for your next seasonal forklift rental.
Plan Your Seasonal Rental Ahead of Time
For farmers and processors in Washington State, harvest seasons bring a mad dash. Whether it's apples, potatoes, hops, or hay, knowing the rhythm of harvest season is key. You'll want the rental on hand ahead of peak season to ensure you have the fleet size needed and to acclimate as production ramps up. And you'll likely need your rental term to go a bit longer than you would expect to help account for variances in the harvest. Look at your peak throughput weeks from years past to help determine where peak season falls and how long your rental term should last.
You should work with your rental providers well in advance to make sure your rental is secured for peak seasons, especially busy harvest seasons that run from summer through late fall months. In Washington, booking your rental by the end of February is essential for success. Even larger dealers like Mid-Columbia Forklift and MidCo Material Handling with over 800 rental units run out of supply quickly. Work with your rental representative to build a long-term relationship to help smooth out your seasonal rental process for years to come.
Consider Purchasing a Used Forklift
Supply and demand can make rentals during peak seasons impossible for some businesses seeking shorter rental terms. If you reach out too late, you can miss out on a rental entirely. If renting is a consistent challenge for your peak seasons, consider expanding your fleet. At Mid-Columbia Forklift, we frequently "retire" units from our rental fleet as used forklifts for sale. We work hard to keep operating hours low, so that we can offer used forklift with active factory warranties and higher quality than used forklifts from other dealers.
Determine Your Fleet's Utilization Rate
How hard is your fleet working? To determine how many rental forklifts you need, you must calculate your forklift utilization rate for the typical time of year as well as during previous peak seasons. Calculate your utilization rate by dividing the total of your forklifts' meter hours by the total hours they can be worked per day. For instance, two forklifts working one 8 hour shift with 12 meter hours have a 75% utilization rate. This lets you know the capacity for work in your fleet. While rates approaching 100% indicate a very effective business, it also indicates higher risk. If a forklift were to experience downtime, your productivity would suffer more than a fleet with a 50% utilization rate. By determining what your utilization rate was in previous peak seasons, you can decide how many forklifts your company needs to rent to keep up with this year.
Analyze Last Year's Performance
Did you experience any problems with last year's rental equipment? Did you wish you had rented more forklifts? Were there any challenges in integrating the rental forklifts to your workflow? Making an honest analysis of your experience in last year's peak season is key for determining what to change in this year's strategy.
Contact Your Rental Forklift Provider in Washington State
After you've spent time reflecting on the items above, it's time to contact your forklift rental provider. They will work with you to determine the term length of your rental, hours of usage, and other key information. If you have concerns or questions, ask them. Material handling pros are a helpful group and will help make sure that you're tackling your seasonal challenges effectively.
Whether you're working to move apples, lumber, hay, cherries, potatoes, or other farm products, a seasonal rental can be essential for your business success. Need help developing your plan for seasons of peak throughput? Contact the rental team at Mid-Columbia Forklift and MidCo Material Handling. Our staff of material handling professionals will help identify your areas of need and determine what equipment will help maximize your throughput.
Further Reading
Top Reasons to Buy a Used Forklift
Equipment Challenges for Washington's Forest Products Industry
4 Key Material Handling Configurations for Washington Port Efficiency