Hangcha: All Your Frequently Asked Questions Answered
by Trey Barber, on February 3, 2023 at 10:01 AM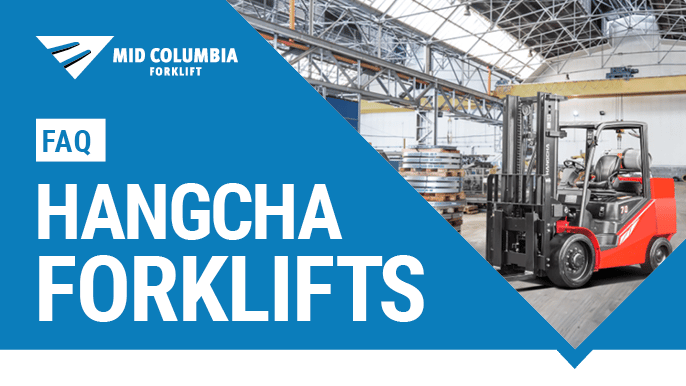 How many choices of breakfast cereal are there at your local grocery store? There are a dozen, at least. More likely, there's a whole aisle devoted to it. And anyone who's bought the store brand instead of their favorite can tell you each is very different, despite the packaging. Knowing those differences matters if you mean to get what you want.
The same is true of material handling equipment. There are a bunch of manufacturers out there. So how do you know you're getting the right equipment for your warehouse? The first step is getting to know the brands and their strengths. And when it comes to electric material handling equipment, Hangcha is one of the best. Read on to learn about Hangcha and what makes this brand of forklifts and material handling equipment stand out from the competition.
Who Is Hangcha?
Hangcha is a designer, manufacturer, and distributor of high-quality material handling equipment. They are headquartered in Li-an, Zhejiang province, China. Hangcha maintains a state-of-the-art manufacturing facility there, producing over 250,000 forklifts annually.
During their 67 years of experience, Hangcha has established distribution centers worldwide, including offices in Europe, the United States, and Canada. This expanded network allows them to provide their innovative products worldwide while still offering exceptional customer support.
What Does Hangcha Make?
Hangcha offers a comprehensive line of material handling equipment. This includes forklifts, pallet trucks, pallet stackers, reach trucks, order pickers, tow tractors, narrow aisle trucks, and rough terrain forklifts.
They offer both internal combustion and electric models. But their Li-ion XC series electric forklifts have been an industry game changer since their introduction in 2018. Through a partnership with CATL, Hangcha developed the entire XC line around lithium iron phosphate battery technology. This innovative line outperforms many other electric and IC forklifts on the market.
What Are the Benefits of Hangcha Lithium-Ion Technology?
The advancements in Li-ion battery technology made possible by CATL and Hangcha opened the door to an ever-increasing number of benefits. These batteries are lithium iron phosphate batteries. This new battery chemistry provides a host of improvements over older Li-ion battery formulas:
Longer lifespans
Lighter weight
Improved discharge and charge efficiency
Superior safety
These battery advancements translate to better forklift performance, making Hangcha's Li-ion forklifts the best choice for most industries. The benefits of using Hangcha's lithium iron phosphate batteries include:
Rapid charging
Opportunity charging
Longer run times
Maintenance-free battery packs
Zero emissions
Reduced forklift maintenance overall
Reduced total cost of ownership
With the success of the XC series forklifts, Hangcha also incorporated their Li-ion technology into a comprehensive electric material handling equipment line.
What Is the Warranty on Hangcha Forklift Batteries?
Hangcha's Li-ion batteries are manufactured to the highest standards. Thus Hangcha backs them up with one of the longest warranties in the industry. All Hangcha lithium iron phosphate batteries come with a 5-year or 10,000-hour warranty, meaning the battery will be covered for the expected life span of the forklift itself.
What Is the Future for Hangcha?
In 2021, Hangcha sold nearly 110,000 electric forklifts to a diverse set of industries across the globe. This was a 55% increase in demand for electric forklifts. Hangcha heard this call to action loud and clear. Starting in 2022, Hangcha began investing in the development of further innovations in electric forklift technology. Likewise, they are exploring the development of forklifts powered by hydrogen fuel cells.
Regardless, Hangcha's line of internal combustion-powered forklifts isn't going anywhere anytime soon. They will continue to manufacture these industry staples while maintaining a diverse line of equipment to meet any material handling needs.
What Are the Financing Options for Hangcha Forklifts?
Hangcha's Li-ion-powered forklifts have a lower total cost of ownership, making them an excellent choice for any budget-conscious business. However, the initial cost of ownership is higher than some other IC or electric brands. Because of this, you can can use Mid Columbia Forklift's various leasing options instead of purchasing new equipment.
There are several benefits to leasing your forklifts. Financially, leases allow you to customize terms to fit your company's financial requirements. And you can maximize your payments by bundling your lease with a maintenance plan. Operationally, leasing ensures you always have the most up-to-date equipment in your fleet. Plus, you don't have to stress over downtime as Mid Columbia Forklift provides replacements for equipment failures.
Learn More about Forklift Purchasing Options: Buy Lease or Rent
Where Is Your Local Hangcha Dealer?
If you are looking for a Hangcha forklift dealer in Washington State, look no further than Mid Columbia Forklift. Whether leasing or purchasing, their experts can help you find the right new or used Hangcha forklift for your business. To learn more about Hangcha forklifts and how to add one to your fleet, reach out to us online or at one of our Washington State locations.
Auburn 253-854-5438
Pasco 509-547-7413
Wenatchee 509-663-9009
Yakima 509-457-5137
Further Reading
Product Review: Hangcha XC Series Electric Pneumatic Tire Forklift
The Complete Guide To Getting and Maintaining a Li-ion Forklift Fleet
Hangcha FP18 LPG Cushion Tire Forklift Product Review