Product Review: Hangcha XC Series Electric Pneumatic Tire Forklift
by Phil Hanford, on May 20, 2022 at 10:19 AM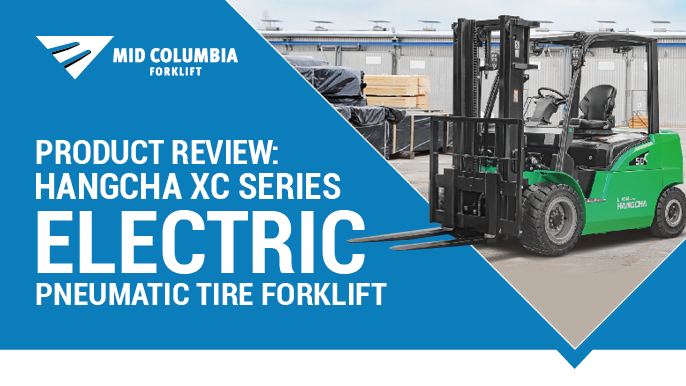 Product Name: XC Series Electric Pneumatic Tire Forklift with Li-Ion power 2.0 - 3.5t
Manufacturer: Hangcha
Model: FB25Li
Lift Capacity: 4,000 - 7,000 lbs.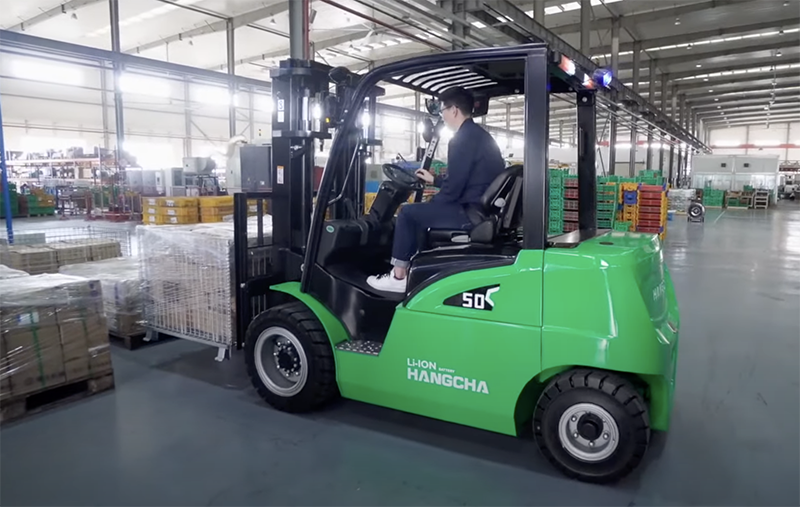 Notable Features
Quick charging. With the Titan Charger, the XC Series FB25Li charges in under 2 hours. With opportunity charging and regenerative braking, it can work through several shifts. It only needs charging on breaks.
Outdoor operation approved. The XC Series has an IPX4 water resistance rating. It features a fully-sealed hood, controllers, motors, and electrical components.
Easy Maintenance. The hood opens to a large angle for easy access. Sealed components have an IP67 protection rating for easy cleaning and dust protection.
Best for: Quick charging and IP67 protection make the FB25Li an excellent workhorse. Its extended run time, easy maintenance, and ergonomic design maximize up-time.
Not recommended for: The FB25Li is not intended for use on unpaved roads or in areas with lots of debris.
XC Series Pros and Cons
Pros
Reliable power. The FB25Li comes standard with a CATL high-capacity lithium iron phosphate battery. The Integrated Battery Management System (BMS) monitors energy use to ensure reliable output. The FB25Li supports opportunity charging.
Battery protection. Hangcha guarantees the FB25Li's Li-Ion battery with a 5-year or 10,000-hour warranty.
Smooth operation. The integrated MOSFET controller ensures smooth operation both while driving and lifting. The controller provides reverse braking, excellent speed regulation, and anti-slipping performance on ramps.
Ultra-high power. The truck features an ultra-high power AC pump motor and AC traction motor. Speed and temperature sensors extend the life and reliability of the hydraulic system.
Built for drivers. The FB25Li has an operating space 50% larger than traditional electric trucks. The dashboard mounts overhead for easy viewing and access. It features a 4.33" True Color Screen for clear readings.
Improved comfort. The FB25Li has an adjustable steering wheel and a seat with 8.3" of adjustment space. This allows the driver to find the most comfortable position throughout their shift.
Wider view. A wide view mast increases the operator's field of vision by 15%.
Stable cornering. With a low center of gravity and solid stability, the FB25Li feels great to drive, even when cornering. The truck automatically decelerates while turning.
Designed for safety. The FB25Li comes standard with a soft landing system and can include a lift buffer system.
Made for humans. The handbrake can include an optional alarm to remind the driver to pull up before exiting the truck. The FB25Li can include up to three horns to alert nearby personnel.
Great for the environment. The FB25Li runs quiet, produces no pollution, and conserves energy.
Cons
The low clearance makes it a poor choice for off-road use and high-debris areas.
Designed for extended use, the FB25Li is not intended for short, sporadic applications.
Popular Options
Battery side roll out with slide or roller
PIN code or card access
Non-marking tires
Left and right rearview mirrors
Backup camera
Titan charger
Rear reverse grip with horn button
Lift buffering system
Multi-way valves
Grammer integrated fingertip control system
Widened fork carriage
Sideshifter
Front/rear blue lights
Rear working lights
Take-aways About Hangcha XC Series FB25Li Forklift
Hangcha's FB25Li was designed with reliability and safety in mind. The high-capacity Li-Ion battery charges in under 2 hours with the Titan charger. And with its built-in energy management systems, the FB25Li spends most of its day up and working.
Hangcha's focus on ergonomics ensures the driver stays comfortable throughout their shift. This reduces fatigue – a major contributing factor to accidents caused by human error.
The fully-sealed hood and components keep the truck operating indoors and out. And the built-in protection functions ensure the FB25Li runs reliably between maintenance cycles.
The Hangcha FB25Li is built to work. Plain and simple.
The HANGCHA FB25Li is available for delivery to your facility in 90 - 120 days while supplies last. This 80V 4 Wheel Electric Pneumatic Tire Truck is Li-Ion battery powered with a 5,000 lbs capacity at 24 inches load center. The offer is valid with a signed, credit-approved order.
To inquire about investing in a new Hangcha FB25Li today, ask an expert from Midco. You can also reach out to our dealerships by phone:
Auburn 253-854-5438
Pasco 509-547-7413
Wenatchee 509-663-9009
Yakima 509-457-5137
Further Reading:
Product Review: Doosan Electric 3-Wheel Forklift
Electric Vs. Propane Forklifts - Which is Best?
Forklift Battery Rental in Seattle-Tacoma, Tri-Cities, Wenatchee, and Yakima