Common Forklift Operator Injuries and How to Prevent Them
by Phil Hanford, on June 12, 2020 at 9:00 AM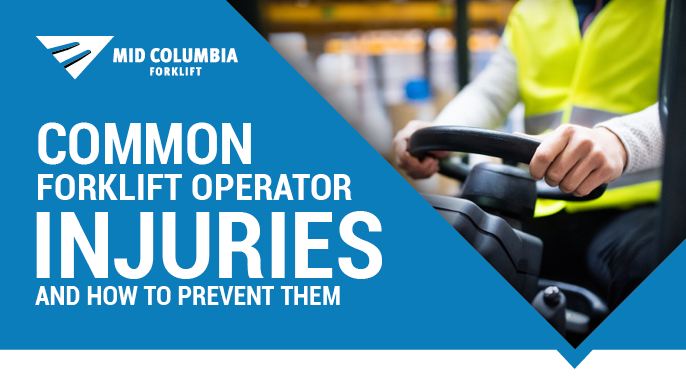 June is forklift safety month, so we wanted to highlight on some of the most common forklift-related injuries and the best ways to prevent them. Forklift injuries can be sudden and severe, or they can be small issues that spiral into long-term problems, but most can be avoided.
How to Reduce Forklift Operator Injuries
Forklifts are involved in more than 20,000 warehouse accidents each year, but accidents aren't the only source of forklift operator injuries. There are also thousands of workers' comp claims and lost work hours due to musculoskeletal and repetitive strain injuries.



Operators learn how to avoid injuries during their certification course, but fatigue or a high-stress work environment can put best practices on the back burner. Here are a few simple ways facility managers and fleet managers can support driver safety and prevent injuries:
Provide safety training to operators and pedestrians
Replace the operator's seat every three years
Provide an anti-vibration seat cushion
Install a back-up handle on each forklift
Encourage drivers to stretch (before and after their shift and during breaks)
Give drivers sturdy gloves (to prevent pinched fingers)
Require hard hats
Keep floors free of debris
Each of the suggestions above is a proven way to prevent one or more common forklift operator injuries. Read on to learn more about each of these suggestions.
Head Injuries - Falling objects cause many injuries to operators (and bystanders) each year. The overhead guard provides some protection, but most aren't designed to handle something heavy plummeting from above. A hard hat, and training on how to properly secure a load, can help drivers and other staff members avoid head injuries.
Chronic Pain - Repetitive movements, sitting for long periods and vehicle vibration take their toll on the human body. Many forklift operators end up with lower back pain, musculoskeletal and/or repetitive strain injuries.

Stretching and using the ergonomic equipment listed above can keep minor discomfort from becoming a lifelong problem. If you have a heavy-duty application, consider a Kalmar forklift. These lift trucks have an operator's seat that rotates 180 degrees.
Whiplash - This injury typically occurs when a driver is speeding and brakes suddenly to avoid a collision. It can also occur when a pedestrian suddenly steps out in front of the truck. Safety training for operators and pedestrians is key to preventing whiplash, an all-too-common injury.
Serious Bodily Injury - Forklift tipovers and overturns cause hundreds of hospitalizations each year. Serious injury occurs when the operator is suddenly ejected from the forklift, or crushed by the vehicle or its load. Head injuries and muscle sprains are the "best" outcome; dozens of people die this way each year.
Some of the major causes of tipovers and overturns include:
Proper Training Prevents Accidents Period.
OSHA estimates proper forklift training prevents 70 percent of forklift accidents. That's inexpensive insurance against serious fines - or worse.

Failure to provide proper training (including contract and temporary workers) can result in a $100,000+ OSHA fine. This is in addition to any expenses caused by the accident itself (legal fees, equipment damage, etc.) and damage to morale.

We offer remote and on-site OSHA forklift training for new operators and refresher training for certified forklift operators. To schedule training or learn more about the ergonomic equipment described above, contact a safety expert at Mid Columbia Forklift and MidCo Material Handling.
Connect with us online or by phone:
Auburn 253-854-5438
Pasco 509-547-7413
Wenatchee 509-663-9009
Yakima 509-457-5137
Further Reading:
4 Simple Ways to Prevent Loading Dock Accidents
Signs Your Forklift Needs to Be Repaired
Forklift Operator Training and OSHA Compliance