Electric Vs. Propane Forklifts - Which is Best?
by Ryan Oshman, on January 31, 2020 at 8:00 AM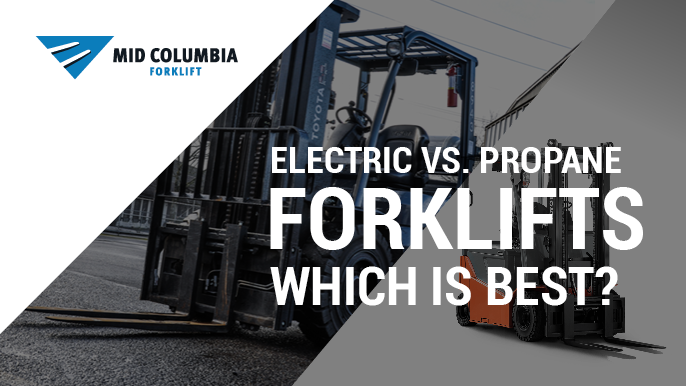 Which is better, an electric or propane forklift? The right answer depends on your application - and it may surprise you.
Ten years ago, propane forklifts were the go-to choice for outdoor applications looking for a cleaner, quieter alternative to diesel; but electric forklifts have toughened up in recent years. Manufacturers now make electric forklifts designed to operate outdoors on rugged terrain and even in the rain. Here's what you need to know about when to buy an electric vs. an LP gas lift truck:
Propane Vs. Electric Forklifts
For some applications, choosing a propane or electric forklift is easy:

Food, pharmaceutical and/or applications with underground facilities must use use electric forklifts because they have zero emissions.
Propane forklifts are better for applications where the forklift operates remotely (because it's faster to change a propane tank in the field versus driving the forklift back to a home base for charging).
If your operation does not fall into one of the categories above, here are some other factors to consider when deciding between an electric or propane forklift.

Purchase Price: Electric forklifts cost more than LP forklifts upfront, but they typically pay for themselves within about two years.
Fuel Price Fluctuation and Total Cost of Ownership: Electric forklifts cost less to own because they require minimal maintenance compared to internal combustion forklifts. Also, the cost of electricity is less volatile than the cost of fossil fuels.
Charging Opportunities: Forklift battery technology has come a long way. With the right set-up, forklifts can be "opportunity charged" during breaks, which means no more battery changing. Many two-shift operations can get by with only one battery. If your operation runs 24/7, a propane forklift may be a better option. We can help you do the math and determine which option is best.
Buy an Electric or Propane Forklift in Washington State
Mid-Columbia Forklift serves customers from Seattle and King County to Wenatchee, Yakima and the Tri-Cities. Here are some examples of different industries we work with and their preferred forklift:
Electric Forklift
Seafood Distributors
Food and Beverage Distributors
Logistics Suppliers

Propane
3PL Freight
Forestry
Rental Companies
Pipe and Culvert Manufacturing

If you're not sure whether an electric or propane forklift will be better for your business, why not rent before you decide? At Mid-Columbia Forklift and MidCo Material Handling, we have many different types of forklifts for rent. We offer flexible terms and the option to rent-to-own.
Questions? Our local forklift experts are happy to help. Our goal is to help you find the right equipment for your application and budget. We take pride in supporting local businesses in Auburn, Pasco, Wenatchee and Yakima.
Contact us online or by phone:
Auburn 253-854-5438
Pasco 509-547-7413
Wenatchee 509-663-9009
Yakima 509-457-5137
Further Reading:
Why Outsource Your Forklift Maintenance?
Top Ways to Reduce Downtime In Your Warehouse
Should I Buy or Rent a Forklift?