Product Review: Doosan Electric 3-Wheel Forklift
by Phil Hanford, on July 17, 2020 at 1:15 PM
Doosan offers a full range of forklifts to meet your needs across industries and settings. For warehouses and narrow-aisle indoor applications, their Electric 3-Wheel forklift makes a great addition to business fleets.
Doosan Electric 3-Wheel Forklift Overview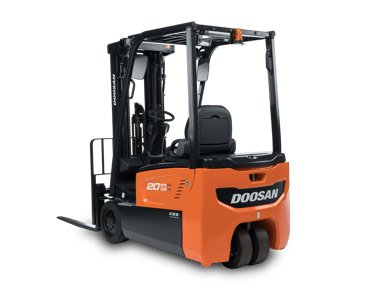 Product Name: B15/18/20T-7, B18/20TL-7
Manufacturer: Doosan
Standard Features: Oil-cooled disc brakes, easy-to-read instrument panel, fully adjustable interior, 36/48 volts, superior operator visibility and ergonomic hydraulic controls,extended maintenance intervals, AC control systems, parking brake is automatically applied with an unlimited ramp-hold function, rear grab handle with horn.
Lift Capacity: Up to 4,000 pounds
Optional Upgrades: Customized performance settings
Price Range: Starting at $25K
Value for Price: Above average
Best For: Indoor environments with narrow aisle spacing.
Not Recommended For: Applications outside of warehouse environments.
View Current Inventory:
New Forklifts for Sale in Washington
Used Forklifts for Sale in Washington
Doosan Electric 3-Wheel Forklift Pros and Cons
Pros: Doosan's 3-wheel electric forklift features a narrow right-angle stack, unlimited ramp hold functions, and impressive maneuverability for narrow aisle warehouses. Along with Doosan's proven platform of quality, low cost of ownership, and easy maintenance access, this 3-Wheel is a strong fit for any warehouse.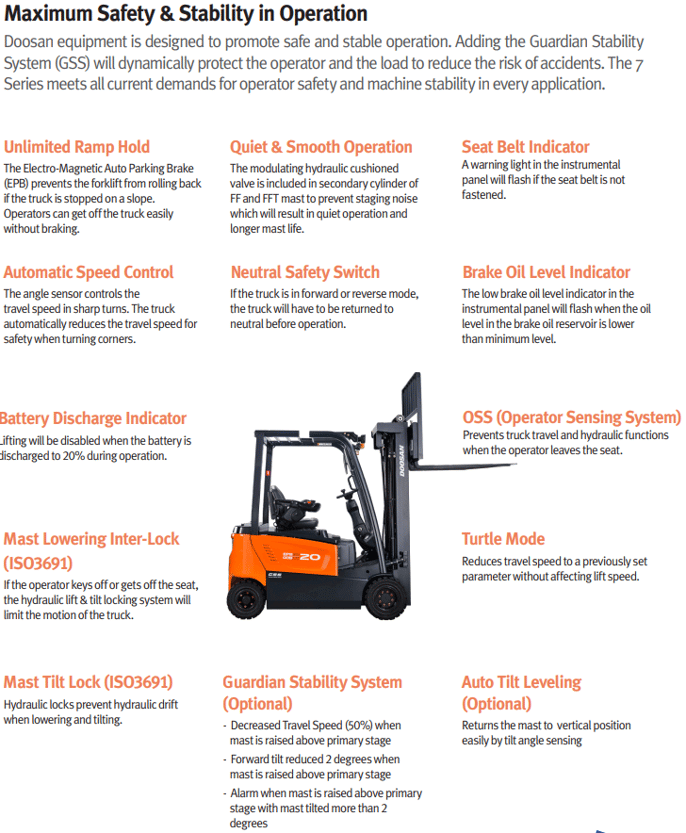 Cons: The Doosan 3-Wheel does have some room for improvement, however. Its display module is small and difficult to read without an anti-glare screen in environments with uneven lighting. It also does not feature mono pedals, a feature being developed for future model releases. Finally, the operator seat is a little narrow and might not be the most comfortable for larger operators. However, the seat can be upgraded for improved comfort.
Why Doosan Forklifts Are Easier To Maintain
Doosan's commitment to high-quality, easy-to-use forklifts is apparent. Design considerations such as easily accessible battery covers, motor compartments, and diagnostics remove maintenance headaches. These also enable longer maintenance intervals to keep your forklifts working harder, longer.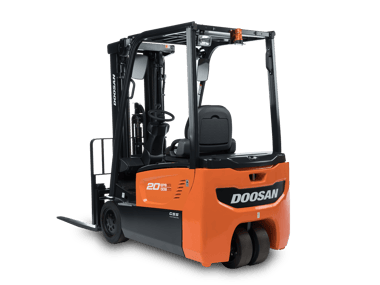 Doosan Ergonomic Benefits for Forklift Operators
Doosan understands that your operators are your greatest asset. That's why the operator cabin is ergonomically designed with a fully adjustable seat, steering column, and optional armrest and headrest. Handles and anti-slip plating reduce slips and injuries during entry and exit. And a wide-open cabin improves visibility for safer operation in crowded warehouse settings.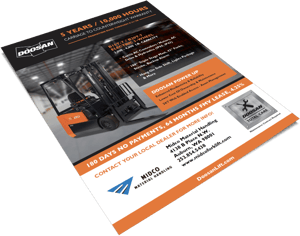 This is a great time to put this forklift to work in your warehouse. The B15T-7 / B20T-7 Electric 3-Wheel comes with a 5 year/10,000-hour warranty. This can partner with a finance special that gets you 180 days of no payments with a 64 month FMV Lease, 4.25%.
Don't wait, this offer is only available through August 31, 2020. Learn more about Doosan's warranty and finance specials here.
Want to see the Doosan Electric 3-Wheel forklift in action? Contact us to schedule a demo of this innovative machine. You can also reach out directly to our dealerships by phone:
Auburn 253-854-5438
Pasco 509-547-7413
Wenatchee 509-663-9009
Yakima 509-457-5137