The Pros and Cons of Electric Forklifts
by Jim Paoletti, on January 28, 2020 at 6:45 AM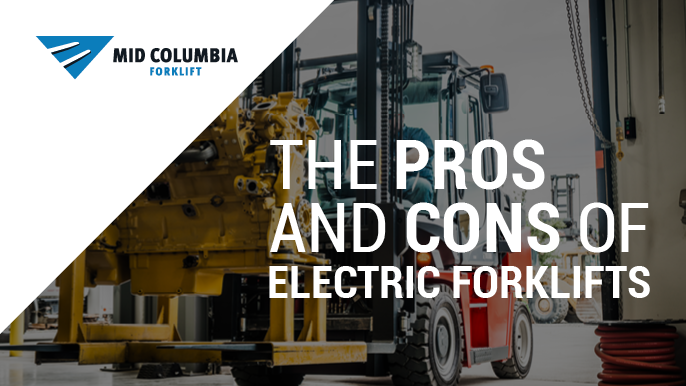 Electric forklifts are growing in popularity worldwide. Their performance has improved, thanks to advancements in both battery and electric motor technologies in recent years. With new battery types on the rise to better fit business needs, electric forklifts are an attractive option for many businesses. Want to know if an electric forklift is right for your company? Consider these pros and cons before making any purchase decision.
Advantages of Electric Forklifts
1. Zero Tailpipe Emissions
Electric forklifts give off no harmful exhaust fumes like diesel or LPG forklifts do. This makes them ideal for indoor businesses, such as warehouses, food processing, or other industries sensitive to fumes. They are also more friendly to both your employees' and the planet's health, thanks to Zero emissions.
2. Lower Overall Maintenance
Electric forklifts have lower maintenance overall, thanks to their lack of engine and transmission. Maintenance requirements extend to their battery, drive motors, and the other moving components such as the mast. This means fewer parts to service and replace and potentially less downtime for your company.
3. Tighter Turning Radius
Compared to standard LPG forklifts, electric forklifts often feature greater maneuverability and tighter turning radiuses. They are more responsive to operator control and can help reduce damage to workspace and products as a result. This improved maneuverability can also allow for a more optimized warehouse and better business performance.
4. Improved Visibility
Electric forklifts have better rear visibility than LPG powered forklifts, thanks to their lack of LP tank. The battery sits beneath the operator seat and acts as the forklift counterweight. This limits interference in the operator's visibility and improves safety for your business.
Disadvantages of Electric Forklifts
1. Higher Initial Investment
Electric forklifts are not as affordable upfront as LPG, gas, or diesel equipment. However, their expected operational costs decrease overtime when compared to expected fossil fuel prices in the future.
2. Battery Charging
Charging electric forklift batteries can be tricky for multi-shift operations. Traditional lead-acid batteries require longer charging and cooling cycles between shifts (8hrs to charge, 8hrs to cool), making them ideal for one or two-shift businesses. Lithium-ion batteries can use opportunity charging to overcome some of these challenges, however. You will also need to train your staff in proper battery maintenance and charging practices to maximize battery lifespans and performance.
3. Environmental Challenges
Electric forklifts are more susceptible to temperature changes than traditional material handling equipment. They can also suffer damage in environments that are too wet, but sealed battery options can help overcome this threat. Many electric forklifts are not designed for usage outdoors, but a growing number of manufacturers offer heavy-duty electric forklifts for outdoor applications.
Considering adding electric forklifts to your fleet? Contact our staff of helpful forklift professionals at Mid Columbia Forklift / MidCo Material Handling to see what we have in stock. Our sales specialists will help you determine what make and model of equipment will work best for your business.
Further Reading:
Forklift Operator Training for OSHA Compliance
Toyota Forklift Models for Sale
Guide to Forklift Battery Types