Forklift Operator Training for OSHA Compliance
by Kim McDowell, on January 10, 2020 at 8:00 AM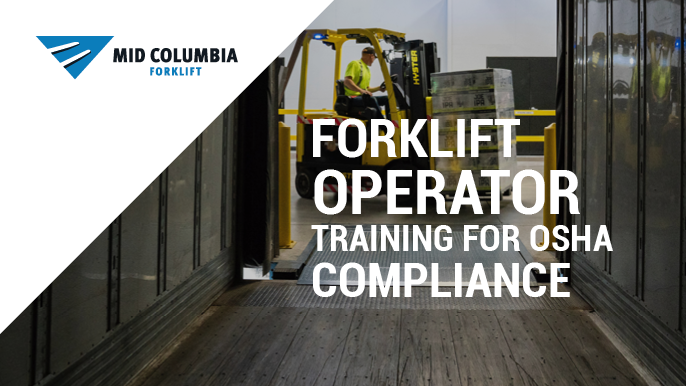 OSHA requires all forklift operators to complete safety training before they drive forklifts. Employers must provide these training programs. For many companies, using a professional training service can make sense. If your company is updating training in the New Year, keep these key points in mind:
OSHA Requirements for Forklift Training
OSHA requires forklift operator safety training to include both classroom and in-person parts:
Classroom Forklift Training
Classroom forklift training must cover the basics of safe use. The topics covered may include:
basic physics
daily inspections
what to do in case of a crash
industry-specific practices, and more
Hands-On Forklift Training
Hands-on forklift training courses allow students to practice safe forklift operation. OSHA requires workers to complete training for all equipment used in the workplace. Hands-on training can cover many types of equipment in different areas. Forklifts, aerial lifts, and other equipment types all need their own training.
Other Forklift Certification Details
Providing forklift training for your operators is critical for your business. It maintains safety and can help avoid expensive fines from regulators. Other details to clarify as you review your training curriculum include:
Operator Retraining Requirements
Operators must take training every three years. This includes the classroom and hands-on portions. Retraining is also required if an operator is involved in a crash or other incident.
Do forklift certifications transfer?
Forklift certifications do not transfer between jobs. If you hire a new operator, they must take your safety training course.
Forklift Operator Training in Washington
Maintaining your business's OSHA compliance is essential. It lowers your company's liability and improves your employees' safety. MidColumbia Material Handling regularly offers training courses at each of our dealerships. On-site training for your employees is also available. Contact us to schedule your next employee training session today.
Further Reading:
Is My Warehouse Racking Compliant with Washington State Fire Codes?
4 Simple Ways to Prevent Loading Dock Accidents
Top Ways to Reduce Downtime in Your Warehouse