What Is Opportunity Charging and Is It Right For Your Electric Forklift Batteries?
by Trey Barber, on June 26, 2020 at 10:07 AM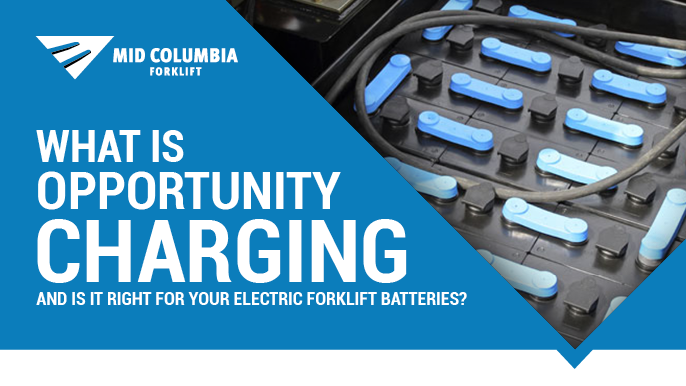 For companies using electric-powered forklifts, keeping your batteries charged is often the biggest challenge for daily operations. Traditionally charged lead-acid batteries can take a long time to charge per cycle and swapping them out can take up valuable space and time. Nobody wants to spend their time messing around with batteries when there's product that needs to be moved. If you've been wondering if there's a better way to keep your forklifts charged, keep reading to learn about how opportunity charging could be the solution you need.
What Is Opportunity Charging?
Opportunity charging means recharging the battery whenever it is convenient for business operations. During restroom and meal breaks, operators can connect with an opportunity charger to top up the battery quickly. Opportunity charging relies on a higher current to top the battery up to 80% quickly. It then pauses charging to allow the battery to cool, before charging to 100%. This helps mitigate damage to the battery and can help keep equipment operational longer in two-shift operations.
Pros and Cons of Opportunity Charging
Opportunity charging can be the right fit for certain forklift fleets. It extends the usable lifespan of aging batteries, reduces the need to change batteries out, and can help keep your operation working at ideal capacities.
However, opportunity charging does have drawbacks. Batteries must be charged fully once per week to equalize and prevent incidental damage. It can also take more than an hour to raise batteries to 100% charge. You must also purchase and install specialized opportunity chargers, which can take up space near break rooms and heavy work areas.
Is Opportunity Charging Right For Your Forklifts?
Even with those drawbacks, opportunity charging can be very beneficial for some companies. If you are a two-shift operation, you need to determine:
How long and how often can operators opportunity charge throughout their shift?

Where should opportunity chargers be installed?

Can a weekly charge be scheduled to take batteries to 100%?
These answers can help you start to determine if opportunity charging will work for you. Still uncertain about the requirements? The team of forklift experts at Mid-Columbia Forklift and MidCo Material Handling are here to help. Contact us today to discuss our charging solutions and keep your equipment running effectively.