Forklift Battery Rental in Seattle-Tacoma, Tri-Cities, Wenatchee, and Yakima
by Dave Jensen, on July 31, 2020 at 10:15 AM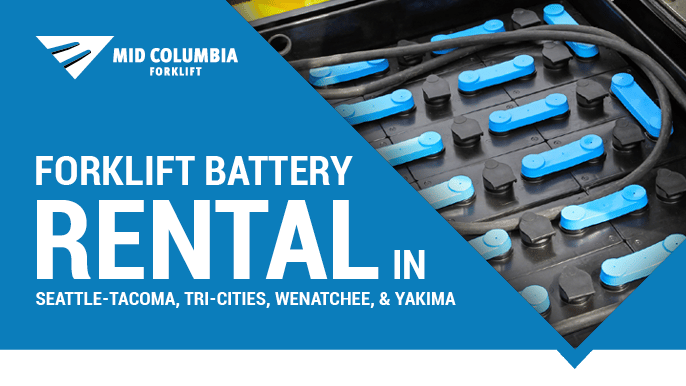 When a forklift battery starts going bad or suddenly dies, many companies just bite the bullet and buy a new one; but there are other options. If you don't have a few thousand dollars to spare on a new battery, renting a forklift battery is a budget-friendly way to keep your business running.
Renting a forklift battery (or batteries) can also help your operation adjust to temporary ups and downs. There's no reason to tie up capital and warehouse space with equipment you only use part-time. Learn when to rent vs. buy a battery for your electric forklift:
Renting a Forklift Battery Vs. Buying a New One
If your forklift battery doesn't last a full shift or shows other signs it's going bad, you have to act quickly, or you'll end up in an ugly downward spiral.

A dying forklift battery:
Needs frequent charging
Increases downtime
Reduces operator productivity
Decreases profitability
As productivity and profitability decrease, so does your ability to afford a new battery. This is why renting a forklift battery is a great stop-gap solution.
What about forklift battery reconditioning? If you only use the forklift a few hours each day, battery reconditioning may be an option. Here are two important things to keep in mind:
1) Not all batteries can be reconditioned. A qualified technician must test each cell in the battery to determine whether reconditioning is possible.

2) You'll have to take your forklift offline for one to two business days while the battery is reconditioned (unless you rent a forklift battery to replace it, of course).
Forklift Battery Rental Price Comparison
As a quick rule-of-thumb, the monthly cost to rent a forklift battery is about 10% of the purchase price (sometimes less). For example: if a new lead-acid battery costs $4,000, the monthly rental rate for that battery and a charger would be around $400. You can get a lower rental rate by choosing a long-term rental or omitting the charger.
Renting an industrial battery for a utility cart is even more affordable. You could pay around $5000 for a new battery or rent one for only $300/month.
Some managers think rentals are a waste of money because you don't own anything as a result of the money spent. But here's another way to think about it:
A new forklift battery costs $2,000 - $6,000, so it's worth asking - what else could you do with that money? What if you rented a battery for a few hundred dollars per month instead? You could invest your capital in income-generating product, or purchase a forklift attachment to improve efficiency and lower overhead.
Here are a few more reasons you might want to rent a forklift battery:
If you're leasing a forklift and the battery fails before your lease ends - why buy a new battery for equipment you're not going to keep?
Your operation added a shift to handle a temporary spike in business. Keep things moving by renting a battery to swap in at the start of each shift. Return the battery and reduce expenses when things slow down.
Rent a Forklift Battery Near Seattle-Tacoma, Tri-Cities, Yakima or Wenatchee
At Mid Columbia Forklift and MidCo Material Handling, we rent reliable, high-quality forklift batteries and offer flexible plans to meet your needs and budget. Choose a long-term or short-term forklift battery rental or ask us about forklift battery and charger rent-to-own options.
Our forklift batteries undergo extensive testing and cleaning in between rentals. We also offer forklift battery maintenance and rotation plans for long-term rentals.
Contact us online or by phone and let us know what you're looking for. We rent industrial batteries for forklifts, scissor lifts, tow tractors, industrial carts, etc.
Auburn 253-854-5438
Pasco 509-547-7413
Wenatchee 509-663-9009
Yakima 509-457-5137
Further Reading
When to Repair Vs. Replace Your Forklift Battery
Different Types of Forklift Batteries
Opportunity Charging Do's and Don'ts
How Many Forklifts Do I Need?