Hangcha FP18 LPG Cushion Tire Forklift Product Review
by Trey Barber, on October 18, 2022 at 8:33 AM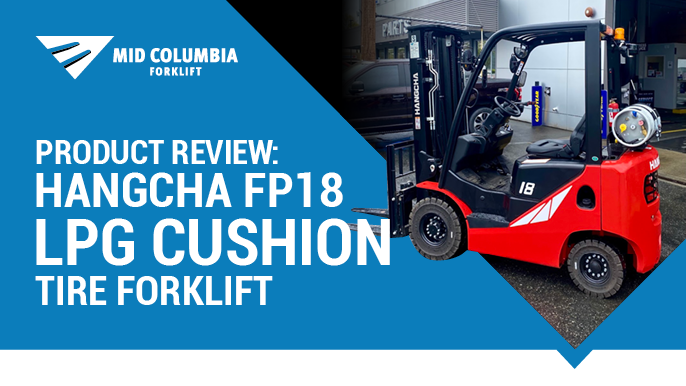 Choosing a forklift for your warehouse, port, or other operation can be challenging, especially with so many choices on the market.
But, if you're in the greater Seattle area and are up for a recommendation, we've got one for you today.
Meet the Hangcha FP18 LPG Cushion Tire Forklift. To make a long story short, it's an easy-to-operate, low-maintenance, comfortable workhorse of a forklift.
You may or may not have heard of Hangcha and we understand that, but they have been in the business of building quality forklifts for 65 years. Our customers love them (more about that in the post), and once you read this post, you'll become a fan too.
Let's talk more about why we think the FP18 pairs great value with great performance.
What You Should Know About the Hangcha FP18 LPG Forklift
Hangcha's FP18 is highly versatile with a lifting capacity of 3,500 pounds, making it a good choice for:
Warehouses
Distribution
Manufacturing
Industrial
Trucking
Since this is a cushion tire forklift, we wouldn't recommend using it on uneven surfaces like gravel and dirt. However, there are other options in Hangcha's line that might be a better fit - more on that below.
Why choose the FP18 over similar options? Six reasons:
1. North American EPA Certified Engines

The FP18's electronically-controlled GCT GK21/25 engines comply with North American EPA standards as producing clean emissions, which is something a lot of our Washington State customers find important.
If you're worried this means poor performance, it doesn't. These engines still provide plenty of power and torque for a wide range of applications, not to mention great fuel efficiency.
2. User Ergonomics and Productivity
The FP18 has more foot space and room between the seat and the steering wheel.
To increase operator comfort and productivity, the small diameter steering wheel is easy to use and tilt adjustable. Plus, vibration and noise are reduced through a few choice changes, such as the soft-landing cylinder system and flexibly attaching the overhead guard to the chassis.
3. Easy, Minimal Maintenance
The larger 4" color LCD instrument panel is intuitive to use and easy to read for diagnostic purposes, making maintenance easy. The dashboard also comes with a low LPG fuel indicator.
These models come with an integrated, waterproof fuse box with an updated, easier-to-service layout.
And the LP cylinder holder swings out, which makes switching out the cylinder easier as well as accessing the maintenance hatch. This hatch opens up wide enough to allow for easy access and comes with a safety latch to prevent it from opening up while in use.
4. Improved Safety Features
There's nothing more important than employee safety, and Hangcha seems to have thought of everything when it comes to the FP18.
Throughout the forklift are bright yet energy-efficient LED lights.
The redesigned "wide-view" mast is made with new steel channels to ensure maximum visibility for the operator. And the wide, panoramic rearview mirror increases rear visibility and reduces blind spots.
With the operator presence sensing system, the forklift will automatically lock lifting, tilting, and travel to ensure operator safety.
The overhead guard is made of special steel tubes that increase strength yet are designed to be easily broken down for repair or maintenance. Plus, the large hand grip on the overhead guard makes getting in and out of the forklift safer and easier.
5. Environmentally Friendly Materials
Environmentally friendly materials have been consciously used throughout the truck's construction to reduce environmental damage and impact, another area that's proved important to many of our greater Seattle area customers.
6. Value for Money
This model comes with a 3-year full manufacturer warranty and has an average ROI of about 4 years. That fact alone is great but what makes it even better is that the FP18 is built to last much longer than that, giving you better value for every year it's in service.
Pricing, Options, and Specs
The Hangcha FP18 LPG cushion tire forklift starts at $24,995 and has a wide range of options available (please note these will affect the price), including:
Customizable Paint Colors
LED Rear Work Light
Blue Light
Auxiliary Hydraulic Valve Group
Fire Extinguisher
High-Low Overhead Guard
Radiator Screen
Pre-Cleaner
Counterweight Grill
Swing-Down LP Bracket (4000-6500lbs)
Traction Cushion Tire
Smooth Non-Marking Cushion Tire
Belly Pan
Paper Roll Clamp
Sideshift and Fork Positioner
Wider Carriage
Various Specialty Attachments
Specialty Forks
Although we believe this well-engineered forklift is worth the asking price, you may view it as a setback. But if you do, don't worry. There are plenty of other options out there that might better suit your Washington-based business. If you think so, our contact information is below.


Final Thoughts on the FP18
Overall, this tried and tested forklift offers a lot of value for the money, including very smooth riding, easy-to-use controls, superb safety features, and excellent operator ergonomics. It's designed to last well beyond the 4 years it takes to recover your investment and is easy to maintain.
But enough from us, here's a word from one of our customers who has been very happy with the FP18:
I have nothing but great things to say about the Hangcha FP18 forklift! We are a parts warehouse and had been using an older Hyster model. The Hangcha is such a smoother ride and has a lot more functionality. The controls are very easy to use. We use it to lift long heavy pallets of auto parts and it handles very smoothly with no jerking around."
– Erik Petras parts manager at Pierre Auto Centers. Seattle, WA 98125
Where To Learn More About the Hangcha FP18
Ready to learn more? Just ask an expert at Mid-Columbia Forklift if the Hangcha FP18 is the right choice for your business. Contact us online or reach out to one of our dealerships by phone:

Auburn 253-854-5438
Pasco 509-547-7413
Wenatchee 509-663-9009
Yakima 509-457-5137

Further Reading
Order Picker Forklifts: Everything You Need To Know
The Complete Guide To Getting and Maintaining a Li-ion Forklift Fleet
Hay Hay Hay: Bale Clamp Attachments and Hay Handling Equipment