Forklift Purchasing Options: Buy, Lease, or Rent
by Hank Ansley, on June 19, 2020 at 11:15 AM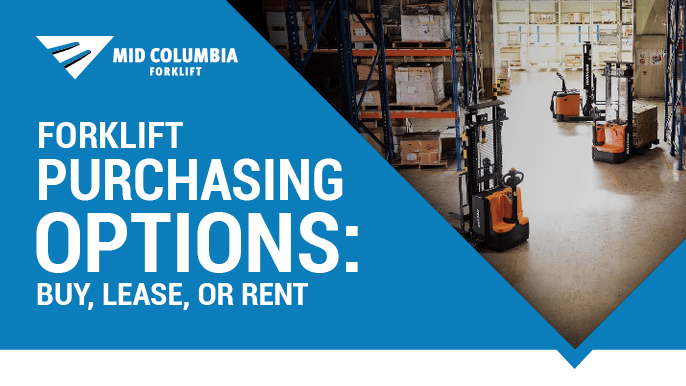 Purchasing material handling equipment is a big commitment - with large financial commitments, extensive safety requirements, and a wide range of options available, the decision can be overwhelming. But it doesn't have to be. Read on to learn more about the benefits of the different options available to help finance your equipment purchase.
Purchasing Forklifts
A capital investment such as a traditional forklift purchase makes sense for some companies. Owning an depreciable asset can present some positive tax implications, and owning equipment outright can help companies avoid more restrictive aspects of leasing or rental contracts.
Benefits of Financing a Forklift Purchase
For companies purchasing forklifts, they enjoy several advantages:
Owning the equipment outright means they can sell the forklift if they choose.

Certain tax advantages, such as Section 179, can benefit their finances.

While they do pay more up front, purchased equipment is typically the most affordable over the life of the loan.

Complete control over the purchase means your order can be customized entirely to meet your needs.
Overall, purchasing forklifts give companies the most control over their purchase structure, maintenance, configuration, and finances. It does come with a higher up-front purchase price, which should be seriously considered before committing to this purchasing strategy.
Renting Forklifts
Renting forklifts can help fill gaps in your company's fleet for specific needs. Whether this is in response to a need for more specialized units, such as a jig-lift, or to meet increased seasonal demand, rentals can be a flexible solution.
Benefits of Forklift Rentals
Companies in need of a forklift rental enjoy the following benefits:
Minimize their equipment costs to stay agile for seasonal needs.

Completely avoid maintenance requirements for rented equipment.

Meet unexpected needs that arise through business operations.
For most companies, renting forklifts makes sense for short-term needs. Covering fleet utilization in cases of downed equipment or meeting more specialized requirements makes sense for rentals. However, longer-term requirements may not fit a rental as well as other options.
Leasing Forklifts
Leasing forklifts and other heavy equipment is growing in popularity. A wide range of lease options and structures exist from many different financing providers, creating flexible solutions for companies of all sizes. Certain lease structures even include an option for companies to purchase the equipment at the end of the lease.
Benefits of Forklift Leasing
For companies that lease forklifts, companies enjoy several key benefits:
Flexible financing solutions to meet their unique monetary requirements

Regularly refreshed equipment with the latest technology.

Bundled maintenance options to ensure uptime.

Simplified accounting practices and possible tax advantages.
In all, a forklift lease bridges the gap between a full forklift purchase or a temporary rental. Their flexibility and variety of structures available have led to their increased popularity. Companies should explore the benefits of leasing with their financial advisor and operations manager to decide if it would be worth pursuing a flexible leasing option.
Still considering your forklift acquisition options? Contact us to discuss what options best fit your needs. Our team at Mid-Columbia Forklift and MidCo Material Handling have decades of shared experience to help you find the right equipment, financing, and material solutions to meet your needs.
Further Reading:
Toyota Forklift Finance Programs
How to Plan for Your Seasonal Forklift Rental
When to Buy a New Vs. Used Forklift