Forklift Preventative Maintenance vs. Routine Service
by Dave Jensen, on March 13, 2020 at 8:00 AM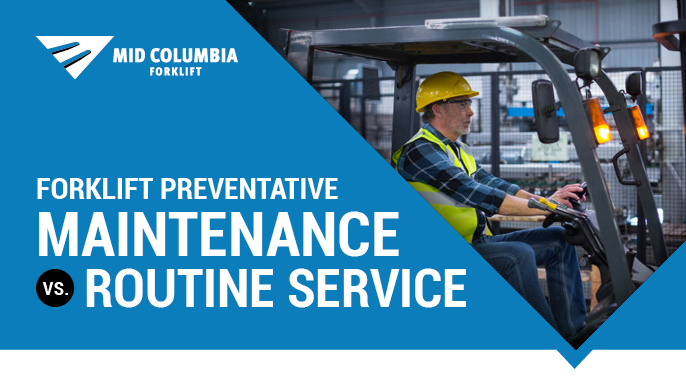 Managing a warehouse means you have to push the limits of your equipment. Maximizing the productivity of your fleet is essential for meeting deadlines and getting products where they need to go.
Taking good care of your equipment does more than improve your productivity - it also keeps your workspace safer. This means making preventative maintenance and routine service a priority and knowing the difference between the two terms.
At Mid-Columbia Forklift and MidCo Material Handling, we pride ourselves on delivering best-in-class service and maintenance for your forklifts. We work with you to identify and solve maintenance issues in your fleet by delivering both preventative and routine service.
While these two terms are often used interchangeably, they are very different and equally important to the uptime and productivity of your fleet.
Forklift Preventative Maintenance
Preventative maintenance is OEM recommended regularly scheduled, routine maintenance that helps keep equipment up and running. It involves thoroughly inspecting e equipment's safety component and for signs of failing parts and components before they become bigger issues. By finding these problems ahead of time, issues can be corrected to avoid significant downtime for your equipment. Three key factors that make preventative maintenance stand out are:
Timing: Preventative maintenance checks (PMs) are completed at scheduled intervals designed to maximize your use of your equipment without allowing parts to fail.

Required expertise: A proper PM should be completed by a certified technician to ensure that all systems are properly reviewed.

Removal from service: Your forklift may be removed from service if a PM check finds major issues that require extensive maintenance.
Forklift Routine Service
Routine forklift service, on the other hand, involves regular daily checks and small tweaks to help keep your forklift running in working order. These general upkeep tasks can range from watering electric forklift batteries to checking masts and chains for proper greasing. Much of your forklift's routine service can be checked and completed during your OSHA required daily pre-shift inspections. Key aspects of routine service include:
Timing: Routine service takes up little time and can be completed daily, weekly, and monthly depending on your scheduled service intervals.

Require expertise: Most people can complete routine service checks and the minor fixes needed to solve these issues

Removal from service: Unless you find a glaring, major issue with your equipment, it is unlikely to be removed from operation based on routine service.
Your forklift maintenance service provider should be completing both preventative and routine maintenance on your equipment. Ultimately, routine service should primarily be completed on site, by your employees due to the frequency required with these checks. If you're looking for a forklift maintenance partner and you're located in Auburn, Pasco, Wenatchee, or Yakima, contact Mid-Columbia Forklift or MidCo Material Handling for service. We'd love the opportunity to show you how we can help keep your fleet performing at its best.
Further Reading:
Repairs and Preventive Maintenance to Fit Your Business Needs
Forklift Operator Training for OSHA Compliance
Why You Should Outsource Your Forklift Planned Maintenance