What Is the Washington Clean Fuel Act?
by Trey Barber, on March 10, 2023 at 11:12 AM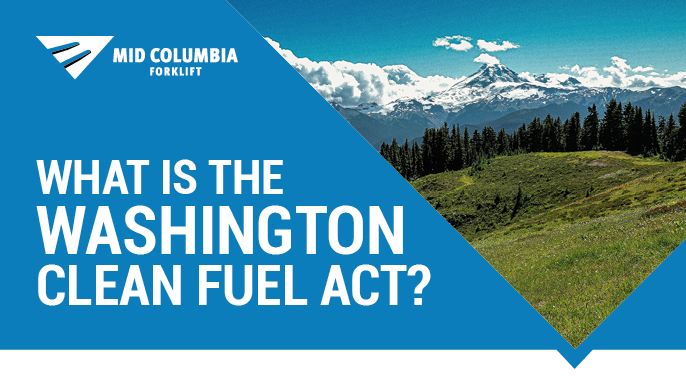 There's been a lot of chatter over the last few months about Washington's Clean Fuel Act. Some extol the environmental benefits, while others ponder what it might mean for the economy. But what does it mean for you and your business? In this article, we'll explain the Clean Fuel Act, how it affects your business, and what opportunities it presents to operations with electric fleets. Read on to learn everything you'll need to know to take full advantage of the Washington Clean Fuel Act.
What Is the Clean Fuel Standard?

The Washington Clean Fuel Act defines the Clean Fuel Standard (CFS). The CFS law reduces greenhouse gases produced by Washington's transportation fuels. The transportation sector is responsible for nearly 40% of all greenhouse gases produced in Washington. To combat this, the CFS requires fuel suppliers to gradually reduce the carbon intensity of fuels to 20% below 2017 levels by 2034. And that is just a measurable way of saying the CFS requires fuel-generating companies to reduce the amount of carbon dioxide they produce.
If it works as projected, the CFS will decrease Washington's greenhouse gas emissions by 4.3 million metric tons per year by 2038. It will also create economic incentives for organizations that maintain carbon intensities below the required levels.
How Does It Affect You?
Starting in 2024, qualifying organizations will be required to meet these new carbon intensity standards. Companies that create more carbon dioxide than the standard allows will have a carbon deficit. While companies, specifically electric fleet operators, who produce less carbon dioxide than they are allowed will create carbon credits. Companies with a carbon deficit will have to purchase credits to offset their deficit.
Between June 1 and September 30, 2023, all Washington operations with commercial vehicles must report their 2022 vehicle operations to the state's Department of Ecology. This applies to:
Fleets of 5 or more medium or heavy-duty vehicles (over 8,500 lbs)
Fleets of 1 or more vehicles with more than $50 million in corporate revenue
Forklifts and tow tractors are included in the law's definition of commercial vehicles. More information on how to report will be available in the spring of 2023.
How Can Your Electric Forklift Fleet Help?
Facilities with a fleet of zero-emissions vehicles (ZEVs) will create carbon credits that can be sold to companies with a carbon deficit. The sale price for these credits is not fixed and will fluctuate with market demand. However, when Oregon implemented a similar plan, it generated over $103 million worth of carbon credits in 2020 alone. PineSpire, a company that trades in carbon credits, projects Washington carbon credit sales could earn your company up to $74,500 annually based on your fleet size.

What Qualifies as a Zero-emissions Vehicle?
The CFS defines zero-emissions vehicles as vehicles that release no tailpipe air pollution. This includes both electric vehicles and hydrogen fuel cell vehicles. So if you still need to convert your forklift and tow truck fleets to electric, it might be time to start.
Advancements in lithium-ion battery technology are rapidly making Li-ion forklifts and tow trucks more cost-effective than internal combustion-powered equivalents. And these electric material handling vehicles perform just as well, if not better, than their IC counterparts.
For example, Hangcha's proprietary lithium iron phosphate battery has allowed them to produce a whole line of standard-use material handling equipment, the XC series. And it is responsible for their heavy-duty electric forklift, the XH series, which can handle loads up to 36,000 lbs while running for 3 shifts back to back.
Similarly, Hangcha's electric tow truck has the power and durability to handle Washington weather, making it an excellent choice for airports looking to decrease their carbon deficit.
How Does the CFS further reduce your Owning and Operating Costs?
With the advancements in Li-ion technology, electric forklifts are already less expensive to own than IC forklifts. But with the enactment of the Clean Fuel Standard, you can reduce your O&O costs even further thru the CFS carbon credits. Electric Forklifts purchased in 2023 qualify for the highest credit available.
How Can You Start Earning Revenue from the CFS?
You can actually get paid just for charging your electric fleet. We've partnered with PineSpire to help you take advantage of Washington's first CFS Revenue Program. The program is simple. You fill out our form online to find out how much you can earn based on your fleet size and age. Then we handle all the registration paperwork. Once we know your incentives, you get paid. It's as easy as that.

There's no cost to you and absolutely no risk. And as your electric fleet grows, so too does your earning potential. We take care of all the work so that you can focus on running your business. Request your incentive estimate today.
MidCo Material Handling Is Your Best Partner for Zero-Emission Solutions
The enactment of the Clean Fuel Standard means a lot of changes are on the horizon for your forklift fleet. If you want help navigating this new world of credits and deficits, know that Mid Co Material Handling is here to help. Our experts can assist you in making the most cost-effective decisions for your fleet. Contact our experts online or at one of our Washington State locations for more information about zero-emissions solutions.
Auburn 253-854-5438
Pasco 509-547-7413
Wenatchee 509-663-9009
Yakima 509-457-5137
Further Reading
The Complete Guide To Getting and Maintaining a Li-ion Forklift Fleet
Hangcha Tow Tractors are the Solution Your Airport Needs
Hangcha: All Your Frequently Asked Questions