Forklift Trade-In Guide: How to Maximize the Value of Your Forklift Trade-in
by Dan Bergman, on December 14, 2020 at 1:00 PM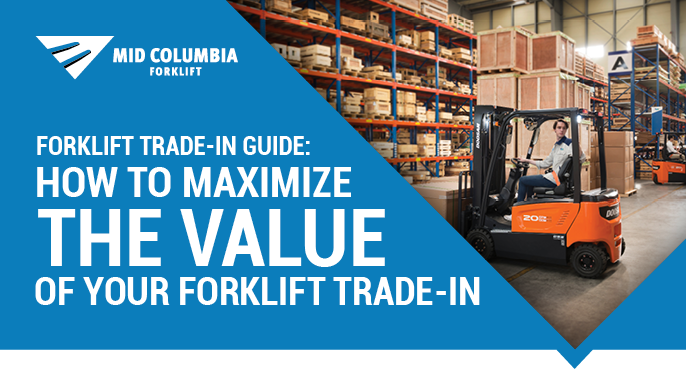 A forklift is the backbone of your productive operation. Like any piece of machinery, forklifts don't last forever. Eventually, the most valuable forklift may turn into a liability, spending more time in the repair shop than on the job. While the forklift may no longer suit your operation, it can be another fleet manager's gem.
A trade-in saves you from the time-consuming search for potential buyers and guarantees a smooth ownership transition. Like for any business transaction, you should come prepared. This forklift trade-in guide will help you determine the right time to trade, factors that determine the value of your used truck, and tangible ways to maximize the value of your trade-in.
Should You Trade-In Your Old Forklift?
Two main factors help you determine whether it's the right time to trade-in your forklift: age and maintenance cost.
First, determine the age of your forklift. Car owners tend to measure the age of their vehicle in miles. Some drivers replace their cars when the odometer reaches 100,000. Forklift age is measured in hours. A typical forklift lasts 10,000 hours. If you use a forklift 40 hours a week, they add up to 6 or 7 years. That said, your forklift's longevity depends on the quality of maintenance, operating conditions, how often the truck was pushed to its load limits, and the forklift's engine type. Electric lift trucks typically last longer than ICE forklifts.
The optimal time to trade-in your used forklift is before it reached the 10,000 hours or seven-year mark.
You can get an idea of what your forklift is worth by performing a simple internet search. Then, you can weigh the resale value against your cost of ownership. Consider the resale number to be a benchmark: when the annual maintenance cost approaches or exceeds the resale value, it may be the time to trade-in or retire your truck.
Here's how to determine the maintenance cost of your forklift per hour. Let's say you use a forklift for an average of 1,000 hours a year, and you spend $2,000 repairing it. The maintenance cost per hour is just $2/hour.
If the total repair bills reach $20,000/year, you end up with a $20/hour maintenance cost of ownership. In this case, it may be the time to decide if the forklift is still valuable to your business.
Costly repairs are preventable, so it's important to diagnose them early. Improper maintenance will shorten the life of your entire fleet over time.
What Affects the Value of a Used Forklift?
If you decide to trade-in your truck, it's essential to know what factors determine its value. Keep an eye on these areas to maximize your return.
Age / Work Hours
When trading your forklift, its age should be your first consideration. As mentioned above, you measure the age of your truck in hours. For a high selling price, your forklift should have less than 10000 hours. After the 10k hours mark, the value starts to drop significantly for electric and IC (gas) forklifts. Since most consumers won't purchase a forklift with over 10k hours, the dealership has to invest more money into the unit to justify the resale price. No matter the condition of such a forklift, you will end up with a decreased trade-in value.
Intensity of Usage
It's essential to consider at what intensity you were using a forklift. Is it running for 2,000 hours or more annually? If so, your forklifts will wear out a lot faster than a forklift running for 800-1500 hours. Regularly lifting loads beyond forklift capacity and higher heights can generate more wear and tear, especially in those extra hours. Moreover, the amount of times the forklift had to be placed out of service plays a huge role in the trade-in value. Consider labor history as you get ready for a trade-in.
Battery Life
For electric forklifts, battery maintenance is crucial. A dead battery means a dead forklift. For electric forklifts, the battery must hold a charge. If the charger is included with the trade, it can significantly increase the forklift's value.
Mast Specifications & Accessories
The mast can be an important factor in determining your trade-in value. What is the maximum height and the load capacity of your truck? A side shifter or fork positioner decreases the forklift's maximum load capacity. The lift height stays the same. However, popular accessories such as a side-shifter or fork positioner can increase the value of your forklift. Any additional accessories, like bale clamps, roll clamps, forklift cages, fork extenders, or aerial platforms, will add to the forklift's resale value.
Fuel Type
While the most common types of forklift fuel sources are propane, diesel, and electric, and LP (liquified petroleum gas or propane.) Used electric forklifts are generally worth the least because they usually require a brand new battery or need to be reconditioned. LP forklifts typically have the highest resale value.
Appearance
While we're not supposed to judge the book by its cover, the appearance of your used forklift matters. The fewer dents and scuffs your truck has, the better. Any visible signs of damage should be accounted for. A thorough cleaning and a tune-up from a qualified technician can improve your potential sale price. If some damage can not be fixed, be prepared to explain any dents, marks, or scratches. Honesty is your best policy. Appearance is important, but it isn't the sole factor. Many buyers will prefer a well-functioning forklift over a perfect-looking truck.
Operating Environment
Is your forklift exposed to harsh weather conditions or is it kept inside? Suppose your forklifts are generally exposed to dust, corrosive chemicals, excess water, cold, and other harsh environments. In that case, it will typically have a shorter shelf life than forklifts in climate-controlled warehouses.
Indoor and outdoor capability is also a determining factor. The more diverse the forklift, the more resale value it will bring. Forklifts customized for a specific application are more difficult to resell which can make it a less desirable trade-in.
How to Maximize Your Forklift Trade-in Value?
Some factors that determine your forklift's value are out of your control, but there are proactive actions that help you get the most out of trading in your forklift.
Invest in Regular Preventative Maintenance
Getting your forklifts serviced by certified technicians improves its performance and future resale value. Have routine checks and tune-ups to extend the forklift's lifetime and re-sellability. If you can provide proof of regular certified service, you can likely get more out of selling your forklift. Keep all of your records of your equipment's service history, as well as a copy of your technician's certifications. Before you decide to trade-in your machine, have our technician quickly diagnose your forklift, and provide an idea of its market value.
Keep Your Forklifts and Accessories Organized
Accessories can help boost the resale value of your forklift. Make sure that valuable inventory won't get lost. Organize your storage space for attachments, batteries and chargers, fuel tanks, and other accessories that can boost the value of your forklift.
Do Your Research
When you know what your forklift is worth, you can be confident in getting the best trade-in value. If you settle on the first offer provided, you may miss out. One way to get an estimate is to look up the wholesale cost for the model. If your forklift is in good condition and has a reasonable number of working hours, most dealers will pay around the wholesale price. Once you have the wholesale price, think about the retail price and your prior investment in the forklift. Consider the factors described above when finalizing the price you're willing to sell or trade.
Ensure Your Forklift Looks Good
A damaged forklift won't stand out. The dealer's perception of your forklift's condition will influence its value. Take your time to turn your used forklift into a desirable trade. Wash your truck thoroughly, remove any tools and personal accessories. Making an effort to present your forklift in its best shape helps you get a higher price. It also communicates to the dealer that you are serious about the trade-in.
You can reactively try to fix your forklift appearance, but it's best to be proactive by not letting it get damaged in the first place. Proper forklift operator training will help you avoid accidents that devalue your trucks.
Prepare Maintenance Records
Bring all the documents that show proof of ownership, receipt of purchase, and warranties that came with the forklift. Don't forget your maintenance records. They will help the dealer to appraise your forklift accurately and give you bargaining power. You'll be able to show what parts have been repaired or upgraded and that your operators drove it safely.
Be Ready to Pitch Your Forklift
Prepare yourself to "sell" a forklift to the dealer. Like any other business transaction, a trade-in should be treated professionally, so be ready to negotiate. Highlight the virtues of your forklift, starting with the most attractive features and moving towards the least. Be honest about any issues your forklift has. Meanwhile, research the estimated costs for any repairs needed to present them to the dealer.
If you want to get the most out of your trade, your negotiation must be reasonable and flexible. If you're too stubborn, a dealer is not going to give you a good deal. Remember that trade is not a sell. Your goal is to save money on the new forklift, not to make money off the trade-in.
Ready to Trade Your Forklift?
If the maintenance cost of your forklift is becoming too expensive, now is the time to trade it in for a brand new truck. At Mid-Columbia Forklift and MidCo Material Handling, we're committed to delivering the best trade-in option our customers can count on.
Until December 31st, 2020, get up to $2,500 factory rebate on Toyota forklift and warehouse equipment with the trade of a competitive-branded model. The offer is applicable on Electric & Internal Combustion counter-balanced models, Order Pickers, Electric Pallet Jacks, and Reach Trucks.
We also partner with Doosan to bring you limited time cash back on select models. Get up to $2000 per unit on selected new Doosan electric material handling products. Low-interest financing is available.
Contact us online to learn more about the trade-up opportunities. You can also reach out to our team of forklift experts at the location nearest to you:
Auburn 253-854-5438
Pasco 509-547-7413
Wenatchee 509-663-9009
Yakima 509-457-5137
Further Reading
How To Choose a Forklift Dealer: What You Need To Know
How to Calculate Downtime Costs and Avoid Unplanned Downtime
When Leasing a Forklift Makes Sense