How To Choose a Forklift Dealer: What You Need To Know
by Phil Hanford, on October 19, 2020 at 6:45 PM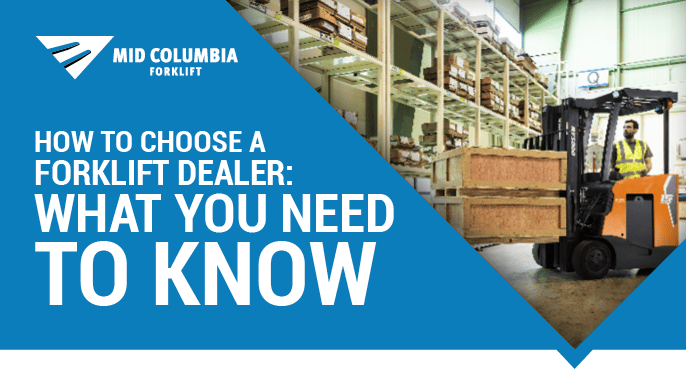 Your business counts on a fleet of forklifts to move products and materials reliably around your facility. You need a material handling equipment dealer that you can depend on for fulfilling many needs. The right dealer goes beyond just a service provider to being a full partner for your business, from new equipment and training to parts and service. Here are key things to consider when choosing a forklift dealer:
A Strong Reputation of Quality
Word of mouth is one of the most critical endorsements a business can have. Be sure to ask for references from the dealer to hear firsthand about their sales, repairs, and service quality. Ask around as well to see who your peers in the industry choose to trust with their revenue-generating equipment.

Convenience of Their Locations
Don't underestimate the importance of a dealership's branch location - a long haul for forklift service or new equipment delivery can quickly become a hassle. Lengthy deliveries can also become expensive, depending on the terms of your purchase or service. You'll want to find a provider that you can trust to deliver quality who is also nearby or willing to come to your location for service needs.
Readily Available Parts
You'll want to find an equipment dealer who not only provides equipment and service, but also sells replacement parts directly. If you're keeping a team of maintenance technicians on your staff, keeping parts on hand for regular repairs is critical. Relying on your dealer for equipment, service, and parts will help simplify your business processes, saving you time, money, and hassle.
Rental Fleet Size
Even if you plan on owning and optimizing your fleet, choosing a partner with a reliable rental fleet could save you headaches down the line. Whether you need a piece of specialty equipment for a one time project or are dealing with unexpected seasonal increases in demand, rental equipment can help you bridge that gap. Choose a dealer with a reliable rental fleet to future-proof your equipment needs.
Expert Technicians On Staff
Remember that customer service goes beyond their quality of interaction. It should also include the speed of service, availability, and first-interaction repair completion. Pay attention to your potential dealer's repair vehicle fleet size, technician training and certification initiatives, and staff size. The right dealer will have friendly experts trained specifically on your brand of equipment to help make the right repair the first time.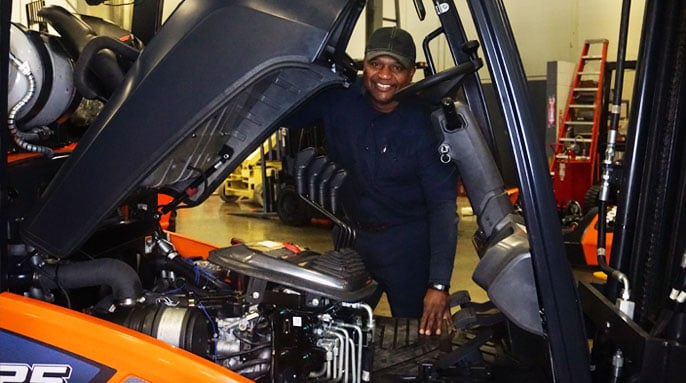 If you're thinking about selecting Mid-Columbia Forklift/MidCo Material Handling as your forklift dealership, here are five things you need to know about us:
Our reputation is high-quality and for good reason! We have worked hard to earn our A+ rating from the Better Business bureau over our 47 years of business by delivering the highest quality service, parts, and products across the Pacific Northwest.
We are located in Washington state, serving Auburn, Wenatchee, Pasco and Yakima. Some customers even choose to travel from Oregon the boarding states, Oregon, Idaho and Montana to do business with us.
Our readily available parts include common items such as oil, filters, hydraulic fluid, and more specialty components to keep your business running. If you have niche parts requirements, we will work with you to add it to our stock.
Our rental fleet is robust with over 650 units, including forklifts for indoor and outdoor applications, aerial lifts, and more specialized equipment to meet your needs, whatever they may be.
Our staff's expert technicians are trained and certified to work on various brands and models of material handling equipment. We take their knowledge and skills seriously and invest time in ongoing training to our staff to ensure they pass that high quality onto our customers.
At Mid-Columbia Forklift and MidCo Material Handling, we're committed to delivering the highest quality products and services our customers can count on. Contact us online to learn more about our company and how we can help your business. You can also reach out to our team of forklift experts at the location nearest to you:
Auburn 253-854-5438
Pasco 509-547-7413
Wenatchee 509-663-9009
Yakima 509-457-5137