When Leasing a Forklift Makes Sense
by Dana Bowen, on July 24, 2020 at 6:15 PM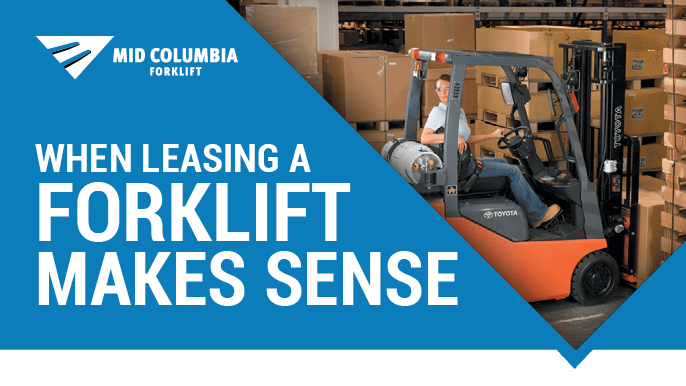 The decision of whether to lease, buy, or rent forklifts is a major consideration for all businesses. Each option comes with distinct advantages and disadvantages. When deciding your business's strategy, you must be sure that purchasing, renting, or leasing aligns with your financial strategy and goals.
If you're ready to buy a forklift and are wondering which purchasing route you should take, this post uncovers the pros and cons of leasing. Keep reading if you need a little help deciding which option fits your needs.
Leasing a Forklift
Leasing equipment is a strong alternative to purchasing for the flexibility leasing options represent. For those companies considering leasing forklifts, keep these pros and cons in mind:
Forklift Leasing Advantages
You can take advantage of lower starting costs and increase your cash flow by spreading out the forklift's price over the life of the lease.

The ability to refresh your fleet every 3-5 years with new equipment will help reduce downtime and maintain increased productivity.

Many states provide tax deductions for leased equipment up to 100%. Check your local tax laws to confirm this advantage.

The ability to bundle monthly maintenance in with the monthly lease price to reduce invoices.

With updated leases, your business can test and benefit from the latest in material handling technology with each model refresh.
In addition to these benefits, many forklift leases include the option to purchase the equipment at the end of its term for a reduced lease buyout cost. The flexibility and customization available in leasing terms are key advantages for many businesses.
Disadvantages of Leasing Forklifts
However, leasing equipment does come with some trade-offs.
If you purchase the leased equipment at the end of the lease, your total cost over time is often higher than the initial financing would be for a new forklift purchase.

Forklift leases typically include penalties for going over a set number of operating hours on the equipment.

You trade off some tax advantages by leasing, as you do not own a depreciating asset for tax deductions.
It is important that you have a full understanding of the leasing terms as well as the company you are leasing from before signing agreements. Thoroughly investigate their maintenance standards to ensure you are aligned in needs and services.
Signs Forklift Leasing May Be Right For Your Business
Companies who see the most benefit from leasing forklifts and other equipment tend to be very analytical and data-driven. Signs that your business would benefit from a lease include:
Your forklift utilization rate and work volume are predictable over several years.

You have Cap-Ex restrictions on initial purchasing costs and want to decrease up front cash outlay.

Your operation runs equipment at a relatively high rate with multiple daily shifts, above 1500 hours annually.

You've had increased volumes of repair and service needs in the past due to high volume.
Calculating your utilization rates and annual running hours on equipment are key for determining if a lease would benefit your company. Take some time to fully assess how your company operates to help determine if a lease is right for you.
Think leasing may be right for you? Download our free eBook, 5 Forklift Financing Options to learn more about the options available for customizing your lease. You can also contact us to learn more about our forklift leases. The talented professionals at Mid-Columbia Forklift and MidCo Material Handling will answer any questions you may have and help assess your leasing options.
Further Reading:
Available Forklift Rentals
Rent Vs. Buy - Do You Know The Magic Number?
How to Plan for Your Seasonal Forklift Rental