How to Calculate Downtime Costs and Avoid Unplanned Downtime
by Phil Hanford, on October 16, 2020 at 3:46 PM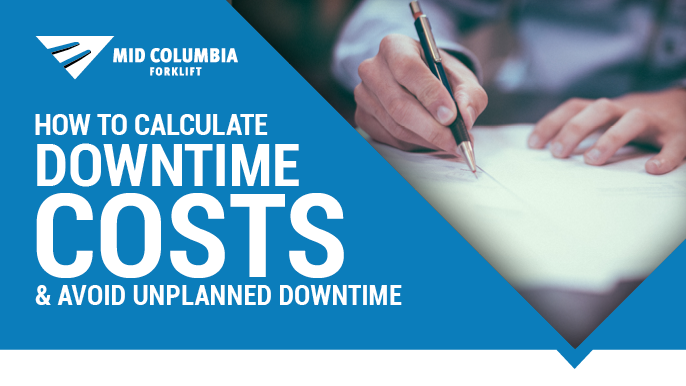 In the material handling business, downtime is enemy #1. When your equipment isn't running, and employees are distracted, profits take a nosedive.
Everyone knows that downtime is bad. But very few companies know exactly how bad - down to the cost per hour. According to a report by Garvey Conveyors, 80% of industrial facilities can't accurately estimate their downtime.
Knowing your downtime cost per hour can be very useful. It can help you justify a new equipment purchase and improve profit margins by uncovering inefficiencies. One company discovered they were losing $4,800/day - fifteen minutes at a time.
Here's how to calculate the true cost of downtime and reduce both planned and unplanned downtime.
The True Cost of Downtime
Downtime costs vary by industry and business size, but here are a few examples.
In manufacturing (automotive, pulp/paper, etc.), downtime costs can be up to $20,000-$22,000 per hour.
For a 750,000 sq. foot warehouse or distribution center operating 5,200 hours/year, downtime costs about $10,000 per hour.
For a small to medium-sized food processing plant (winery, bakery, etc.), unplanned downtime costs range from $6,000 - $9,000 per hour.
How to Estimate Downtime Costs
If the costs above seem outrageous, you may not be accounting for every expense. Want to know your operation's true hourly cost of downtime? Let us save you some time. Contact an expert who will be happy to help.
Want to do your own "back of the napkin" estimate? Start with your last unplanned forklift repair. In addition to the repair costs (including parts and labor), don't forget to add in:
Wages paid to the operator (if they were not re-assigned to another truck)

Any overtime hours incurred

Expedited shipping fees you may have paid to ensure orders arrived on time

Rental costs for replacement equipment (if applicable)
How to Minimize Unplanned Downtime
Here are the top reasons for unplanned downtime:
Aging equipment
Human error
Reactive repair (vs. proactive maintenance)
It would be nice to get new equipment whenever you need it, but we understand replacing aging equipment might be out of your control. That said, knowing your downtime cost-per-hour may help your company decision-makers start to see things your way. So let's move on to the #2 cause, human error.
On average, human error causes 18 percent of unscheduled downtime. In manufacturing, it's closer to 23 percent, and for other operations it drops to 9 percent.
Human error doesn't always mean smacking the forklift into something or not watering the battery correctly. It also includes small problems that become expensive repairs, like not replacing your forklift's tires soon enough. Which leads us to the second easy way to minimize downtime expenses...
Prioritize prevention! On average, a forklift repair costs four times more than the cost to properly maintain it in the first place.
Preventative maintenance is proven to reduce equipment downtime by 30-50 percent and prolong the life of your forklift by 20-40 percent. True, planned maintenance creates downtime, but planned downtime costs much less than unplanned downtime.
Would you rather have a forklift down (unexpectedly) for six hours and spend $5,000 on a surprise repair, or spend $90/month having a qualified forklift technician make sure your forklift is in good shape? Maybe you like to test your luck, but consider this: a study by GE found manufacturing operations with reactive repair strategies experienced 58 percent more downtime per year versus businesses that invested in planned maintenance.
How Calculating Downtime Leads to Increased Profits
Figuring out your exact downtime costs might not seem like a lot of fun, but it could make you a hero. A major equipment manufacturer discovered (and eliminated) 30 minutes of forklift downtime per shift and recouped nearly $1.5 million in profits.
The multi-shift operation used standard, lead-acid forklift batteries. Twice per shift, employees spent 15 minutes swapping batteries. With three shifts per day, that worked out to $4,800 a day in downtime costs (90 min per day x $40 per hour labor x 80 forklifts = $4,800 per day).
The manufacturer switched to lithium-ion batteries that didn't require changing, watering, or maintenance of any kind. Now their team members didn't have to stop what they were doing to swap batteries. The $4,800 daily savings multiplied by 300+ operating days per year came to $1.5 million in productivity gains.
Whether you have 85 forklifts or 8 forklifts, Mid-Columbia Forklift and MidCo Material Handling can help you find ways to save money and prevent downtime. We're also happy to help with your downtime calculation. We know you're busy, and we believe it's our job to make your life easier.
We also have a massive parts inventory and can service any make or model of forklift. Our factory-trained forklift technicians are available 24/7 and take pride in getting the job done right the first time.
Let us know how we can help. Contact one of our forklift experts online or by phone, or request forklift repair online.
Auburn 253-854-5438
Pasco 509-547-7413
Wenatchee 509-663-9009
Yakima 509-457-5137
Further Reading
Top Ways to Reduce Downtime in Your Warehouse
Forklift Preventative Maintenance vs. Routine Service