Mid Columbia Forklift & Midco Material Handling's Top 10 Posts of 2021
by Phil Handford, on December 20, 2021 at 2:00 PM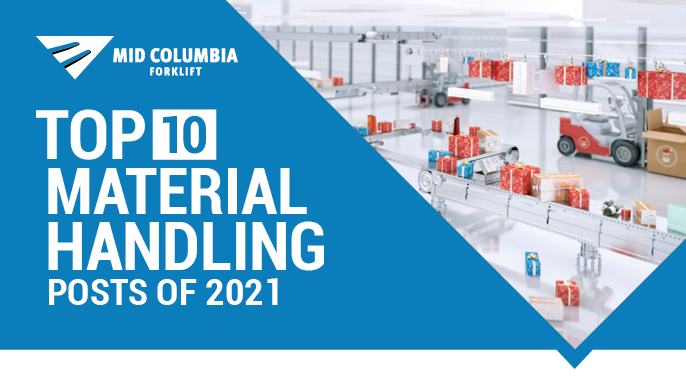 As we wind up the year, we want to wish you happy holidays. 2021 was another year unlike any other for the material handling industry. With an ever-increasing demand for shipping and fulfillment, congestion in ports, and other challenges, material handling became a common topic for many who had never considered the supply chain before. We're proud to provide our customers with the equipment, services, and knowledge needed to excel in this uncertain time. And we want to make sure you have the knowledge required to excel in the new year!
This year, capacity chart guides, forklift mast height considerations, and forklift pricing insights were among our most read. Here are our top ten blog posts from 2021 with the most clicked on first. Read on to learn more about making 2022 your best year for business yet.
1. How to Read a Forklift Load Capacity Chart
Understanding your forklift's load capacity is not as simple as reading the maximum capacity on the data plate and jumping to work. Many factors can influence how much your forklift can lift at different heights. As modern equipment becomes more complex, it is more important than ever for your operators to understand how to read a forklift chart and the complexities that shift its lifting capacity at different heights. Read on to learn about what influences your forklift load capacity and how to read the chart accurately.
2. Forklift Mast Height - Know Before You Buy
Forklift masts are not one-size-fits-all. You need to consider many different factors, including your warehouse's height, your average pallet size and weight, and more. Review the difference between single-stage, two-stage, and three-stage masts to make sure you have an accurate understanding of the equipment before your purchase. Here's what you need to know about the mast options available today.
3. How Much Does a Forklift Cost?
If you're shopping for new or used forklift units, you've seen the vast disparity in equipment prices. The pandemic hasn't made forklifts any cheaper, as demand has increased to keep products moving. While trends have shifted, the same five factors that influenced the price before the pandemic are still in play today.
4. What Is a Forklift Carriage and Why Is Carriage Class Important?
The forklift carriage is an often overlooked component of heavy-duty material handling equipment. But this crucial piece of the forklift is essential for effective operation. Here's what you need to know about forklift carriage classification to pick the right forklift configuration for your business.
5. Forklift Modifications and OSHA - What You Need to Know
Forklift modifications can be practical innovations that help your forklift operators move products more effectively. However, they are not without their risks and factors to consider. Here is what you need to know about regulations for forklift modifications, how to keep them safe, and what not to do when modifying your forklift.
6. Are Lithium-Ion Forklift Batteries Worth the Price? Two Surprising Stats
Lithium-ion forklift batteries can be a game-changer for the right business. If you run equipment in cold storage, on multiple shifts, or have slim profit margins, they might be the right solution for your business. Here are two factors to keep in mind when considering lithium-ion batteries for your forklift fleet.
7. Guide to Forklift Battery Types
Electric forklifts are increasingly popular across industries. However, not all electric forklift batteries are created equally. Lithium-ion, lead acid, and absorbed glass mat (AGM) forklift batteries can seem like overwhelming options, but they don't have to be. Here's what you need to know about each option to decide which forklift battery is right for you.
8. When to Repair Vs. Replace Your Forklift Battery
Unfortunately, forklift batteries don't last forever. If you're operating with ineffective, dying forklift batteries, your equipment fleet won't operate at its top level. Read on to learn how to identify a dying or damaged battery, how to repair and maintain forklift batteries, and when you should replace an old forklift battery.
9. Electric Vs. Propane Forklifts - Which is Best?
When it comes to forklift fuel types, electric and propane forklifts are the dominant options.
However, these dependable options are not right for everyone. Here are the pros and cons for electric and liquid propane gas (LPG) forklifts, where they work best, and what you need to know to make the right decision for your business.
10. Forklift Lockout Tagout: Avoid These 3 Common Mistakes
Lockout tagout procedures aren't just for electrical and fuel sources. If forklifts are damaged, lockout tagout procedures help keep your operators and other employees safer. Read on for these best practices to keep your damaged or unsafe equipment properly tagged and protect your people.
Your Material Handling Partner for 2022
The talented material handling experts at Mid-Columbia Forklift and MidCo Material Handling love answering your forklift questions. Whether you want to know more about forklift masts, capacity charts, new and used forklifts costs, battery types and maintenance, or more. We take pride in helping people find the right solutions for their business and budget.
Please reach out to us online or by phone to get the conversation started:

Auburn 253-854-5438
Pasco 509-547-7413
Wenatchee 509-663-9009
Yakima 509-457-5137

Further Reading:
The Top 10 Most Popular Forklift Safety Accessories in Washington State
Why Your Material Handling Business Needs a Pedestrian Alert System
The Best Forklift Attachments to Improve Productivity