What Is a Forklift Carriage and Why Is Carriage Class Important?
by Dave Jensen, on September 4, 2020 at 2:15 PM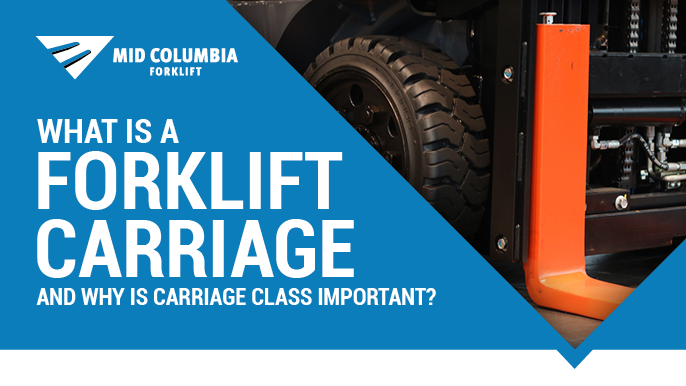 The forklift carriage assembly is where you mount the forks, load backrest and/or any forklift attachments to your lift truck. It's important to know your forklift's carriage class so you don't accidentally buy the wrong forks or forklift attachments for your equipment. Also, when looking at a used forklift for sale, understanding carriage class can keep you from accidentally buying a lift truck with too little capacity or one that can't use an attachment you need.
Here's what you need to know about forklift carriage classes:
Forklift Carriage Classes: The Basics
There are five forklift carriage classes. Each class is based upon the forklift's capacity and working load center.
How are forklift carriage classes determined?
If you want to find your forklift's carriage class, simply measure the distance between the top and bottom carriage bars. Put another way, the distance between the top edge of the upper fork bar and the bottom edge of the lower fork bar = the carriage height. Once you have that measurement, refer to the chart below to find your forklift's carriage class.
Class 1 Carriage height: 13", lifting capacity: less than 2,200 lbs
Class 2 Carriage height: 16", lifting capacity: between 2,200 lbs. and 5,500 lbs
Class 3 Carriage height: 20", lifting capacity: between 5,500 lbs. and 10,998 lbs
Class 4 Carriage height: 25", lifting capacity: between 11,000 lbs. and 17,600 lbs
Class 5 Carriage height: 28.66"" lifting capacity: between 17,602 lbs. and 24,198 lbs
Important note: the carriage class gives you a general idea of the forklift's lifting capacity, but it is only one factor. Refer to your forklift's data plate for the most accurate capacity information.
Here's a quick guide on how to read a forklift load capacity chart.
Why Is a Forklift's Carriage Class Important?
Knowing a forklift's carriage class allows you to ask informed questions when shopping for a used forklift, forklift attachments, etc. The friendly forklift experts Mid-Columbia Forklift and MidCo Material Handling are happy to answer any questions you may have about carriage class, forklift class, or forklift training classes. We're a class-y operation.
All joking aside, our goal is to provide world-class service for our customers. We invite you to contact us online or by phone:

Auburn 253-854-5438
Pasco 509-547-7413
Wenatchee 509-663-9009
Yakima 509-457-5137
Further Reading
7 Things to Consider Before You Buy a Forklift
How Much Forklift Capacity Do I Need?
Forklift Mast Height - Know Before You Buy