How Much Forklift Capacity Do I Need?
by Jim Paoletti, on February 7, 2020 at 9:00 AM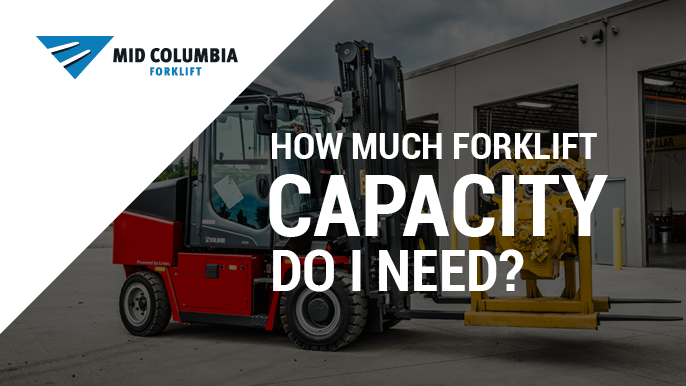 Just because your forklift data plate says its maximum capacity is 7,000 pounds, doesn't mean you can lift any load weighing less than that. Many factors contribute to your forklift's true maximum lifting capacity for any load, including its dimensions, weight distribution, and more. When you're planning a new forklift purchase, it's important to fully understand all aspects of your equipment's lifting capacity. This will help you right-size your forklift purchase to meet your business needs.
How to make sense of a forklift's load capacity?
A forklift's maximum load capacity is affected by many things. The dimensions of the load, where its weight is centered, the distance of your forks, lifting height, forklift attachments, and more can affect your actual capacity. Your load capacity is also often called the forklift rated capacity because of the rating present on the data plate.
What is a forklift's load center?
The load center is the horizontal distance from your forks to the load's center of gravity. This information is essential for determining your forklift's capacity. For standard 48" by 48" pallets, the load center is generally calculated at 24" from the fork face.
Do attachments affect a forklift's capacity?
In short, yes, attachments will reduce your forklift's lifting capacity. This occurs not only because of the weight of the attachment itself, but because of how it shifts the forklift's center of gravity as well. As the front of the forklift becomes heavier, maximum lifting weight must be reduced to prevent tip over incidents.
What forklift capacity should I buy?
Deciding what forklift capacity you should buy is tricky. Customer demands shift and businesses change to suit them. Your average pallet load may change drastically to meet customer tastes. In general, you should be able to anticipate these changes far enough in advance to meet these trends. Consider your current average load weight, as well as any trending changes over the last several years. You should also look at how many stages are in your mast and how high you must typically lift your loads. Take into account all of the factors that can impact your net load capacity, rather than just the rated maximum. You should also consider the space where your forklifts will be used to ensure your new equipment's Right Angle Stack will work for your business or warehouse configuration. In general, buying new equipment with slightly higher capacities that what you may need can help to future-proof your fleet.
If you're preparing to replace forklifts or expand your fleet, Mid-Columbia Forklift and MidCo Material Handling are here to help. Whether you need help right-sizing your equipment capacity or optimizing your fleet size, our material handling experts are ready to help. Contact us today to learn more about our stock of forklifts and other material handling equipment.
Further Reading
How to Read a Forklift Load Capacity Chart
Forklift Mast Height - Know Before You Buy
New Material Handling Equipment