Forklift Modifications and OSHA - What You Need to Know
by Dave Jensen, on March 20, 2020 at 11:00 AM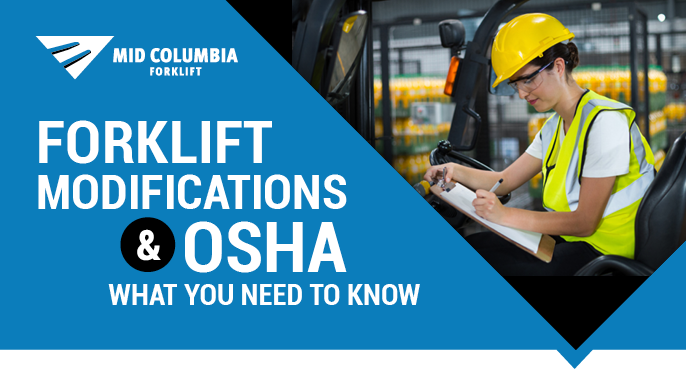 Forklift attachments and accessories can help you move more product in less time, but there's a right way and a wrong way to modify forklifts. OSHA's regulation states: any modifications that affect the capacity and safe operation of a forklift must have written approval from the manufacturer. This article will:
Break down OSHA's forklift modification rules in greater detail
Explain what to do if the manufacturer is out of business, rejects or doesn't respond to your request
List which parts of the forklift should never be modified
Review ANSI requirements and UL standards
Bust some commonly-held myths about forklift modifications
Forklift Modification Do's and Don'ts
As business needs change, you may need to modify your forklift(s). Maybe you want to add a side-shifter to improve productivity, use a specialized clamp to handle new inventory, or get a 3-stage mast to increase reach.

All three scenarios above require written approval from the manufacturer before any modifications take place (per ANSI and OSHA). You'll also need written permission from the manufacturer if you decide to:


Drill or cut into the overhead guard or hood
Use a new type of tire (such as switching from cushion to pneumatic)
Get different forks (such as longer forks)
Swap counterweights
Make any modifications that affect the operator's visibility
Once written approval is granted, both ANSI and OSHA require capacity updates to plates, labels, tags, operation and maintenance manuals.

So you may be wondering, what if I can't get approval from the manufacturer? Great question.

If the manufacturer is no longer in business:
According to OSHA: if the original manufacturer was purchased by another company, contact the company that bought them out to request approval. If the original manufacturer is completely out of business, contact a Qualified Registered Professional Engineer for approval.



If the manufacturer does not respond, or if the modification is rejected: OSHA will accept a written approval of the modification/addition from a Qualified Registered Professional Engineer who has performed a safety analysis and address any safety and/or structural issues identified by the manufacturer in their rejection letter. If approved, machine data plates must be updated.

Don't Void Your UL Rating
An Underwriter's Laboratory (UL) rating certification verifies your forklift configuration complies with UL standards. Any change to a forklift's electrical, exhaust, or fuel system can void the UL certification. Simply swapping a wiring harness or installing a safety light may cause the forklift to no longer be within UL standards.

The same goes for parts. If you use an OEM part, no problem; if you use a third-party forklift part, you might void the UL rating. Non -OEM parts must be pre-approved as field-installable.

Sound like a lot of work? Not when you have the right material handling partner. Hundreds of businesses in Washington state count on Mid-Columbia Forklift and MidCo Material Handling to look after the details and take care of the heavy lifting.
Buy a single-double (or other forklift attachment), and we'll obtain manufacturer permission and order your updated data plate and tags. All you have to do is enjoy moving twice as many pallets in the same amount of time.
Want to add some safety lights or a back-up alarm? Our professional technicians will ensure the installation conforms to UL standards.
Need a part? We carry a variety of OEM forklift parts for numerous makes and models.
Forklift Modification Don'ts
DON'T Modify Counterbalance Measures
A commonly-held and dangerous myth is that you can increase a forklift's capacity by adding more weight to the counterbalance. This is not enable the lift truck to carry more weight. It does, however, negatively affect the forklift's handling and stability. Modifying the counterweight also changes the forklift's center of gravity (aka its load center) and increases the risk of tip-overs - which are sometimes fatal.



DON'T Modify the Forks
Forks take a lot of abuse, and you may be surprised how easily they can be compromised. Forks should always remain parallel to each other and inspected regularly for bends and signs of wear or unevenness. A bent fork is a dangerous fork. Learn more about fork inspections and fork safety.

The bottom line: always consult an expert before modifying your forklift. It's not only the safe choice, it's a smart financial decision. Talk to an expert at Mid-Columbia Forklift and MidCo Material Handling about your material handling needs and business goals. You can count on us for professional advice and product support.

Connect with us online or by phone:
Auburn 253-854-5438
Pasco 509-547-7413
Wenatchee 509-663-9009
Yakima 509-457-5137

Further Reading
How to Read a Forklift Load Capacity Chart
Forklift Mast Height - Know Before You Buy
How Much Forklift Capacity Do I Need?