Forklift Lockout Tagout: Avoid These 3 Common Mistakes
by Phil Hanford, on October 19, 2020 at 6:45 PM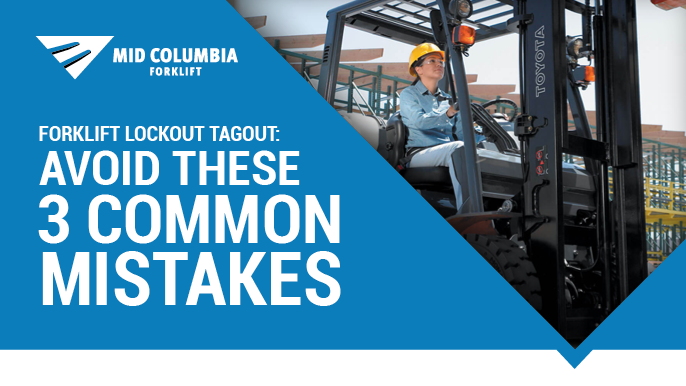 When a forklift goes down, lockout/tagout procedures protect employees from injury and the company from OSHA fines and litigation. Does your operation follow lockout/tagout best practices?
By the time you finish reading this article, you'll know whether your lockout and tagout procedures adhere to OSHA regulations and (if not) how to fix them.
Forklift Lockout Tagout Procedures and OSHA Requirements
Why do I need a lockout/tagout procedure?
Severe injuries, amputation, and even death can occur when equipment unexpectedly powers up. A lockout/tagout program makes it clear when a forklift is off-limits and protects workers who work on the damaged machine. It's also an OSHA requirement.
Improper lockout/tagout is consistently one of the top 10 most-common OSHA violations.
What are OSHA's lockout/tagout requirements?
NOTE: The information below is a summary of OSHA's requirements. We urge you to review OSHA standards 1910.147 and 1910.333. OSHA states:
Live parts to which an employee may be exposed shall be deenergized before the employee works on or near them. Safe procedures for de-energizing circuits and equipment shall be determined before circuits or equipment are deenergized.

The circuits and equipment to be worked on shall be disconnected from all electric energy sources. Control circuit devices, such as push buttons, selector switches, and interlocks, may not be used as the sole means for de-energizing circuits or equipment.

Stored electric energy which might endanger personnel shall be released. Capacitors shall be discharged, and high capacitance elements shall be short-circuited and grounded if the stored electric energy might endanger personnel.

A lock...shall be attached to prevent persons from operating the disconnecting means unless they resort to undue force or the use of tools.

Tag(s) shall contain a statement prohibiting unauthorized operation of the disconnecting means and removal of the tag.

The employer shall maintain a written copy of the procedures...and shall make it available for inspection by employees and by the Assistant Secretary of Labor and his or her authorized representatives.
Avoid These 3 Common Logout/Tagout Mistakes
Removing the Key Is Not Enough - simply removing the key does not constitute locking out your forklift (neither does using an interlock device). The energy source must be disconnected and discharged. Failure to correctly lockout and discharge a forklift has caused serious injury to operators and technicians.
Keep Employees In The Loop - Make sure all relevant employees are trained to recognize hazardous energy sources and know where to find your lockout/tagout procedures. Document this training, make sure team members know where/who to go to with questions and schedule periodic retraining.
Don't "Set It and Forget It" - At least once a year, assess your lockout/tagout procedure. Conduct an inspection, ask for input from your staff, and update your documentation/retrain as necessary.
Example Forklift Lockout Tagout Procedure
Use the example below to evaluate your existing lockout/tagout procedures. This example is for illustrative purposes only. Your procedure should be customized for your operation and equipment (do not copy-paste). Reference OSHA Standard 29 CFR 1910.333 and 1910.147 for definitions, exceptions, and requirements.
Step 1: Communicate the equipment breakdown to all affected employees across all shifts
Step 2: Shut down the equipment (include step-by-step instructions in your procedure) and disconnect it from any energy sources
Step 3: Use a lockout device and apply tag(s) with information about why the forklift may not be used, and who to contact with any questions
Step 4: Release any residual energy (i.e., discharge capacitors)
Step 5: Attempt to start the machine to ensure it's completely disabled
Step 6: Authorized employee performs repairs
Step 7: Reverse the steps above to put the equipment back into service.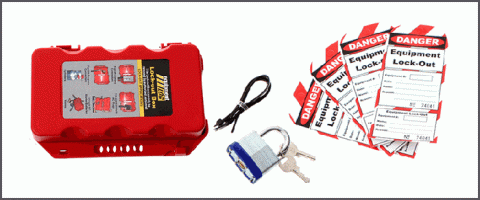 If you don't already have a forklift lockout/tagout kit, you can buy one online. You can also order materials to conduct a lockout/tagout training program.
Lockout/tagout procedures keep your team members safe and your workplace OSHA-compliant. Please let us know if you have any questions about the information above. The forklift safety experts at Mid-Columbia Forklift and MidCo Material Handling are standing by to help.
Contact us online or by phone:
Auburn 253-854-5438
Pasco 509-547-7413
Wenatchee 509-663-9009
Yakima 509-457-5137
Further Reading
Forklift Modifications and OSHA - What You Need to Know
Common Forklift Operator Injuries and How to Prevent Them
Signs Your Forklift Needs Repairs