Mid Columbia Forklift & Midco Material Handling's Most Popular Posts of 2020
by Midco Forklift, on January 1, 2021 at 9:18 AM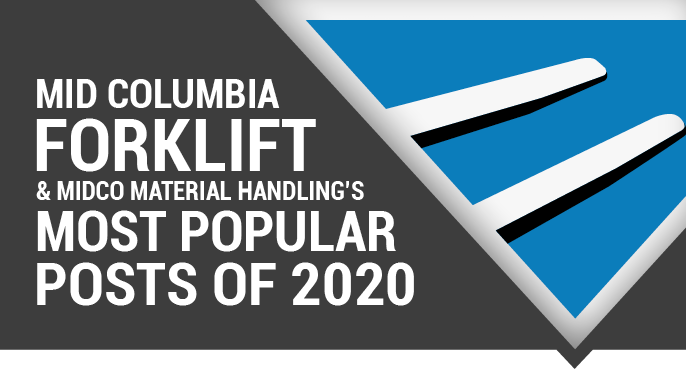 2020 was a unique year for the Material Handling industry. Most businesses had to adapt to the ever-changing regulations to stay profitable. To help our customers navigate this new environment, we tuned our blog posts to the most pressing topics in Material Handling. We're grateful for your partnership, and we're looking forward to serving you in the future.
This year, the importance of the forklift mast, forklift prices, and forklift battery types were top-of-mind topics. Here are our top five most popular blog posts from 2020, starting with the most-clicked article.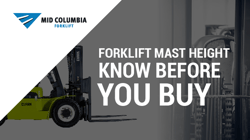 Not all forklift masts will suit your goals. There are several factors to consider when you're purchasing a new or used forklift. Your height needs and restrictions are among them. Don't forget the difference between Single-Stage Vs. 2-Stage Vs. 3-Stage masts, and what it means for your business. Read on for the most informed purchasing decision.
If you've ever been in the market for a new or used forklift, you may have asked why there is such a huge price range for seemingly equal lift trucks?
We've identified the top five factors that determine the forklift price. To learn more about these critical factors, and prevent a high long-term cost of ownership, read our blog post.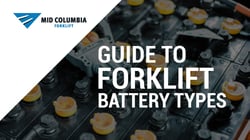 What type of electric forklift battery is right for you? Our guide to forklift battery types covers the basics of what makes each type of battery stand out. From construction and weight to maintenance and other advantages, we compared Lead Acid, Absorbed Glass Mat, and Lithium-Ion forklift batteries. Learn how to identify the right battery for your operation.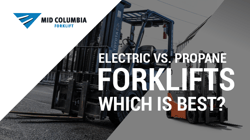 Which is better, an electric or propane forklift? It's a common debate in the material handling industry. Propane forklifts were a common choice for outdoor applications, but electric forklifts have stepped up their game in recent years. The right answer depends on your application. Read our blog post to learn all you need to know about when to buy an electric vs. an LP gas lift truck.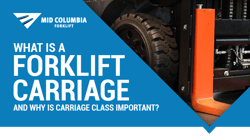 What is your forklift carriage class? It's essential to know the answer so you don't accidentally buy the wrong forks or forklift attachments for your equipment. Understanding carriage class can keep you from accidentally purchasing a lift truck with too little capacity or one that can't use an attachment you need. Read our blog post to learn what you need to know about forklift carriage classes.
Your Material Handling Partner in 2021
The forklift experts Mid-Columbia Forklift and MidCo Material Handling are happy to answer any questions you may have about forklift masts, new and used equipment pricing, forklift battery types, forklift attachments, and more.
Our goal is to help you find the right equipment for your application and budget. We take pride in supporting local businesses in Auburn, Pasco, Wenatchee, and Yakima.
We invite you to contact us online or by phone:
Auburn 253-854-5438
Pasco 509-547-7413
Wenatchee 509-663-9009
Yakima 509-457-5137
Further Reading
Common Misconceptions About Buying a Used Forklift
The Best Equipment for Intermodal Shipping Container Management
When to Rent Vs. Buy a Forklift