What You Need To Know Before Renting Your First Forklift
by Trey Barber, on January 27, 2023 at 9:09 AM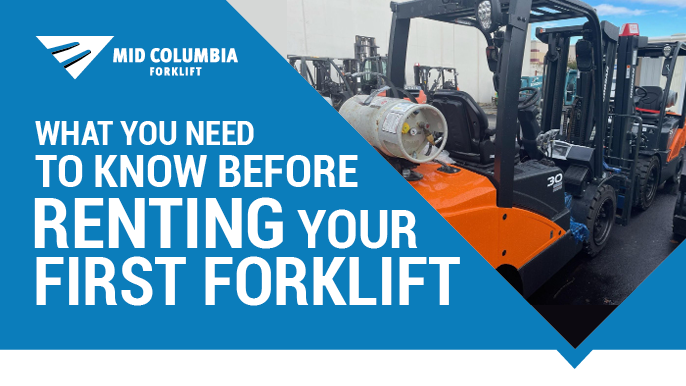 When you're traveling for work, how do you get around? Odds are your first thought isn't to head to the nearest dealership and buy a car for your trip. That would be an absurd waste of money and time. Likewise, just because you need a forklift for a job doesn't mean you should buy one.
Rental forklifts are an easy way to meet your needs as you have them without the burdens of ownership. But renting one isn't quite as simple as renting a car. Read on to learn what you need to know before renting your first forklift.
You Can Rent a Forklift for A Lot of Reasons

There are many great reasons to rent a forklift instead of buying or leasing. Here are some of the most common.
You Have an Atypical Need
Business isn't always constant throughout the year. For example, your industry may have a peak season. Or you might have a sudden increase in demand. Or, maybe, you need to lift something unusual, like paper rolls or bales of recycled plastic. Whatever the cause, renting a forklift allows you to meet your need quickly while staying within budget.
You Want Something Different
If you're in the market for a new forklift, consider starting with a rental instead. Renting forklifts allows you to try different styles and brands before making a purchase. And when you find one you like, you can usually purchase that specific forklift, eliminating the need to wait on delivery from the factory.
Rental forklifts are also a great way to evaluate a new dealership. Ideally, your forklift dealer is your partner in your material handling needs. But some dealers make better partners than others. Renting from a dealer first allows you to test them out before purchasing from them.
You Have an Inflexible Budget
No matter how well-maintained a forklift is, it will break down eventually. When those breakdowns happen, it can be an ill-timed expense. If you own the forklift, you're responsible for those costs. However, if you're renting, the dealership handles the cost of those repairs, putting no additional strain on your budget.
You Need a Forklift for a Short Time
Sometimes you only need a forklift for a short time. For example, you may only need to lift loads a couple times a year. Or maybe your forklift is in for repair. Either way, renting helps cover gaps without busting your budget.
Know The Physical Requirements of Your Lift
What you want to lift and where you want to put it matters when selecting the right forklift. Your dealer will help you make the best rental choice for your needs. But you'll need to come with some information to help guide that process. Here's what you should know.
How much weight do you need to lift?
How high do you need to lift your lightest load?
How high do you need to lift your heaviest load?
Do you need to lift anything that is not secured to a pallet?
Each model of forklift has different load-lifting capacities. And how much a forklift can lift changes with the lift height. Additionally, forklifts generally use forks designed to lift pallets. However, there are lots of specialized attachments that allow them to lift specialized loads.
There is sure to be a forklift that meets your needs. And coming prepared to discuss those needs will help make that process as quick and easy as possible.
Be Able To Describe the Working Environment
Where you plan to use your rental forklift makes a big difference. For example, diesel forklifts produce fumes that can be harmful in indoor facilities that handle food. Likewise, some forklifts handle cold environments, like refrigerated facilities, better than others.
When discussing your rental forklift needs with your dealer, come prepared to answer the following:
Will the forklift be used indoors, outdoors, or both?
What types of surfaces will the forklift traverse? Dirt? Polished cement? Asphalt?
How wide are your warehouse aisles?
What are the height restrictions in your facility?
Knowing this information will ensure your rental is up for the job.
Know How Long You'll Need the Rental
Forklifts can be rented in various increments depending on your needs, with the most common length being 2 months. So be upfront about the expected duration of your needs. Generally speaking, renting for a longer period reduces the average daily cost.
Clearly Understand Your Responsibilities
This is where you get into the fine print. The rental agreement will be different with every dealership. So it is essential to know each party's responsibilities. Ask your dealer to go over the contract with you in detail. And remember to make sure you are clear on insurance, service plan coverage, and training requirements.
Know What the Service Plan Covers
Your rental forklift comes with a service plan that covers most routine maintenance. However, some parts may be excluded from that plan, making them your responsibility to replace or maintain.
Know What Training Your Operators Need
Per OSHA regulations, no one can operate a forklift without proper training. So you will need to ensure your operators have the appropriate training and have been refreshed on that training in accordance with current OSHA standards.
Additionally, some forklifts require specialized training beyond simple certification. It's your responsibility to know what training your operators currently have and acquire any additional training they may need. Your dealer can usually provide any required training for the forklifts they rent.
Be Prepared To Handle Two Common Hold-ups
The two most common hold-ups in any rental process are the credit application and where the forklift needs to be delivered. However, you can avoid both of these with a couple easy steps.
Have your credit application ready to go.
Communicate clearly with the dealer where you want your rental delivered.
Those sound like easy things, and they are. Yet, they delay the rental process more than anything else.
Get To Know Your Dealer
Ultimately, your forklift dealer should be your partner in material handling. Yet, not all dealers are created equal. There are too many untrustworthy organizations to just go with the lowest quote. So take some time to research a potential dealer by asking the following questions:
How long has the company been renting forklifts?
Do they have references they can share with you?
How large is their rental fleet?
What condition is their rental fleet in?
How old are their forklifts?
You should only rent forklifts from a reputable company. Mid Columbia Forklift has been servicing Washington State since 1978. Our extensive fleet of rental forklifts has the depth to meet your needs while offering flexible financing on both short-term and long-term rentals. To learn more about our forklift rental options, contact us online or visit one of our locations throughout Washington State.
Auburn 253-854-5438
Pasco 509-547-7413
Wenatchee 509-663-9009
Yakima 509-457-5137
Further Reading
How to Plan for Your Seasonal Forklift Rental
Rent Vs. Buy – Do You Know The Magic Number?
Forklift Purchasing Options: Buy, Lease, or Rent