Top Forklift Replacement Parts to Keep On Hand
by Dave Jensen, on April 24, 2020 at 9:00 AM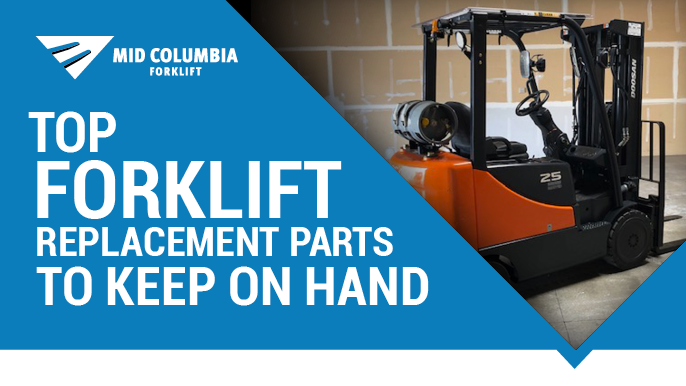 In crucial times like the COVID-19 outbreak, you can't afford for equipment to experience downtime. Now, more than ever, keeping parts on hand for routine maintenance is essential. These items are the most commonly needed components to keep your fleet working during the ongoing pandemic and into the future.
Brakes
Your forklift's brakes work hard day-in and day-out to decelerate and stop thousands of pounds. Whether they're pad brakes, drum brakes, or an option such as oil-cooled, your brakes will eventually need replacement. Keep a stock of these parts on hand to keep your forklifts, operators, and products safe.
Mast Chains
The chains used to extend your forklifts' mast and carriage experience incredible strain every day. The stress of lifting heavy loads and managing the weights at height means these need to be replaced regularly. Kinked or bent links are a sure sign that you need to repair these parts ASAP.
Forks
The forks of a forklift are on the frontlines of stress and possible damage. Rather regular wear and tear due to heavy pallet loads of product or damage due to misaligned lifting and placing, forks can wear out. Damaged forks increase the risk of dropped loads, contributing to increased risks of serious injuries. Knowing when to replace forklift forks is essential for keeping your fleet running safely during difficult times.
Tires
Forklift tires are key for operator comfort and safety as well as smooth manipulation of pallets. Chunking, ripping, and tearing can contribute to overuse injuries in operators and damage to products. Maintain your fuel efficiency and safe operation by replacing tires in line with our forklift tire maintenance guide.
Filters
Oil and air filters help to protect your forklift's engine from expensive and preventable damage. Replacing these key components in line with OEM guidance is key for maintaining safe and reliable forklift performance. Especially dirty or clogged filters are a sign of a workplace in need of improved air quality and other cleanliness to improve safety and performance.
Hydraulic Supplies
Your forklift hydraulic systems help to move the chains that lift your loads. Issues with the cleanliness of hydraulic fluids and lines, leaks, and damage to gaskets can contribute to stuttering lifts or other performance issues. Keeping replacement lines, plenty of fluid, and line cleaner on hand is key for maintaining top performance.
Above all else, completing routine maintenance and daily walkaround inspections are essential for keeping your forklift fleet safe and functional. Outsourcing portions of your maintenance can help ensure your forklifts are working in top condition. Mid Columbia Forklift and MidCo Material Handling offers several full-service maintenance plans to help meet your needs. Contact us to learn how we can help keep your business running while practicing social distancing to maintain everyone's safety.

Further Reading:
Signs Your Forklift Needs Repairs
Most Commonly Replaced Forklift Parts
How Wet Disc Brakes Dramatically Reduce Forklift Brake Repair Costs