3 Reasons Your Forklift Brakes Prematurely Wear
by Phil Hanford, on September 24, 2021 at 6:00 AM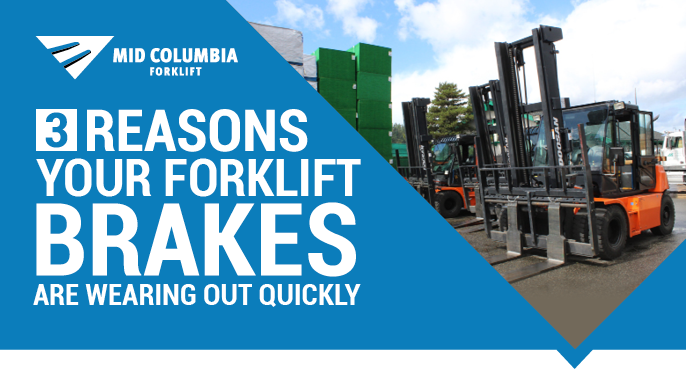 Are your forklift brakes wearing out earlier than you expected? Are frequent repairs eating into your maintenance budget? If your business is dealing with this challenge, it can be incredibly frustrating.
Between brake jobs, forklift downtime, and decreased productivity, frequent replacements can add up quickly. So the first step is determining why your forklift brakes are wearing out quickly. Here are three possibilities to consider:
1. Operator Errors
Operators can inadvertently cause extra wear and tear on your forklifts' brakes if they aren't using them correctly. Stopping too quickly and driving too fast can both contribute to excess brake damage. While sit-down forklifts feel similar to driving a car, their stopping distance is much longer, especially when maneuvering pallet loads. Implementing a telematics system and reviewing your operator training and certification program are the best ways to ensure operator errors aren't causing excess forklift brake damage.
2. Environmental Factors
Your workspace can affect your forklifts' brake health. If your working area has many inclines, rough terrain, or slick surfaces, these can all increase the use of brakes, decreasing their maintenance intervals. Dusty workspaces in manufacturing can add stopping distance to forklifts, increasing brake demands.
Related: Keep My Workers Safe With Industrial Floor Cleaning Machines
Even maneuvering around tight corners can contribute to brake overuse and extra wear and tear. Your best solutions here are to reconfigure workflows to reduce frequent use of inclines if possible. Similarly, your warehouse's conditions should be reviewed regularly to ensure slick floors don't contribute to worker or equipment risks. Finally, a strong cleaning plan is essential to protect your employees and equipment from risks due to dust build-up and other issues.
Related: Is My Warehouse Racking Compliant with Washington State Fire Codes?
3. Overloaded Forklifts
Finally, if your forklifts are overloaded, they can take a toll on all of your equipment's systems. Going beyond your rated capacity is a huge safety risk for your equipment and employees and should not be done. If you've recently added new products or pallet configurations, your equipment might be working outside of its rated capacity. This can wear out brakes, chains, hydraulics, engines, and motors quickly. Be sure to calculate your forklift's capacity based on product weight and pallet configuration before maneuvering new pallets to avoid equipment damage and risk to your operators.
Still wondering why your forklift brakes are wearing out so quickly? Need a material handling services partner? Mid-Columbia Forklift and MidCo Material Handling are here to help. Our staff of talented forklift professionals will help you get to the bottom of your forklift issues and guide you to products and services that improve your equipment and business performance. Contact us online or by phone:
Auburn 253-854-5438
Pasco 509-547-7413
Wenatchee 509-663-9009
Yakima 509-457-5137

Further Reading:
3 Signs It's Time to Replace Your Forklift Brakes
How Wet Disc Brakes Dramatically Reduce Forklift Brake Repair Costs
6 More Ways to Minimize Forklift Downtime for Your Business