How Wet Disc Brakes Dramatically Reduce Forklift Brake Repair Costs
by Ryan Oshman, on February 28, 2020 at 9:00 AM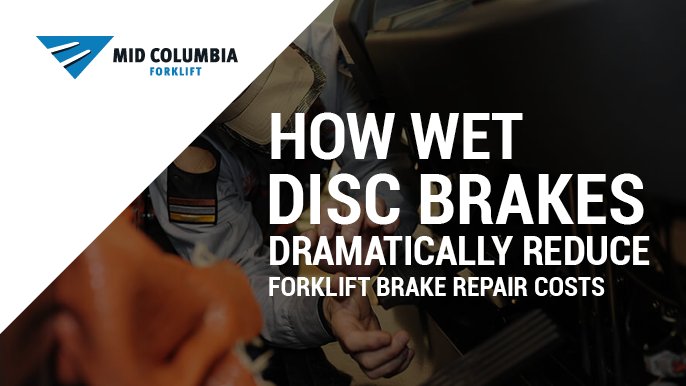 How much did you pay for your last forklift brake job? If you're lucky, it may have been around $985. If you waited too long, it may have been twice that much.


Wet brakes, also known as oil-cooled disc brakes, offer tremendous long-term cost savings compared to standard disc brakes. Wet disc brakes only require periodic oil changes, that's it - no maintenance, no shoes to replace or adjust.

Wet brakes are also fully-sealed, which prevents corrosion and contamination. Dust and debris can damage conventional brakes by creating ridges on the brake shoes (and sometimes the drum), but these repairs can be completely avoided with wet brakes.

Why Choose a Forklift With Wet Brakes Vs. Conventional Disc Brakes
Conventional disc brakes build up heat during heavy-duty or frequent brake applications. This impairs performance which may lead to accidents and definitely drives up maintenance costs.



Wet disc brakes eliminate heat build-up by using oil to flush the heat away. Also, the components are fully-enclosed, so wet brakes perform well - even in

dirty environments and wet outdoor operations.

Wet disc brakes:

Last five to ten times longer than standard disc brakes
Never require an adjustment, spring or linkage replacement
Are safer and more reliable than conventional brakes, especially in heavy-duty or wet applications
Choosing a forklift with wet disc brakes can save you $3300 - $5000 on brake jobs over five years (depending on your application and working conditions). You can also avoid other common problems with conventional brakes (such as glazing, grabbing, etc.), which can add up to an additional $5,000 in repair costs during the life of your forklift.
If you're interested in buying a forklift with wet disc brakes, Mid Columbia Forklift and MidCo Material Handling has several brands and models to choose from including:
Clark - Wet disc brakes are standard on all C40 and C60 models and include a power assist design to reduce operator fatigue.
Doosan - Offers a 5-Year, 10,000 hr. Warranty on their oil-cooled disc brakes, which come standard on all Class 1, 4 & 5 Series Trucks.
Toyota - Toyota's 3-Wheel Electric forklift uses wet disc brakes, and the High-Capacity IC Pneumatic Diesel forklift uses air-over-hydraulic wet-disc brakes.
Questions? We're here to help. Contact a forklift expert online or by phone:

Auburn 253-854-5438
Pasco 509-547-7413
Wenatchee 509-663-9009
Yakima 509-457-5137
Further Reading
Maintenance Tips for Washington Port Equipment
Best Equipment for Intermodal Shipping Container Management
Equipment Challenges for Washington's Forest Products Industry