How to Switch from IC to Electric Forklifts to Go Green and Save Money
by Phil Hanford, on May 6, 2022 at 2:05 PM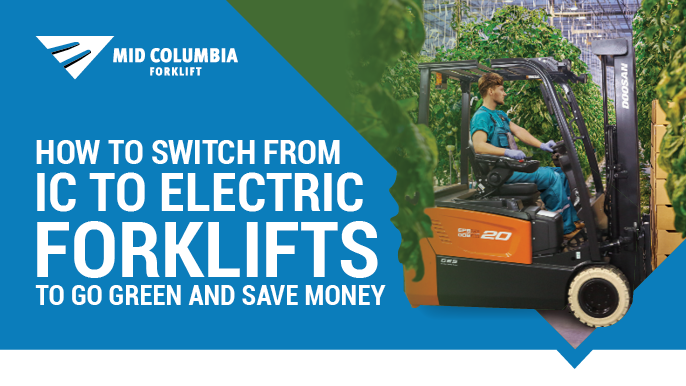 Washington's upcoming Clean Fuel Program is slated to begin in January 2023, and it may mean fuel credit payments for qualified electric forklift owners.
For this and other reasons, Washington businesses are making the switch from combustion to electric engine equipment. We think there's never been a better time.
Here are a few more reasons why people are making the switch from gas-powered to electric:
Washington's EV and EVSE Sales and Use Tax Exemption
Companies see the value of corporate social responsibility and want to positively impact the world
Environmental, health and safety advantages
Why Choose Electric?
Electric technology has come a long way compared to the 1990s. Back then, we wouldn't have been as quick to recommend electric engines.
Thanks to incredible advancements, electric engines last longer and are better suited to more rugged work than ever before. Plus, their charging stations are more user-friendly.
Greener electric engines are more efficient than combustion ones. They're also cleaner, don't require refueling, produce zero emissions, and offer a lower lifecycle cost since because there are less combustion-related parts, like spark plugs, transmission, and oil that require maintenance.
How to Start Making the Switch from Propane to Electric Today
To get maximum savings, right now is the time to make the switch to electric. While electric forklifts cost more upfront, the savings of electric equipment over time can accumulate to massive savings down the road.
For example, a 5,000-pound capacity forklift over 72 months of operation 8 hours a day/ five days a week is projected to save nearly $30,000 with an electric model compared to propane and nearly $38,000 as opposed to diesel.
Electric forklift vs propane forklift savings: $29,451.46
Electric forklift vs diesel forklift savings: $37,549.92
The four things you'll need are as follows:
Time and Proper Planning
Determine Infrastructure and Power Needs
Set Up Charging Infrastructure
Reinvest the Money You've Saved by Making the Switch
1. Time and Proper Planning
This setup doesn't happen overnight, especially due to widespread supply chain issues due to the pandemic. In other words, when you place your order for your electric forklifts, keep in mind there may be a substantial lead time.
Planning your environment to fit your electric forklifts and accompanying charging stations must be done in advance, which we'll cover in more detail below.
2. Determine Infrastructure and Power Needs
Rarely are warehouse layouts ready to drop in a set of charging stations and call it a day.
With enough time to prepare, you can plan out your installation with minimal downtime in mind. The charging station setup will depend on your environment and workflow.
For example, let's say you choose opportunity charging. These are designed to be charged between employee breaks. That means the best place to install them is near a break area to make it easy for employees to consistently charge the batteries on their break.
You should also consult your energy provider to anticipate the cost once the charging stations are in use, especially regarding how many batteries and how frequently they'll be used (among other factors).
Fortunately, for our customers in Washington, PSE (Puget Sound Energy) offers grants to its customers who are taking the initiative to go green, which can potentially save even more money over time.
3. Set Up Charging Infrastructure
Quick disclaimer - Please keep in mind that these are only recommendations - this does not constitute a complete knowledge of charging station setup and safety.
If you would like to schedule a site assessment, our experts at Mid-Columbia Forklift will gladly perform an audit specific to your site. That way, you can optimally prepare your space for an electric setup based on your workflow and power needs.
Two major priorities when setting up forklift battery charging stations are to prevent injury and anticipate potential issues with batteries. Not because they tend to fail but because, as with any safety precautions, you need to be prepared for the worst.
Electric forklifts must be able to easily enter and exit the area, paying special attention to the size and the number of forklifts. Areas with high ceilings are usually safer, and, if you plan to expand in the future, it's important to prepare the infrastructure accordingly.
We only recommend acid-resistant flooring in the charging area to prevent possible floor damage in case of battery leakage. And, of course, it's crucial to keep the charging areas clean to prevent any trips, slips, or falls.
You should also set up the area with sufficient ventilation and safety measures such as a fire extinguisher, eyewash station, and first aid kits, at a minimum.
All chargers must be supported firmly and fitted with emergency stop breakers with no hanging or loose wires that could cause an issue.
Again, this is only a small but crucial list of things to consider, and if you'd like a professional assessment based on your space, please get in touch with the experts at Mid-Columbia Forklift today.
4. Reinvest the Money You've Saved by Making the Switch
Of course, you're free to do what's best for your business with the money you'll save. But, in case you're looking for ideas, here are three suggestions for you:
You can consider adding more industrial cleaning equipment to your warehouse, such as sweeper scrubbers.
As mentioned before, you can invest in expanding your electric forklift setup with even more forklifts!
Or you can add other electric equipment to your fleet, such as electric personnel carriers or electric pallet jacks, for even more savings (and potential grants).
Schedule Your Site Assessment with the Experts at Mid-Columbia Forklift.
Our seasoned experts are happy to help you decide if electric is best for you. If it is, we can help you figure out the optimal setup of your space based on your operation. Contact us online or by phone today to schedule your site assessment or learn more about the benefits of electric forklifts.
Auburn 253-854-5438
Pasco 509-547-7413
Wenatchee 509-663-9009
Yakima 509-457-5137
Further Reading:
5 Reasons Why Li-ion Forklift Batteries Are Better than Lead-Acid
The Pros and Cons of Electric Forklifts
What Is Opportunity Charging and Is It Right For Your Electric Forklift Batteries?
Electric Vs. Propane Forklifts - Which is Best?