3 Reasons Wholesale Stores Need Floor Sweeper Scrubbers
by Dan Elliott, on March 18, 2022 at 2:15 PM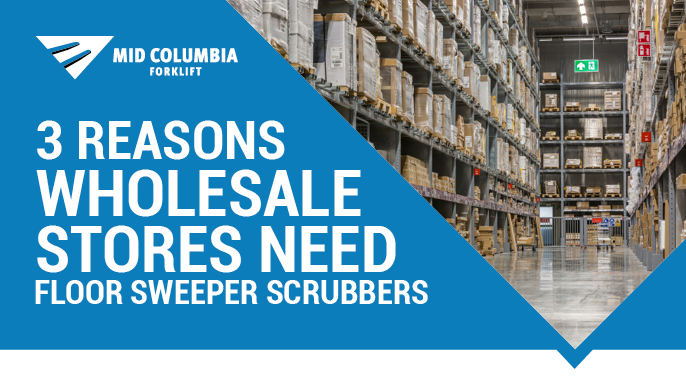 Wholesale stores rely on high volumes of throughput and efficient dock to stock operations to stay profitable. With heavy foot traffic from shoppers and wear and tear from heavy equipment, wholesale stores face a perfect storm of facilities maintenance challenges. Adding sweeper/scrubbers to your equipment fleet can offer critical benefits for wholesale stores anywhere in the US.
1. Increased Safety, Comfort & Health
Clean floors are essential for efficient operations. Floors with high levels of dirt, dust, and debris can lead to equipment issues. Dirty floors also pose problems for the health of shoppers and workers alike. Slips, trips, and falls are consistently the top cause of worker injuries each year. Dust and debris can increase the risk of these injuries. Similarly, stirred up dirt can agitate people with allergies and contribute to other respiratory health problems. The right facility cleaning plan will reduce the risks of dirty floors for both workers' and shoppers' health.
2. Improved Business Performance
Those risk reductions can mean improved performance for your business's bottom line. Clean floors can contribute to more efficient stocking operations, as you reduce challenges for locating and moving products throughout the warehouse. That efficiency and availability of products can drive greater sales volume and throughput for your business. Clean floors will also help increase shoppers' comfort in stores, which can help increase sales. Shoppers associate clean stores with more valuable products and are more likely to browse more aisles or visit a food court after shopping.
3. Reduce Maintenance Costs
Properly maintained floors will also reduce maintenance costs for your forklift fleet. Wholesale stores rely on stand-up model forklifts, three-wheel electric forklifts, electric walkie pallet jacks, and scissor lifts. These models, like all forklifts, can be susceptible to damage from dirt, dust, and debris on the ground. Dust and dirt can choke air intakes and exhaust systems if left unchecked. Debris from products and damaged pallets can pose issues for forklift tires and wheels on smaller equipment. By keeping your floors cleaned, you can reduce your forklift maintenance costs.
If you need to add floor sweeper scrubbers to your equipment fleet, Mid-Columbia Forklift and MidCo Material Handling are here to help. Our team of dedicated material handling experts will work with you to understand your business's unique needs and help to find which equipment will best fit your needs. We stock leading models from Factory Cat and Powerboss to offer a variety of floor cleaning equipment to meet your needs. Contact us online or by phone to get the conversation started today:
Auburn: 253-854-5438
Pasco: 509-547-7413
Wenatchee: 509-663-9009
Yakima: 509-457-5137
Further Reading:
Keep Your Warehouse Floors Clean With Powerboss's Armadillo 9X and Nautilus
Factory Cat GTR: Heavy Duty Industrial Floor Cleaning Machine
Keep My Workers Safe With Industrial Floor Cleaning Machines