Keep Your Warehouse Floors Clean With Powerboss's Armadillo 9X and Nautilus
by Dan Elliott, on February 11, 2022 at 1:32 PM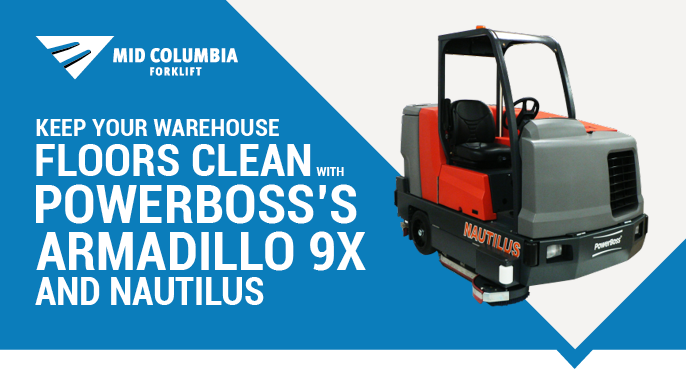 Your warehouse floors can make or break your business. Clean floors keep equipment working well, product clean, and your employees safer. Dirty floors can increase maintenance costs and downtime and potentially lead to employee injuries or illness.
For busy warehouse operation managers, the right equipment and the right cleaning plan are key to keeping things working properly. Powerboss's Armadillo 9x sweeper and Nautilus scrubber have the features and functionality you need to keep your warehouse clean and safe. Here's what you need to know:
Powerboss Cleaning Equipment
Since 1985, Powerboss has manufactured rugged industrial cleaning equipment. Their commitment to innovative design features and effective use make Powerboss a great option for floor and facilities maintenance. Their Armadillo 9x sweeper and Nautilus floor scrubber bring these high-quality aspects of the Powerboss brand to warehouses across the US.
Armadillo 9x Sweeper
The Powerboss Armadillo 9x sweeper is an industrial cleaning powerhouse. With a heavy-duty Kubota engine known for its reliable performance, a larger hopper, and a larger sweeper path, your facility will get cleaner, faster.
Key Armadillo 9x Sweeper Benefits
The Armadillo 9x is built to last with an all-steel agricultural grade frame. Along with the Kubota Tier IV Final engine (available in LPG, gasoline, and diesel configurations), the Armadillo 9x provides reliable power and performance. Other key benefits include:
1,500 lb. capacity rotating hopper with 22 cubic feet of storage, much larger than the competition.
80" sweeping path with dual side brushes.
Swing-out engine for easy maintenance and service.
"RTR" feature that moves collected debris forward to maximize the capacity of the hopper.
Oversized curb climbing tires for maximum maneuverability access.
Many options to fit your unique workplace, including an enclosed cab, overhead guards, cabin filters, and more.
These features combine to make the Powerboss Armadillo 9x a superior commercial cleaning machine. Whether you're in a warehouse, manufacturing, or outdoor environment, it will help keep your floors and walkways cleaner and safer.
Nautilus Floor Scrubber
If your floors have been swept free of debris, chances are they still need to be cleaned and disinfected. That's where the Powerboss Nautilus floor scrubber comes in. Featuring dependable power and a resilient design, the Nautilus will help deliver cleaner floors faster for your business.
Key Nautilus Floor Scrubber Benefits
The Nautilus features the same heavy-duty construction and Kubota engine power as the Armadillo 9x. The Nautilus boasts intuitive designs that maximize the cleaning impacts of your scrubber, helping to remove dirt, grime, oil, and more. Other key features and benefits include:
Pro scrub setting that extends operation to two hours by more efficiently using water.
The ability to turn in a nine-foot aisle without reversing or pausing scrubbing operations.
Tough cover hoses to protect against potential wear and tear.
11,500 RPM vacuum that can dry the floor immediately.
An easy-clean recovery tank that can be drained and cleaned of sediment quickly and easily.
Up to 60 inches of scrubbing width with option side scrubber.
Many options to fit your needs, including a side scrubber, spray and vac wands, pressure washer, heated solution, and more.
With the ability to tailor your cleaning solution and temperature to your standards, the Nautilus can easily become a cleaning and disinfection powerhouse for your workspace.
Want to see these and other Powerboss equipment in action? Contact us to get a free demo today. Our staff is available to help identify the right solution for you online or by phone at one of our locations:
Auburn 253-854-5438
Pasco 509-547-7413
Wenatchee 509-663-9009
Yakima 509-457-5137
Further Reading:
3 Reasons Why Scrubbers Are Better Than Sweepers for Your Warehouse
3 Reasons Why Sweepers Are Better Than Scrubbers for Your Warehouse
Why Does My Warehouse Need A Cleaning Plan?