3 Reasons Why Scrubbers Are Better Than Sweepers for Your Warehouse
by Dan Elliott, on February 4, 2022 at 4:45 PM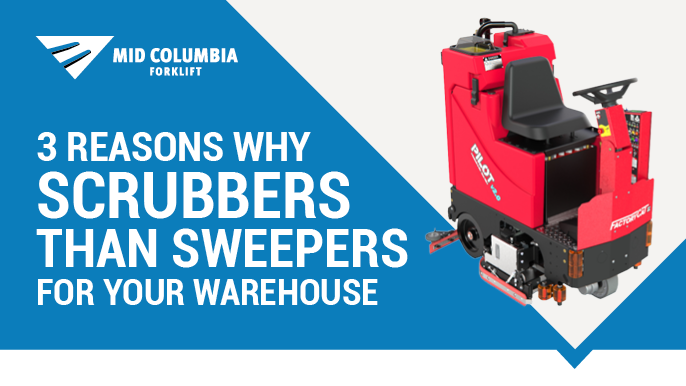 If you're a warehouse manager, you know that keeping your warehouse clean is one of the top priorities for making sure your team members are safe, and your operations are efficient.
Industrial cleaning equipment like scrubbers and sweepers can save a lot of time and physical labor in keeping your warehouse in tip-top shape. The tricky part is figuring out which is the best equipment for your warehouse needs, especially if you're unfamiliar with what each one does.
Sweepers and Scrubbers - What's the Difference?
Sweepers are easy-to-operate options that pick up dust and debris. They are less expensive than scrubbers and easier to store. Their powerful, rotating brooms quickly and easily brush up dust, making them far superior to pushing dust around with a broom. They're also easier to maintain than scrubbers since their construction is simpler.
Scrubbers are more complicated but offer a better, more thorough clean. They have powerful rotating brushes as well a solution tank for the cleaner that best suits your space's needs. Yes, they cost more than sweepers, but some industrial areas require a deeper clean, especially areas where mud, oil, and grime might build up.
Why Scrubbers Are a Better Choice For Your Warehouse
Under the right circumstances, an industrial scrubber is your better option for three main reasons. It offers:
A deeper, more thorough clean
The ability to properly disinfect an area
A potentially better investment

1. Get Your Grimey, Oily Areas Clean
Floor sweepers are simply not equipped to handle areas where mud, oil, and grime accumulate. Since scrubbers utilize a water tank and cleaning solution, they can thoroughly cut through the greasiest of messes. It does this by spraying water and solution, scrubbing, and then picking everything back up by the squeegee, leaving a clean, dry surface behind.
For oils and heavy grease, there are special chemical options to use in the solution tank that we can recommend. The last thing you want is for team members to be slipping in areas that could easily have been cleaned from grease, oil, dirt, water, or any combination of these. In fact, we offer chemicals, free site surveys, and free demonstrations to help you make your determination.
2. Disinfect - Don't Just Clean - Your Area
Cleaning and disinfecting are often used interchangeably, but they're not the same thing, as the CDC clarifies:
Cleaning with soap and water removes germs, dirt, and impurities from surfaces. It lowers the risk of spreading infection. Disinfecting kills germs on surfaces. By killing germs on a surface after cleaning, it can further lower the risk of spreading infection."
Once again, we'll be more than happy to recommend specific disinfectant solutions to help achieve your goals. On top of being able to disinfect, something sweepers can't do, scrubbers are eco-friendly, with features such as on-board settings to carefully control how much soap is dispensed.
And the scrubber uses 100% clean water throughout the scrubbing process, which means it's much cleaner than using a mop, especially since the mop bucket water is quickly contaminated during the process of rinsing the mop.
3. Make the Better Investment
Yes, scrubbers cost more - we're not going to tell you otherwise. But here's the point we do want to make - if you're already going to be spending the money on industrial cleaning equipment, it might be a better investment to spend a little more and get a scrubber, depending on your situation.
Of course, this is where we can help the most when it comes to figuring out the best investment for your space. This is why we offer demonstrations and free site surveys so you know exactly what you're getting and what you can do with the equipment.
Need Help Choosing the Right Sweeper or Scrubber? We Can Help.
We are happy to help you with everything from deciding on a ride-on or walk-on scrubber to what chemicals to use to get your warehouse clean. If you have any questions whatsoever, Mid-Columbia Forklift and MidCo Material Handling are here to help. Our industrial cleaning machine experts will help answer any question you have and guide you to the solution that fits your needs. Contact us online or by phone:
Auburn: 253-854-5438
Pasco: 509-547-7413
Wenatchee: 509-663-9009
Yakima: 509-457-5137
Further Reading:
Why Industrial Cleaning Equipment Is The Only Way to Get Clean Floors (Must-See Video)
3 Reasons Why Sweepers Are Better Than Scrubbers for Your Warehouse
Why Does My Warehouse Need A Cleaning Plan?