Why Industrial Cleaning Equipment Is The Only Way to Get Clean Floors (Must-See Video)
by Dan Elliott, on August 24, 2022 at 1:15 PM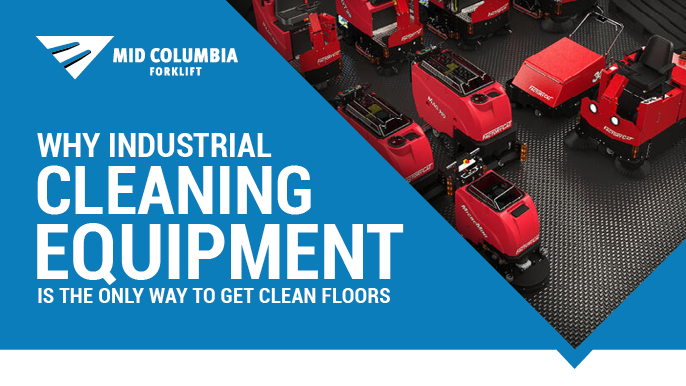 A
recent study
on Coronavirus contamination released by the Center for Disease Control found:

As medical staff walk around the ward, the virus can be tracked all over the floor, as indicated by the 100% rate of positivity from the floor in the pharmacy, where there were no patients. Furthermore, half of the samples from the soles of the ICU medical staff shoes tested positive. Therefore, the soles of medical staff shoes might function as carriers.
Shoes are one of the most common ways bacteria, viruses and other pathogens make their way into our businesses and homes. That's why it's critical for business owners to ensure their floors are truly clean. This video is a must-see...
How to Disinfect Floors - According to the CDC
The CDC (Center for Disease Control) recommends regular cleaning, followed by disinfection to prevent disease transmission. Many people use the words cleaning and disinfecting interchangeably, but they're two different things. According to the CDC:
Cleaning with soap and water removes germs, dirt, and impurities from surfaces. It lowers the risk of spreading infection. Disinfecting kills germs on surfaces. By killing germs on a surface after cleaning, it can further lower the risk of spreading infection.
Put another way; you can't disinfect a surface that isn't clean. That's why, in our COVID-19 world, it's absolutely essential to use professional floor cleaning equipment.
A Mop and Bucket - Don't Cut It
A mop and bucket will not get your floors clean. According to numerous scientific studies, each dip of the mop pollutes 18-20 percent of the clean water. After five dips, the entire bucket is contaminated. From then on, the mop does little more than smear germy water across your floor.
Autoscrubbers Save Time, Get Floors Truly Clean
Industrial autoscrubbers use 100 percent clean water throughout the cleaning process. They also make it easy to disinfect your floors. Simply pour disinfectant into the solution tank and apply it to your floors.
Many industrial cleaning machines also come with a hand sprayer attachment so staff can disinfect high-touch areas (tables, sinks, countertops, etc.) as they move from room to room cleaning floors. Commercial cleaning machines empower your staff to clean more effectively in less time and help you maintain a clean, safe work environment.
Industrial floor scrubbers are easy-to-use, eco-friendly, and one of the best ways to clean and disinfect your facility. Our customers in Washington have been raving about the versatile Sanitation 21 made by Factory Cat.
NOTE: the video below includes some toilet humor. Watch the PG version here.
Benefits of Factory Cat's Sanitation 21 include:
A recovery tank made of anti-microbial plastic - block microorganisms from breeding inside your recovery tank
Exceptional vacuum exhaust filter - at 2/10ths of a micron - it's 1/10th of a micron finer than HEPA filtration
Sanitation package - with spray wand and 3-gallon reservoir for your favorite sanitizer or disinfectant
Aqueous ozone - the Sanitation 21 produces aqueous ozone, a powerful oxidizer that kills bacteria and fungi
Factory Cat machines are made in the USA
Questions? We're here to help. Let us know what cleaning challenges you need to solve, and we'll find solutions.
Contact Mid-Columbia Forklift and MidCo Material Handling online or by phone:
Auburn 253-854-5438
Pasco 509-547-7413
Wenatchee 509-663-9009
Yakima 509-457-5137
Further Reading
Floor Scrubbing Best Practices to Combat COVID-19
Clean and Sanitize Your Floors with Factory Cat Zer03 Floor Scrubbers
When to Buy Walk-Behind Vs. Ride-On Industrial Cleaning Equipment