When to Buy Walk-Behind Vs. Ride-On Industrial Cleaning Equipment
by Dan Elliott, on February 4, 2022 at 6:41 AM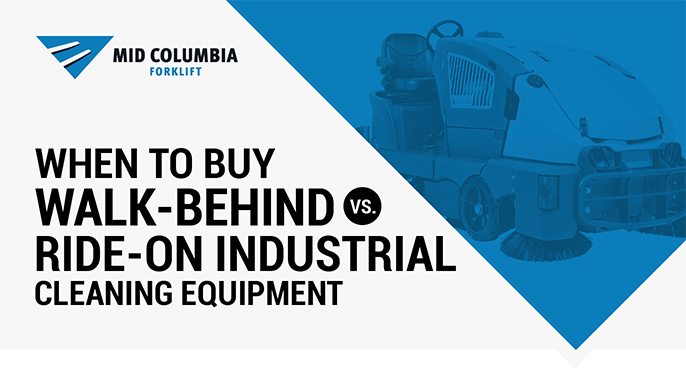 Unlike cleaning with a mop or broom, industrial floor cleaning machines ensure your floors are truly clean, and they're more cost-effective. For most operations, labor represents about 90 percent of the total cost to maintain floors, so commercial cleaning equipment will pay for itself over time. They also keep your staff and customers safer because they don't kick up hazardous dust or smear germs and grime around your workspace.
Once you've made the smart decision to buy a floor sweeper or scrubber, the next question you need to answer is: walk-behind or ride-on? Read on to learn more about the advantages and disadvantages of walk-behind versus ride-on floor cleaning machines. By the end of this article, you'll know how to choose the right one for your business.
Pros and Cons of Ride-On Vs. Walk-Behind Cleaning Equipment
Sweepers and autoscrubbers are the smart way to efficiently and effectively maintain a clean and safe workplace. Here are the key advantages and disadvantages of ride-on versus walk-behind floor cleaning equipment.
When to Choose a Ride-On Machine
Ride-on machines are designed to clean large areas in the least amount of time. In fact, they're proven to improve efficiency by 400 percent compared to manual equipment.
You may be imaging a machine the size of a Zamboni, and while those are very popular, there are also smaller ride-on machines 28" - 32" wide. These machines can fit through an average doorway and are compact and quiet enough to use in hospitals, schools, etc.
Some ride-on machines are so maneuverable, they actually have a tighter turning radius than walk-behind models.
Ride-on scrubbers are also very eco-friendly and use considerably less water than a mop and bucket - while leaving floors significantly cleaner.
When not to choose a ride-on model - ride-on cleaning machines can't go up and down stairs or drive up a steep incline. If your workplace has a significant incline, a walk-behind machine may be a better option.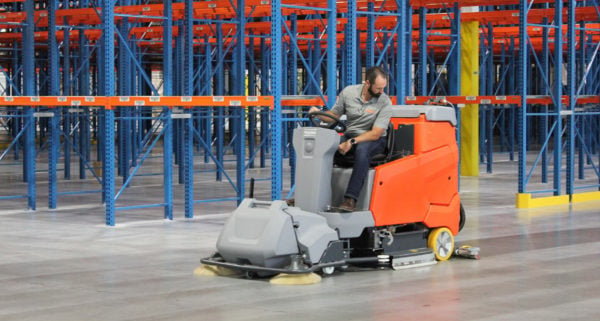 Powerboss Scrubmaster B400 RH - A Top Choice for the Pacific NW
This innovative machine is a fully battery-powered sweeper-scrubber. This popular machine allows you to:
Reduce cleaning time and costs by dry sweeping and wet scrubbing in a single pass
Eliminate carbon emissions and LPG use
Eliminate up to 90% of airborne dust particulates with Dust Stop Technology
Clean more sustainably by reducing water and detergent use by 20 percent or more
When to Choose a Walk-Behind Machine
Walk-behind machines assist the operator with forward motion. In other words, the operator doesn't push the machine, they guide it; the machine is self-propelled. Walk-behind machines are ideal for buildings without elevators and areas with:
Many obstacles
Narrow doorways
Ramps or steep inclines
When not to choose a walk-behind model - a common mistake people make is buying a walk-behind machine simply because it's less expensive. This only saves money in the short term. An employee using a large ride-on machine can clean more in less time and experience less fatigue compared to a walk-behind. What you save on the purchase price, you'll quickly lose in labor costs and replacing wearable parts.
The Factory Cat Sanitation 21 walk-behind scrubber has been a popular choice in Washington State facilities since the beginning of the pandemic. It's capable of scrub cleaning as well as sanitizing, which kills most viruses and bacteria that can affect your team's health.
Here just a few well-known organizations in the Seattle area using sweepers and auto scrubbers we sell:
Amazon.com
Port of Seattle – SeaTac Parking Garage
Nisqually Red Wind Casino Parking Garage
Bellingham Cold Storage
Georgia-Pacific
Port of Everett
How to Choose the Best Floor Cleaning Machine for Your Operation
Estimate the square footage that needs to be cleaned. We can assist you with this calculation, just drop us a line.
Choose a machine that can clean the bulk of your facility
Walk through the machine's entire cleaning path. Measure doorways, ramps and obstacles to ensure you don't get a machine that doesn't fit.
Choose the largest machine your space can accommodate. A bigger machine will have a longer run time, and it can carry more water.
Calculate how much your company currently spends on labor to maintain floors. Gain buy-in by showing how an efficient new machine can pay for itself. We can help with an estimation, just let us know. Here's a quick "back of the napkin" estimation. You can own your own:



A Walk Behind Sweeper for less than $8.00 /Day
A Walk Behind Scrubber (25" Cylindrical)for less than $13.00 / Day

(estimates above based on 20 work days/month)
If you're not sure which machine is right for you, we can bring different models to your location for a free demo.
If you need a machine to clean hallways or warehouse aisles, measure the width of those aisles. This will help you select the best cleaning path width for your machine.

For example, if you have 10-foot warehouse aisles (120"), a floor scrubber with a 40" cleaning path could (in theory) clean the aisle in three, very precise passes. Realistically, the employee would make four passes. By purchasing a scrubber with a 45" deck, the same aisle could be cleaned in only three passes.
Questions? We're here to help. Let us know about your needs and budget and we'll find the right machine for your operation. MidColumbia Forklift sells industrial cleaning equipment from Powerboss and Factory Cat, so we can address and provide solutions for just about any floor maintenance need imaginable.
Contact us online or by phone:
Auburn 253-854-5438
Pasco 509-547-7413
Wenatchee 509-663-9009
Yakima 509-457-5137