Tire Technician Spotlight: Duncan Bellotti
by Tammi Simpson, on February 24, 2023 at 7:16 AM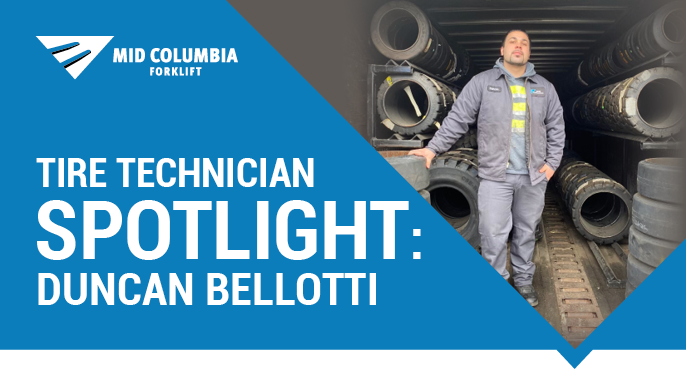 Welcome back to our ongoing employee spotlight series, where we introduce you to the incredible people who make Mid Columbia Forklift a family. In this edition, we'd like you to meet Duncan Bellotti, one of the newest members of our Auburn branch. Coming to us from the automotive industry, he's one of our specialized Tire Technicians, focusing entirely on forklift tires and their repairs. Read on to learn about Duncan, what he loves about his job, and his favorite haunts.
How Many Years Do You Have of Technical Experience?
I have 5 years of technical experience.
How Did You Get Started as a Tire Technician?
My technical experience is from the automotive industry. I am new to forklifts.
What Do You Like About Your Job?
I like my new coworkers/team. I also like meeting new people out on the job.
What Year Did You Start Working for Mid Columbia Forklift?
I started at the end of 2022 at the Auburn branch. I've been there for 3 months.
How Is Midco Different From Other Places You've Worked?
Everyone is family here at Midco. It's a very close welcoming environment.
Tell Us About a Professional Achievement You Feel Especially Proud Of.
Performing my first tire job! I'm proud of helping develop new procedures/systems here at Midco.
What Do You Do With Your Free Time?
I enjoy working on my car, going to car shows, hanging out with my friends, and playing video games.
What Is Your Favorite Local Sports Team, Local Bar, or Restaurant?
My favorite local bar is Firestarter or The Matador. My favorite restaurant is The Spaghetti Factory.
Specialists like Duncan are invaluable assets to the Mid Columbia Forklift family. Specialized training allows technicians to become masters at serving the most vital components of your forklift fleet. This enables us to deliver superior planned maintenance, which means fewer emergency repair calls.
We are hiring experienced professionals like Duncan, who are passionate about providing our partners the best service in the industry. So if you're ready to take your career to the next level, check out our exciting job opportunities. Please apply online or browse all available positions on our Careers page.
Auburn 253-854-5438
Pasco 509-547-7413
Wenatchee 509-663-9009
Yakima 509-457-5137
Further Reading
Tune Up Your Career: Become a Forklift Technician
Forklift Technician Spotlight: Mark Anderson
Forklift Technician Spotlight: Will Medlen