Forklift Technician Spotlight: Mark Anderson
by Tammi Simpson, on January 20, 2023 at 10:32 AM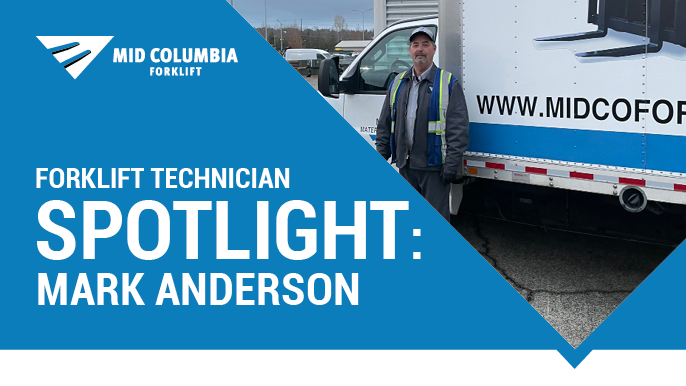 In today's world, it's too easy to be treated like a faceless cog in the machine. That makes personal relationships more important than ever. We at Midco Material Handling believe business shouldn't be an impersonal experience. And that's why we want to introduce you to our family here at MidCo Material Handling.
In our ongoing employee spotlight series, we would like you to meet Mark Anderson. Mark has been an invaluable Midco Material Handling family member for 17 years, working his way up to Forklift Service Road Foreman for our Auburn location. He's been instrumental in building relationships with some of our most exceptional clients from Olympia to Kent. And he even assisted in starting up our Auburn branch. So read on to learn all about Mark, his work experience, and his favorite football team.
How many years do you have of technical experience?
I have 32 years of technical experience.
How did you get started as a Road Technician?
I started out as the shop maintenance man. I took all the training classes offered and worked my way up.
What year did you start working at Mid Columbia Forklift?
I started in 2005.
What do you like about your job?

The customer relationships. The customers are happy to see me and trust that I will do a good job at keeping their lifts running. In addition, I like helping train new mechanics.
How is Mid Columbia Forklift different from other places you've worked?
The owner is very family-orientated. The employees are helpful, and there is no drama.
Tell us about a professional achievement you feel especially proud of…
It was rewarding to help start the Auburn branch and to see what it has grown into.
What do you like to do in your free time?
I enjoy traveling, camping, and motorcycling.
What is your favorite local sports team, local bar, or restaurant?
My favorite sports team is the Seahawks, and my favorite restaurant is Applebee's.
Road Technicians like Mark are the life of our forklift service team. Mark's professionalism and competence have helped MidCo Material Handling partner with amazing organizations like Puget Sound Energy, Pacific Cascade Distribution, Trident Seafoods, The Boeing Company, Comcast Cable Communications, and many more.
Our team is always looking for driven professionals, like Mark, who are passionate about providing our partners the best experience in the industry. So if you're ready to take your career to the next level, check out our exciting job opportunities. Apply online or browse all of our available positions on our Careers page.

Auburn 253-854-5438
Pasco 509-547-7413
Wenatchee 509-663-9009
Yakima 509-457-5137
Further Reading
Forklift Technician Spotlight: Will Medlen
Tune Up Your Career: Become a Forklift Technician
What We Need to Know When You Call for Forklift Service