Tune Up Your Career: Become a Forklift Technician
by Phil Hanford, on May 27, 2022 at 4:54 PM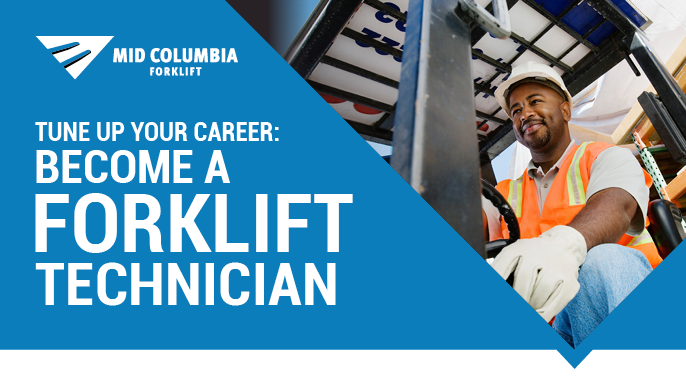 Is this the year you told yourself you would make more money? Find a new job or even change careers? If that sounds like you, consider becoming a forklift technician.
The pandemic crisis meant longer delivery times for just about everything. And everything had to be moved off the dock, out of the warehouse, and onto a truck. It was hard to keep shelves stocked. Everybody remembers what happened with toilet paper! The country needed forklifts on the job and operating reliably.
Forklift mechanic jobs are "essential" to the nation.
What Does It Take to Become a Forklift Technician?
If you're an auto mechanic, you could be on the road to a new career now. If you can work on cars, you can work on forklifts. They have engines, transmissions, and brakes, too. You use the same tools you're familiar with. Ratchets. Wrenches. Welding clamps. Computer diagnostics.
We're hiring forklift mechanics now, and we provide all the training you need. You'll train with master technicians—many of whom used to be auto mechanics. Our intensive program is more like an automotive apprenticeship on steroids. It lets you move up in the world.
What Separates a Forklift Technician From an Auto Mechanic?
Forklift technicians aren't the same as auto mechanics because they don't deal just with internal combustion engines. As a forklift technician, you'll rewire electric forklifts, work with lithium-ion batteries, maintain and repair hydraulics, and troubleshoot issues to maintain LP, diesel and electric fleet performance.
Material handling customers can grind to an expensive halt—costing thousands of dollars an hour—without your expert help. And when you get a customer's forklift up and running again, you're a hero. Forklift Technician jobs get more glory than auto and diesel mechanic jobs.
5 Reasons to Become a Forklift Technician
1. You'll earn more. The average annual pay for a forklift technician is $50,440. For an auto mechanic, it's $39,980. The best-paid auto mechanic makes the same salary as the average forklift technician and $15,000 to $20,000 less than the top-paid forklift technician.

And at Mid-Columbia Forklift and MidCo Material Handling, we pay a premium salary to those with 5+ years of experience in auto mechanic jobs, plus benefits.

2. There's variety in your work. You'll never get bored. One week you might work on hydraulics—the next, differentials. With the supply chain strained in many industries, industrial vehicle technicians are in demand.

3. You'll enjoy a stable career. During the COVID pandemic, people bought more things online. More warehouses went up. Companies bought more forklifts. And every one of them will need maintenance and repair.

Warehouse uptime is the #1 goal. That means job security for people trained to repair forklifts. And you'll have the opportunity for professional growth.

Cars today have more connected electronic systems. They have instruments that predict maintenance and diagnose problems remotely. Sensors can share data with dealerships, and car owners will have less need for independent repair shops. The result may be fewer mechanic jobs.

4. You'll enjoy greater independence. First, you can choose your path.

As a shop technician, you'll work regular hours at one location. Have weekends off.


Keep your tools organized the way you like. And bounce something off your teammates if you need a second opinion.

But you don't have to stay in the shop. You'll have the option—with training and experience—to become a field Road Tech. You'll be on the road to client sites. Every day is a different location and a different solution. In a different industry.

As a Road Tech, you manage your own time, truck, and start getting paid when you leave your home for the customer's location. Nobody looks over your shoulder. And your grateful customer just about breaks out the balloons or throws you a parade.

We're Hiring Forklift Mechanics. Join our team! We're filling full-time forklift mechanic jobs at our Mid-Columbia Forklift and MidCo Material Handling dealerships in Auburn, Pasco, Wenatchee, and Yakima, Washington. We offer:
A very competitive hourly pay – no flat rate!
Career advancement following proven results
Medical, dental, vision, & prescription insurance
Safe harbor 401(k) by employer
Company paid life & AD&D insurance
Flexible spending account (FSA)
Paid holidays & vacations
Annual tool and boot allowance
And you'll feel at home working with great teammates.
Our Training is Your Ticket to a New Career
Mechanics with previous forklift repair experience go to the front of the line, but you don't have to have it. We offer expert training and supportive staff. You'll move up from mechanic jobs on internal combustion engines to diesel mechanic jobs and other challenges.
We're hiring mechanics! Contact us online or by phone, and fill out an application. It's the first tool you'll use in your new career.
Auburn 253-854-5438
Pasco 509-547-7413
Wenatchee 509-663-9009
Yakima 509-457-5137