What We Need to Know When You Call for Forklift Service
by Phil Hanford, on March 13, 2020 at 8:00 AM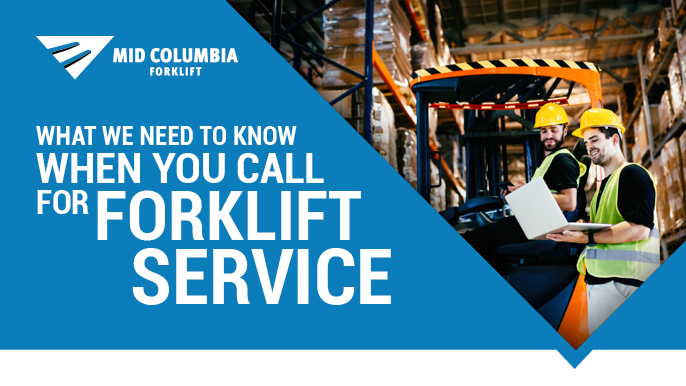 If you're contacting us to request maintenance for one of your fleet's downed forklifts, you're likely having a rough day. We aim to deliver fast resolutions to get your equipment up, running, and working again.
To help speed up the process, read this post so you can be ready to share some essential information about your forklift and its malfunction when you call to make a service request.
Identifying Information About Your Forklift
Identifying the forklift that needs maintenance is key. We will need its make, model, and serial number to be sure we're working on the correct forklift. Other identifying information that is key includes:
Your workspace's physical address

The location of the forklift

Any identifying characteristics of the forklift
The more information you can provide, the sooner we can get your equipment back up and running.
Forklift Maintenance History
If you're not using our Full Maintenance Service, we'll need your maintenance records. This information can help us troubleshoot and diagnose possible causes of the problem. This includes: :
Oil and filter changes

Mast and chain repairs or damage

Hydraulic fluid checks

Battery watering and equalization
Current Issues
We approach a forklift service request similar to doctors tackling a patient diagnosis: we need as many details as possible to help determine what's wrong with your forklift. Be ready to talk about the problem, when it started, how long it's been going on, and what the equipment is doing when the error occurs. The more detailed your description includes, the faster we can diagnose the issue. If your team has made attempts to solve this problem, let us know what was done and how that affected the state of your equipment.
If your forklift equipment isn't working, you risk falling behind. We get it. We know you need it fixed fast. Now you know what to do to get ready to call for service. Gather the things listed above and contact our service department. Either complete the form on the MidCo Forklift Service page or give us a call.
Auburn 253-854-5438
Pasco 509-547-7413
Wenatchee 509-663-9009
Yakima 509-457-5137
Further Reading:
Repairs and Preventive Maintenance to Fit Your Business Needs
Forklift Operator Training for OSHA Compliance
Why You Should Outsource Your Forklift Planned Maintenance