Types of Pallet Racking Configurations For Your Washington State Warehouse
by Phil Hanford, on November 22, 2021 at 12:00 PM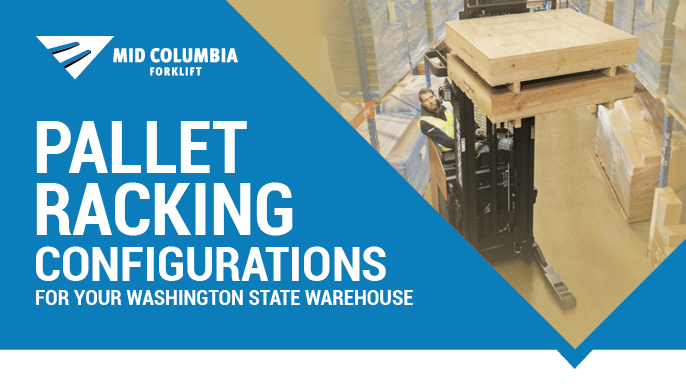 If the supply chain challenges of the last 18 months have taught us anything, it's that optimization matters. For busy warehouse managers in the Pacific Northwest, the right warehouse configuration can keep your company profitable. Read on for four specialty racking configurations to consider for your warehouse.
Double Deep Pallet Racking
If your warehouse holds onto products for longer periods, double deep pallet racking may be right for you. This setup is similar to standard selective racking, but it can hold two pallets stacked one behind the other. This type of racking does require a double deep reach truck rather than a standard reach truck to use correctly. However, this can increase your warehouse effectiveness by raising your pallet density and allowing you to keep more products on hand.
Automated Deep Lane Racking
Deep lane racking is an excellent solution for warehouses looking to automate more of their operation. This configuration can be used for either First-In-First-Out (FIFO) product or Last-In-First-Out (LIFO) setups. Featuring racks that can hold pallets more than 100 deep, automated pallet shuttles are used to lift and move the pallets to the end of the rack. From there, a manual operator or an Automated Guided Vehicle (AGDV) can take the pallet to staging for distribution. This type of pallet racking can have a higher initial cost due to the materials, equipment, and software required, but it can deliver incredible results to businesses looking to optimize.
Pallet Flow Racking
Pallet flow racking is ideal for high-velocity throughput operations that need help managing their SKUs. This type of racking is designed for First-In-First-Out (FIFO) setups. Featuring an inclined rack on which pallets glide thanks to installed rollers, pallets of product easily flow from receiving to unloading in a fluid and controlled manner. This does require specialized racking materials and careful configuration due to the slop and unique rollers required.
Cantilever Racking
Cantilever racking is ideal for long loads of products - these are frequently found in lumber outlets and pipe suppliers. Sometimes known as "long load storage," cantilever racking supports loads longer than 12 feet. With excellent selectivity and flexible capacity thanks to its open design, this is a great solution for irregular length loads. The horizontal load access reduces lost storage space and gives plenty of clearance for easy handling.
Whatever products you are handling, the right racking configuration can make or break your profits. Finding a reliable material handling partner to consult on your warehouse, equipment, and maintenance is essential for success.
Mid-Columbia Forklift and MidCo Material Handling is here to be that partner. Our team of experienced warehousing pros will help you identify opportunities to improve your workflows and fleet. Contact us online or call one of our locations to get the conversation started.
Auburn 253-854-5438
Pasco 509-547-7413
Wenatchee 509-663-9009
Yakima 509-457-5137
Further Reading:
The Best Pallet Racking Solutions for Your Warehouse
Should I Repair or Replace My Warehouse Racking?
Is My Warehouse Racking Compliant with Washington State Fire Codes?